In this article we will be discussing the main differences and possibilities of rooftop and ground mounted solar in residential installations. There are a number of variables that are in play in either scenario, and being educated on differences and possible issues you can
Rooftop vs. Ground Mount Residential Solar Comparison
Contributed by | Sun Action Trackers
In this article we will be discussing the main differences and possibilities of rooftop and ground mounted solar in residential installations. There are a number of variables that are in play in either scenario, and being educated on differences and possible issues you can make a better decision when you choose to make the move to solar. Both installation types have ideal applications but we are going to show you why more and more people are choosing ground mounted solutions for their property.
The most widely recognized version of Solar Energy Production
Almost everyone has a friend or neighbor that has shown interest in, and has installed some type of solar array on their roof. They are undoubtedly proud of what they have added to their home and often gloat about energy savings and helping the environment. They are indeed doing that, and in the past 20 years, they would have made a great decision, but is it the right decision today? After almost 2 decades of system decay and advancement in technology, what was once the most widely viewed and recognized application of solar is now becoming obsolete in many cases.
Keep It Simple Solar
The basic idea behind rooftop solar installations is rather straight forward. Use a roof that is adjacent to the sun, drill holes in it to install racking, and install panels to racking. This often requires that the roof is facing east/west so that it will be facing the sun's path over the course of the day. Any deviation from the perfect east/west orientation will lead to loss of potential energy production in the installation. Often times as well, there may be some shading in the way of trees, which would also deplete the energy production opportunity of the array. This means that the same trees that the homeowner relies on to keep the home cooler are hindering the solar potential of the property.
Key Issues with Rooftop Solar
Environmental issues such as the ones described above are often times out of the control of the homeowner or are not thought of when purchasing the home. There are however, a number of key issues with rooftop solar that are at the complete control of the homeowner. These issues are sometimes immediate, while others are experienced years down the road.
Unfit or Unsuitable Roof
When many homes were built over the years, they were never built with the intention of putting thousands of pounds of racking and solar panels on it. Also, coding and building regulations have become increasingly specific and strict over passing years, so it is quite possible that many older roofs are just simply not equipped to handle the load. Miscalculation of the load levels of any roof could cause it to easily cave in.
Drilling Holes into the Roofing
There are obvious potential risks with drilling holes anywhere in your roof at any point. If a roofer where to have to drill into the roofing, they would do it towards the end of a corner where risk of damage was minimal. When rooftop solar is installed there are spaced holes drilled over the entire roof, weakening the substructure and creating unnecessary risk of leaking in the future. If a leak develops it could be weeks, months or years before the owner discovers it to get it fixed. Furthermore, it creates the risk of mold, electrical issues and a host of other risks that would cost a lot more money down the road.
Waterflow
As we all can understand, roofs are built with the intention of shedding water in specific directions but furthermore away from the home. Rooftop solar racking hinders the flow of water in many cases and can cause it to collect in areas that were not intended at the time of the design of the roof. This can cause a number of weaknesses in the structure and if paired with a drilled hole leaking could be catastrophic.
Reroofing
The average lifespan of a residential house roof is 20-30 years, after which the roofing material needs to be totally replaced. This includes the weather matting as well as the roofing material. If there is a solar array on top of the roofing material, then it will obviously need to be dismantled completely before the roofing replacement can even begin. Also, roofers cannot dismantle solar systems because the are not NABCEP certified contactors, so you will have to call a solar company to come take it down, and replace it again after the roof has been replace.
New Technology Leads to New Solutions
In the past years, solar technology has exponentially increased and with the development of solar trackers, production increases have reached up to 40%. Solar Trackers were originally designed for extreme latitudes (furthest from the equator) and were primarily used in the Utility and Commercial/Industrial markets. In even more recent years, these technologies have been adapted for use in the residential market proving that ground mounted solar trackers could be a viable solution for homeowners.
Efficient Solutions for Possible Issues
The use of ground mounted trackers, particularly Dual Axis Solar Trackers have solved a number of existing issues with solar adoption and how they compare with rooftop solar installation. There are a host of issues that can commonly be alleviated by using a Sun Action Trackers' DualTrack Dual Axis Solar Tracker.
No Roofing Issues
Since the DualTrack Dual Axis Residential Solar Tracker is ground mounted, you alleviate a number of the roofing issues such as potential leaking, weight issues, waterflow and reroofing issues. The system is also easier to maintain since it is easier to access.
Limited Land Issues
The DualTrack Dual Axis Residential Solar Tracker boasts a number of benefits that allow for more flexible installation for your solar array. One major benefit is the bolt cage (mounting system) is only 16" which is encased in a 36" Diameter concrete footer. This means that you will only have to use about 16 sq ft of your property to mount up to 42- 72 cell solar panels. The structure also provides shade and with a 12 foot down-post, you can be assured that anything that is and would be beneath it will not be disturbed. The DualTrack Dual Axis Residential Tracker can also be installed within flood planes and swampy land to further add to its land usage flexibility.
Production Increase Increases Opportunity
Each DualTrack Dual Axis Residential Tracker is equipped with Sun Action Trackers' patented Real Time Sensing devices to add 4-6% production compared to astronomical tracking systems, as well as up to 40% more energy collected due to the Dual Axis nature of its design compared to rooftop systems. With the addition of bi-facial solar panels, you can even increase energy production by up to 60% compared to rooftop mounted solar installations. Another impressive about the DualTrack Dual Axis Residential Solar Tracker is that it reaches peak production as soon as it finds the sun, and maintains that peak production until the sun goes down. This means that you will be at peak performance before, during and after peak hours making the absolute most of TIME OF USE rates. These production increases add significant value to the system overall and will return ROI faster for the homeowner ultimately.
A Complete Turnkey System
Each DualTrack Dual Axis Residential Tracker is a Turnkey System that is ready to be installed. Every Tracker includes the Tracker Racking, Critical Components, Bolt Cage, Real Time Sensors and Control Box ready to be installed. Each system can be installed with a telescopic forklift and a crew of 3-5 people. Sun Action Trackers offers PE Stamps in all 50 states and can ship worldwide.
The content & opinions in this article are the author's and do not necessarily represent the views of AltEnergyMag
---
Comments (0)
This post does not have any comments. Be the first to leave a comment below.
---
Post A Comment
You must be logged in before you can post a comment. Login now.
Featured Product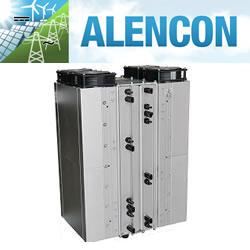 Alencon Systems is the premier manufacturer of high power, high voltage DC:DC optimizers for alternative energy applications including solar, battery energy storage, Microgrids, Fuel Cells and Electric Vehicle charging. Alencon's DC:DC converter offerings include the SPOT, BOSS and CUBE series DC:DC converters. The SPOT is a modular, uni-directional DC:DC solution ideal for solar applications. The BOSS is a modular, bi-directional unit for use with battery energy storage. The CUBE is a monolithic DC:DC converter which is available in both uni-directional and bi-directional modalities. Pictured above, is the Alencon SPOT.