There is an unbroken and even accelerating deployment rate of renewables on Middle Eastern grid systems. Through this diversification of energy generation the need for storage is the best way to mitigate between demand and production of intermittent energy.
Top Article from 2019 - Renewable Energy Strategy in the Middle East
Stefan Schauss | CellCube
Tell us a bit about CellCube and its role in the alternative energy industry?
CellCube is a Canadian public company listed on the Canadian Securities Exchange (symbol CUBE), the OTCBB (symbol CECBF), and the Frankfurt Exchange (Symbol 01X, WKN A2JMGP) focused on the fast-growing energy storage industry, which is driven by the large increase in demand for renewable energy. CellCube supplies vertically integrated energy storage systems to the power industry. CellCube develops, manufactures, and markets energy storage systems on the basis of vanadium redox flow technology and has over 136 project installations and an 11 year operational track record.
How is the Middle East working to exploit their significant renewable energy resources?
There is an unbroken and even accelerating deployment rate of renewables on Middle Eastern grid systems. Through this diversification of energy generation the need for storage is the best way to mitigate between demand and production of intermittent energy.
Currently, what regions in the Middle East are leading in terms of building out renewable energy systems?
Traditionally, the UAE has been a leader in adopting and utilizing renewable energy resources, rather than focusing on the more traditional route. New entrants continue to emerge and have been pushing legislation in order to initiate change. For example, Oman has been funding over a billion dollars into energy projects from renewable sources. These efforts also extend to Egypt, Morocco, Jordan, Iran, Israel and Kuwait who have been leading in funding projects related to wind generation – deploying several strategies in the last year. Also, Morocco, Jordan and Yemen have started adopting the use of solar technology to help fuel growth.
Who is driving the process and what sectors are at the forefront?
The main driver when it comes to renewables in the Middle East is the increase in population and the decrease in government oil and gas subsidies. The development of lower cost technology for renewable energy and the ability to store more power through longer duration storage capacity, such as the systems like CellCube. The ability to store power for longer periods of time, while also meeting the demands and needs of the community, is extremely important when trying to mitigate peak demand levels.
Besides collocating with renewables, CellCube can also be used to support plant power generation and other utilities, such as oil and gas. While many countries are becoming more supportive about the deployment of energy storage systems, we need to be able to see actual legislation mandating and rewarding businesses, corporations and other major institutions, who are actually implementing these systems within their communities.
What policies could conflict with renewable energy goals in the Middle East?
When it comes to renewables, governments need to balance power needs with conventional supply options, the reality is that it is often dictated by leveraging conventional energy solutions, such as oil and gas, rather than more suitable solutions.
How can vanadium be a more integral solution in the Middle East? What can it offer compared to other energy resources?
The most important task for governments is to secure supply of its citizens with stable electricity is on the forefront of developments in MENA. While lithium ion is the more well-known choice, it actually can be extremely unsafe because it's so flammable. Compared to vanadium, which has operational standard that exceed a 25 year lifetime, vanadium has little degradation and is recyclable. The new generation of energy storage systems, such as CellCube, have large scale capabilities in terms of cycling, power-rating, efficiency and lifetime now make projects on a megawatt scale feasible and attractive at the lowest cost of storage.
What is the current renewable energy strategy in the Middle East? Is it working effectively?
The renewable energy policy is transitioning from reliance on oil, whether subsidized or not, to new deployments, such as gas and renewables.
About Stefan Schauss
Stefan Schauss has over 20 years of sales and business development experience worldwide with a focus in recent years on utility scale energy storage. He has extensive experience in marketing and sales of vanadium redox flow batteries ("VFBs"), the leading battery for large scale stationary energy storage. Stefan has worked in both Europe and North America. He has a MSc. Physics from University Mainz, Germany with a concentration in computer science and electronics.
The content & opinions in this article are the author's and do not necessarily represent the views of AltEnergyMag
---
Comments (0)
This post does not have any comments. Be the first to leave a comment below.
---
Post A Comment
You must be logged in before you can post a comment. Login now.
Featured Product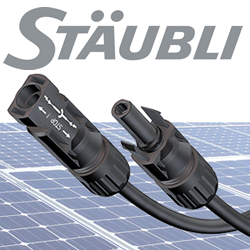 ​Stäubli Electrical Connectors are used on more than 300 GW, over 50% of the PV capacity worldwide. The MC4 family of UL and TUV listed products include connectors, in-line fuses, branch connectors, cable assembly and more.