A solar carport is essentially a static, rigid frame that is designed to hold solar panels and connect to the power grid.
Solar Carports – Do They Make Sense For You?
Contributed by | Sun Action Trackers
As the adoption of solar technologies becomes more widely accepted, homeowners and businesses are finding new and innovative ways to integrate solar power production into their properties. One of the newest ideas is the construction of solar carports and solar canopies. This new innovation has allowed for solar production in already existing applications as well as providing tremendous opportunity for future construction projects. While a typical carport or canopy provides value in simple shading it is still a one-dimensional benefit that is missing a major opportunity. This innovation partnered with lower prices industry wide is making solar carports and solar canopies a reality.
What is a Solar Carport?
Solar carports are innovative and highly engineered, but you see versions of them almost everywhere and do not realize it. If you have ever parked under an awning while shopping, you have parked under an opportunity for a solar carport. If you have a shaded parking spot at work, you park under an opportunity for a solar carport. Many homeowners even use carports currently to shade and protect their vehicles.
A solar carport is essentially a static, rigid frame that is designed to hold solar panels and connect to the power grid. The static nature of most solar carports make them highly dependable and will last for years and years with minimum maintenance, as compared to ground mounted solutions. Ground mounted solar arrays are quite similar to solar carports in the fact that they both attach to the earth, and they both utilize solar panels that have been angled to maximize production.
One major difference however lies in the land usage. Ground mounted systems are primarily 3-7 feet tall which makes it hard to use the land beneath it for anything useful. Solar carports can generate the same amount of power while providing shade for vehicles or coverings. The land beneath the solar carports and solar canopies is still usable since it has been designed and engineered to be as such.
Benefits of Solar Carports
Use What Is Already There
There are several benefits for the use of solar carports compared to other solutions. First and foremost is the addition of power generation to an already existing need. Carports, awnings, and canopies have already existed in standard construction from the beginning of time, and will always be a tool that architects use for various purposes. Adding the ability to generate electricity from the same feature is easily a benefit.
A Penny Saved Is A Penny Earned
Power generation is really the tip of the iceberg of benefits of installing a solar carport or solar canopy. As the electricity being produced is processed either by the power supplier or used by the producer, there is significant money being saved or credited to the owner of the solar carport. In many cases and in many states, incentives already exist for the construction of solar carports. This means that if your company is looking to build a carport, a solar solution will save you money and continue to earn you credit during the lifespan of the product, as compared to a standard carport that is built and just need to be maintained.
Always Throwing Shade
The obvious benefit to any carport is the shading and coverage for rain or inclement weather. Solar carports and solar canopies will achieve the exact same coverage with the added bonus of electrical power generation. It also opens the opportunity to Electrical Vehicle (EV) owners to have access to a charging station that is powered by the solar carport array. These charging stations are very low profile and are a significant fringe benefit to any employee.
Are Solar Carports Right For You?
In the engineering and developing of solar projects, the question often arises "Is this right for me?". In the case of solar carports the answer will always be YES. Since each structure is designed specifically for use on site, they can be designed in any configuration to meet the needs of the customer. Sizing, placement and length can all be adjusted to fit each site specific project and maximize production within the project. The fact that land usage is not an issue because you are still using the land underneath makes solar carports one of the next great opportunities in alternative energies.
The content & opinions in this article are the author's and do not necessarily represent the views of AltEnergyMag
---
Comments (1)
This is a thought I've had for sometime but haven't been able to get a hold of a white paper on what wind does to solar panels. If feasible all super market malls parking lots become energy generators while providing shade and cover from sun and rain.
Post A Comment
You must be logged in before you can post a comment. Login now.
Featured Product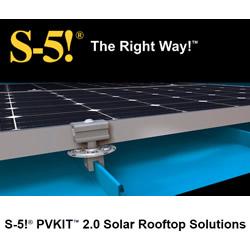 The concept of combining PV arrays with standing seam metal roofing is growing-for good reasons. Metal roofs have a life expectancy of more than 40 years. Shouldn't the mounting system last as long? With S-5! zero-penetration attachment technology and PVKIT 2.0, the solarized metal roof is the most sustainable system available -and without compromising roof warranties! PVKIT 2.0 is the also the best solution for attaching PV modules directly to any exposed fastener metal roof.