Compared to the average cost of just one site visit and one change order - which, conservatively, can total $500 or more - an EagleView Inform™ report returns more than five times the investment in cost savings for a project.
Using Aerial Imagery for Roof Measurements and Shading Analysis
Q&A with Justin Lee | EagleView Technologies
Tell us about EagleView and what they do for solar installation companies?
EagleView is a technology leader in data analytics derived from aerial imagery and computer vision. EagleView utilizes computer vision and proprietary high-resolution aerial imagery to modernize workflows and help professionals across different industries make informed decisions.
EagleView's technology enables remote site assessment for roofing and solar installation companies and streamlines project steps and costs to help increase profitability while better serving customers. Our research and discussions with customers indicate EagleView's precise measurements with unprecedented accuracy can reduce site inspection costs up to 75 percent and project completion timelines by up to 50 percent.
What are the EagleView Inform™ solutions?
The EagleView Inform™ solutions provide roof measurements and shading analysis with unprecedented accuracy, helping solar installation companies design systems that optimize energy output for residential customers. The Inform™ Essentials report provides a must-have foundation for any roofing or solar project, delivering images, measurements and 3D models. Inform™ Advanced reports include objective and accurate shading analysis with thousands of measurement points, allowing solar companies to ensure customers have photovoltaic systems strategically placed to maximize energy output. Please visit www.eagleview.com/solar to learn more about EagleView solutions for solar companies.
What problems are you setting out to solve for solar installation companies?
Solar demand and business continue to grow, bringing more providers into the market. Installation companies that seek to differentiate from their competitors are looking for ways to optimize operations and deliver better, faster solutions for customers and reduce their "soft costs."
Industry research indicates it can cost more than $250 to send a person onsite to physically climb a roof, take measurements and create sketches as input for the design. And, with the risk of human error, those measurements can be subjective and slightly inaccurate. This causes design delays and change orders, which can each result in an additional $250 or the much costlier loss of a customer contract. These traditional, manual methods can hold companies back from greater profitability. With our aerial imaging and computer vision, we can automate steps, reduce costly change orders and help shorten overall project timelines.
What are some of the real cost savings from companies that integrate EagleView Inform™ as a standard in their operations experience?
Compared to the average cost of just one site visit and one change order - which, conservatively, can total $500 or more - an EagleView Inform™ report returns more than five times the investment in cost savings for a project. When solar installation companies adopt Inform™ Advanced as a standard operating procedure, the gains are greater. With real cost savings and efficiencies that free up more time for additional work, the impact of applying our technology to project workflows can be significant for companies, contractors and installers.
Can you tell me about a customer and how they are using EagleView Inform™?
Auric Energy, a fast-growing, Utah-based solar contractor, is a great example of a customer that utilizes EagleView Inform™ reports in its project process and has experienced positive results. Auric Energy's Director of Engineering, Jason Grimes, shared that the company's site inspection time was reduced by 90 minutes - 45 minutes for each site inspector - as onsite measurements were not required. Additionally, site design – specifically, drawing time – decreased by 30 minutes because the product's DXF files and measurements could be easily imported directly into AutoCAD. More information about Auric Energy's experience with EagleView products can be found in a case study on our website.

Can you take us through the process for a Solar installation company from start to finish using your reports?
EagleView has a long-standing, leading role in providing property reports to roofing contractors. Today, with EagleView technology, solar contractors have detailed and highly accurate property reports with the information they need to do their job more efficiently, from roof data and solar installation attributes to solar access values (SAV).
The quick and simple process includes:
Design: Customers use the report's data and 3D model files for design, ensuring it is designed correctly the first time, ultimately saving time from design to engineering. EagleView files are exported in DXF, JSON and XML formats for use with popular design tools including AutoCAD, making it easy for customers using a variety of platforms.
Estimation Proposal: During the proposal process, customers order the report, which accurately equips them with an impressive proposal containing property images and detailed measurements, preventing inaccuracies later in the project.
Installation: During installation, crews have real-time access to the information they need at the touch of a button, with the EagleView mobile app for iOS and Android.
Results: Accurate data informs an accurate process for design and installation. The detailed report gives customers peace of mind knowing that the system was built to maximize output based on objective analysis, seen for example in the SAV provided by Inform™ Advanced reports.
EagleView uses a large fleet of fixed wing airplanes to capture high resolution imagery. I understand you also use drones. What are you doing with drones?
EagleView utilizes state-of-the-art drone technology to conduct property inspections and capture high resolution aerial imagery serving the solar industry as well as the insurance, government and construction sectors. We have an expansive network of Part 107 licensed drone pilots to serve customers across the U.S.
How else are you able to use the high-res imagery and drones in the energy industry?
A variety of energy industry customers, such as oil and gas and electric utilities, can utilize our aerial imaging-based property measurements or drone inspections to avoid sending crews out to sites - delivering unique insights and all the information they require to their desktop, saving time and money in the process. Energy customers use EagleView imagery to assess areas and properties of interest for planning and leverage our drone services to inspect locations that are difficult to reach. To learn more about how EagleView helps companies in the solar and utilities industries, please visit www.eagleview.com.
1. National Renewable Energy Laboratory (NREL). "Installed Cost Benchmarks and Deployment Barriers for Residential Solar Photovoltaics with Energy Storage: Q1 2016." Feb. 2017.
2. Based on proprietary EagleView research and customer interviews.
The content & opinions in this article are the author's and do not necessarily represent the views of AltEnergyMag
---
Comments (0)
This post does not have any comments. Be the first to leave a comment below.
---
Post A Comment
You must be logged in before you can post a comment. Login now.
Featured Product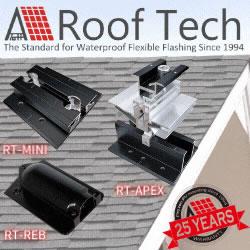 Now Roof Tech brings you the most innovative, watertight mounting systems ever developed for solar photovoltaic systems. Designed and manufactured exclusively for us by Japan's longtime leader in roofing technologies, Roof Tech products are 100% code-compliant and offer fast, simple installation and huge savings on shipping costs due to their compact, rail-less design. Learn more about our full line of versatile PV mounting solutions now available for residential installations. The next generation in rooftop solar mounting solutions."