The infrastructure we build in response to climate change, the #1 environmental issue of our time, should not come at the cost of having to flatten hills, fill in valleys, and raze natural structures occupying parts of a project site.
To Hit Climate Goals, We Need Climate-friendly Solar Trackers
Leila Madrone | Sunfolding
How much new solar construction will be needed to satisfy new climate policy, like California's 100 Percent Clean Energy Act, also known as SB100? It depends partly on the development of other carbon-free resources and trends in electricity demand growth. But based on current understanding, we're looking at unprecedented solar industry growth very soon.
To deliver a zero-carbon energy supply by 2045, California may have to build about 100 gigawatts of renewable resources more than previously planned, according to the Northwest Power and Conservation Council. By comparison, the total capacity of all solar projects ever built in the US is 71 GW, as of December 2019.
If it takes 2 square miles for every gigawatt of solar capacity, we'll need 200 square miles overall, or about four times the area of San Francisco.
Many of us have only begun thinking about how to address land constraints on the path to carbon reduction, if we've been thinking about the challenge at all.
One thing is for sure: The infrastructure we build in response to climate change, the #1 environmental issue of our time, should not come at the cost of having to flatten hills, fill in valleys, and raze natural structures occupying parts of a project site. We shouldn't have to destroy land to create renewable energy resources.
Nor do we have to. Using climate-friendly solar trackers, we can expand the boundaries of where solar can go and deploy projects much faster than ever before.
Expanding the boundaries of utility-scale solar
For much of today's solar technology, projects need land that's flat and rectangular to accommodate motorized trackers. Usually the land doesn't start off flat and square. During site prep, construction crews make it flat with earth-moving machinery. Even slight contours in the land put motorized trackers quickly out of tolerance. These projects also need wide-open space to absorb the cost of heavy-duty motors, gearboxes, torque tubes and other expensive equipment. Minimizing the quantity of motors needed to move a large volume of solar modules is key to absorbing expensive equipment costs.
As the supply of these prototypical parcels of land start to go away, so does the business case for using motorized trackers. The tradeoff with motorized trackers is that you sacrifice design flexibility to achieve low cost. As you reduce the ratio of modules to motors, project costs escalate. To protect profit margins, these projects may leave large sections of land unused.
To satisfy California's need for 100 GW of additional capacity and help bring zero-carbon energy to other states, the solar industry cannot walk away from project sites with sloping terrain or irregular boundaries. We should not modify the land to fit the tracker, either.
Instead, we can modify the tracker to fit the land.
The Sunfolding T29 single-axis tracker takes advantage of systemwide innovation that makes solar projects cost competitive without sacrificing design flexibility. Using a compressed air system instead of motors, for example, the system can economically scale down to one module string.
As a result, the Sunfolding T29 makes it possible for project layouts to follow the slope of the terrain. Watch how you can use land in its current state instead of razing it to build out more power.
Deploying projects faster
We can't wait for miracle R&D to solve the climate crisis. We have the core technology. We need to start deploying it quickly. Right now, incentives favor systems built at the lowest price. Cheap infrastructure doesn't always bring about the best quality of infrastructure. Instead, incentives should encourage the industry to build projects faster and focus on long-term reliability.
Increasing the pace of deployment and expanding the boundaries of solar go hand in hand. Tracker design affects the size and efficiency of your installation crew and the number of technical decisions that must be made in the field. Design improvements can add up to significant time savings.
One area where we have seen a notable improvement is module installation. Sunfolding's low tracker table makes it possible to install modules waist high and on a horizontal plane, leading to higher productivity rates.
With motorized trackers, especially where installers use ladders or lifts and the module plane is not horizontal, installation crews complete fewer modules per hour.
We have to raise our expectations. To this point, the solar supply chain has only been asked to deliver 1-2 percent solar penetration in the US. By 2030, the industry has to reach 20 percent.
Global problem, global solution
Solar technology has come a long way with an almost singular focus on cost reduction. Now, real progress on climate change will require a shift in perspective. We need to think about how we interact with the land we're building on, the experience of the people who install solar, and the experience of people who will rely on this new energy infrastructure for generations to come.
The challenge in California is actually somewhat modest. California already gets about 14 percent of its energy from hydropower, a carbon-free resource. Other parts of the US with fewer carbon-free resources at their disposal will need to install more solar, and do so faster. So will many of the countries responding to the UN Sustainable Development Goals and the 2018 findings of the Intergovernmental Panel on Climate Change.
As a new member of the Global Cleantech 100, Sunfolding is committed to influencing the transition to clean energy at a global scale. With more technologies that accelerate the pace of project deployment, like climate-friendly trackers, the path to zero-carbon energy will open up right before us.
The content & opinions in this article are the author's and do not necessarily represent the views of AltEnergyMag
---
Comments (0)
This post does not have any comments. Be the first to leave a comment below.
---
Post A Comment
You must be logged in before you can post a comment. Login now.
Featured Product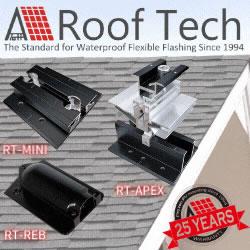 Now Roof Tech brings you the most innovative, watertight mounting systems ever developed for solar photovoltaic systems. Designed and manufactured exclusively for us by Japan's longtime leader in roofing technologies, Roof Tech products are 100% code-compliant and offer fast, simple installation and huge savings on shipping costs due to their compact, rail-less design. Learn more about our full line of versatile PV mounting solutions now available for residential installations. The next generation in rooftop solar mounting solutions."