As independent building blocks, the system can scale both power output and energy storage capacity independently, allowing for multiple use cases that can serve customers more effectively based on their individual needs.
Making Home Energy Storage Scalable & Versatile
Q&A Catherine Von Burg, Founder and the President and CEO | SimpliPhi Power, Inc. (SimpliPhi)
Why did Briggs & Stratton acquire SimpliPhi Power?
We created the new Briggs & Stratton Energy Solutions business by combining SimpliPhi Power with the standby generator business to provide a full line of technically advanced energy storage and management offerings for both the residential and commercial markets. We deliver reliable and accessible energy solutions that empower our customers to utilize data and monitoring to make informed energy choices that enable independence, peace-of-mind, and cost savings.
SimpliPhi Power brings deep application expertise, strong technical acumen and proven, successful energy storage and management systems. We are positioned to expand into additional growing markets in renewables and energy storage that leverage hardware, firmware and software, to satisfy requirements for electrification of the built environment, and IoT, using real-time power generation and consumption data to optimize electricity usage and dynamically shift to more cost and resource efficient use profiles.
One of the first exciting new developments of the business is the SimpliPHI Energy Storage System (ESS). We leveraged the technical expertise within the two companies to develop this innovative new product.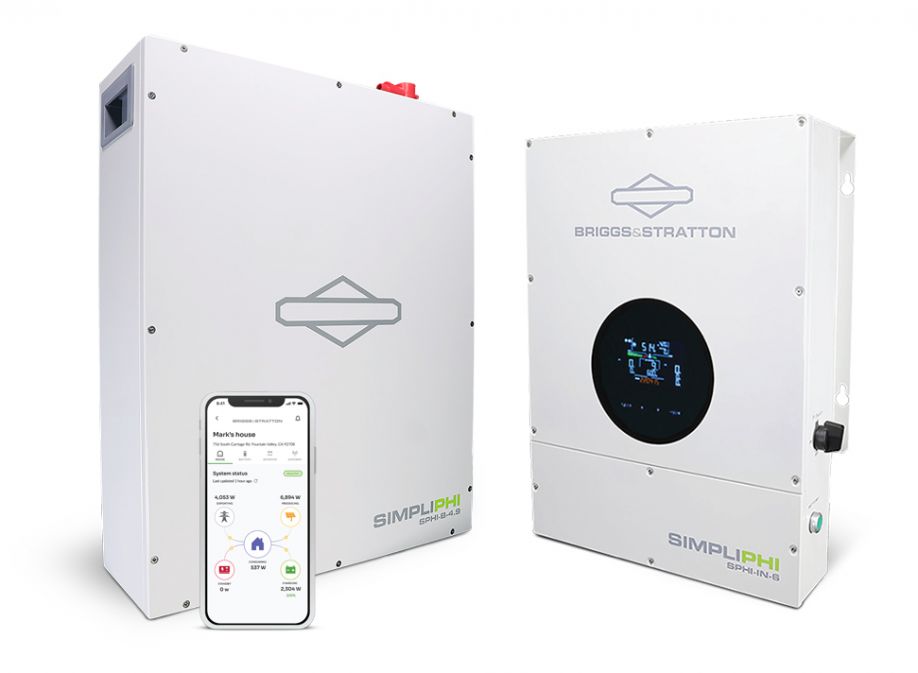 What can you tell me about the SimpliPHI ESS and its features?
The SimpliPHI Energy Storage System is an answer to customer requests for reliable, safe and affordable energy in both residential and commercial applications. It is an integrated, scalable solution with proprietary hardware and software designed to store, manage and control energy from multiple generation sources. It allows customers to achieve critical power security and daily cost savings on their utility bills. As independent building blocks, the system can scale both power output and energy storage capacity independently, addressing multiple use cases. It allows customers to customize the system based on their individual needs.
How does the ESS work?
The SimpliPHI ESS intelligently integrates and manages generated power from multiple energy sources, such as a solar array, a standby generator or the electric utility. That power can be used immediately or stored in batteries for later use. When it's time to use that energy, the system delivers the power from the batteries as if it's coming directly from the power grid, providing data to the customer for whole home backup, critical load management and Time of Use cost savings.
The system's state-of-the-art technology achieves seamless integration with three core components: a 6 kW SimpliPHI Hybrid Inverter, a 4.9 kWh Battery and the EnergyTrak monitoring and control system
What makes this system easy to use for customers?
The system features EnergyTrak, a monitoring and control software platform which allows users to manage their energy usage through a sophisticated mobile app that delivers real-time status and updates to home and business owners.
With a 5-step commissioning process, common operating profiles such as off-grid, battery back-up and time-of-use (TOU) can be easily programmed remotely and allow installers to set up systems quickly and efficiently. The EnergyTrak mobile app seamlessly integrates the SimpliPHI ESS 6 kW Inverter and 4.9 kWh Battery in any combination to help optimize performance, accelerate utility savings and create energy security for customers.
The SimpliPHI ESS 6 kW Inverter and 4.9 kWh Battery are both IP 65 rated for outdoor or indoor use, streamlining product SKU choices for installers and maximizing the installation alternatives needed to meet local codes.
It also offers exceptional flexibility, making it ideal for those looking for backup power to subsidize utility costs, or to run a power system completely off-grid.
Give us an idea on the installation process and what is involved?
Installers will receive the inverter, batteries and gateway (EnergyTrak), in separate boxes with instruction manuals for the installation.
They can quickly mount the batteries, inverter, and gateway on the wall with convenient wall mounts included with the components.
For outdoor installations, an optional conduit box that mates with the inverter can be ordered
Prior to visiting the site, the installer can set-up their Pro account by visiting the EnergyTrak website. This will enable them to set-up site information ahead of time and invite the homeowner to the End User app.
Using the EnergyTrak app, installers can quickly commission the system with several preloaded operating modes. The battery's closed loop communication will automatically program several settings within the inverter.
By choosing off-grid, battery back-up or TOU settings an installer can quickly access and program the required settings for the customer.
The 5-step commissioning process will automatically make any firmware updates to the equipment and allow for the system to be ready to commission in a matter of minutes.
Once installed and the electrical connections are made, the batteries will need to be fully charged from either the grid or solar prior to activating any load support.
Once all settings are verified and the batteries are fully charged, the installer can fully commission the system and power on loads. From there both the homeowner and installer can remotely monitor the system.
What trends are you seeing in the alternative energy space?
Briggs & Stratton anticipates exponential growth in the ESS market because battery based systems provide much-needed power in the event of an outage and also give homeowners the flexibility to store excess energy to offset high electricity costs during peak times and supplement power from the utility grid.
Additionally, by leveraging battery storage with stand-by generators, fuel consumption and run time can be reduced. This enables the generator to run more efficiently and charge up the batteries in a shorter period of time when needed.
How will the Inflation Reduction Act impact the energy storage market?
The legislation allows the 30% tax credit to apply to battery storage technology, regardless of the power source (grid, solar, or generator). Stand-alone energy storage units with at least 3kWh of capacity are now eligible for the credit. Previously, energy storage projects were only eligible for tax credits if they were connected directly to solar power projects, but the Inflation Reduction Act removed this requirement. Batteries connected to a solar power project will continue to qualify for the credit, even if they are no longer being charged by solar power.
Significant growth in the energy storage system (ESS) market is expected as worldwide demand for alternative power solutions continues to rapidly grow in the face of continued centralized power outages and climate related disasters.
The increased tax credit will only accelerate interest and demand in these kinds of solutions as the upfront cost is reduced through incentives and rebates.
About Catherine Von Burg, President and CEO of SimpliPhi Power
Catherine Von Burg is a Founder and the President and CEO of SimpliPhi Power, Inc. (SimpliPhi), a California-based technology company that designs and manufactures safe, efficient and enduring energy storage and management solutions that seamlessly integrate and optimize solar, grid, wind, and standby generators for residential and commercial markets. Founded in 2010, SimpliPhi was acquired by Briggs & Stratton in late 2021. Both SimpliPhi Power and Briggs & Stratton have a longstanding history of providing energy solutions built with quality and reliability as the highest priority. Von Burg played an integral role in the acquisition and integration of the two companies with a vision to deliver a portfolio of diverse and innovative technologies to empower people to generate, store and utilize power on their terms, anytime, anywhere.
Von Burg's career spans a diverse portfolio of strategic planning, policy development, executive management and multidisciplinary team building in the fields of biomedical engineering and research, health and human services, and environmental conservation. Committed to the transformation of the power grid and creating equitable access to renewable energy by leveraging innovative distributed energy storage solutions, Von Burg has published white papers and spearheaded national program, policy, and business-driven initiatives with organizations such as Pew Charitable Trusts, Rockefeller Institute, Columbia University and John Hopkins School of Biomedical Engineering. Von Burg currently serves on the Board of Directors of the California Solar and Storage Association (CALSSA), as well as the Advisory Board for Footprint Project and Alegria Farmacy.
Von Burg's leadership has resulted in her receiving honors such as the Gold Stevie Award and The Edison Best New Product Award in 2016. In 2017, Von Burg was nominated to participate in an exclusive entrepreneur program hosted by the U.S. Department of State, Unreasonable Group, USAID, and the World Bank, representing the United Nations Sustainable Development Goal No. 9, 'Industry, Innovation & Infrastructure'. In 2019, Von Burg was presented with the NAWBO: Ventura County Woman Business Owner of the Year Award, and in 2020 she was honored with the Meaningful Business 100 Award. In 2021, she received recognition as a Global Power & Energy Elite and an Inc. Female Founders 100.
Catherine believes that access to renewable and affordable energy is fundamental to economic growth, social equity, and environmental sustainability and to building our collective future globally. With over a decade of profitable growth, she has demonstrated that even early-stage companies can scale while adhering to a triple bottom line in which equal weight is placed on people, planet, and profit in all their strategic business decisions.
The content & opinions in this article are the author's and do not necessarily represent the views of AltEnergyMag
---
Comments (0)
This post does not have any comments. Be the first to leave a comment below.
---
Post A Comment
You must be logged in before you can post a comment. Login now.
Featured Product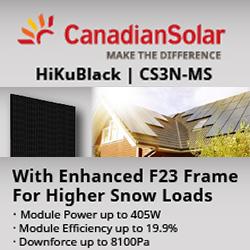 Aesthetic appearance for residential systems: With black backsheet & black frame, Power range 380 ~ 405 W, Low power loss in cell connection. Enhanced reliability: · Low temperature coefficient (Pmax): -0.34 % / °C, LID LeTID less than 2.0%, Lower hot spot temperature, Better shading tolerance.