Acterra Group, Inc. headquartered in Marion IA, will be the first in North America to sell, install and service the Lely Aircon lineup of low noise, high-yield wind turbines.
Lely, a premium German manufacturer known in the US for its high-quality farm equipment, is making its Lely Aircon wind turbines available to North American markets for the first time.

Acterra Group, headquartered in Marion, Iowa, will begin selling, installing and servicing Aircons three turbine models, including the Lely Aircon 30, which has earned praised in Europe for its low noise, ease of maintenance and high energy yields.
"Lely has an outstanding reputation among farmers, and the Aircon delivers the same quality youd expect from this company," said Acterra President, Tad Cooper. "Were proud to be the first and only retailer in the US to offer this product."
Acterra, located in the heart of Americas corn belt, is banking on farmers to be the first to adopt Lelys technology, which makes wind turbines quieter, more compact and more affordable.
"In the dairy industry, and across farming in general, theres a big move towards automation," said Cooper. "This makes things more efficient, but it also means farmers are consuming more energy at a time when electricity and natural gas prices are on the rise. Wind turbines can cut costs and help farmers become more energy independent—and in some cases, actually supplement their income."
According to Acterra, Lely Aircons unique brand of turbines also makes wind-powered energy a more feasible option for industries outside of farming.
"Lely Aircon has made wind turbines a lot more accessible to everyone—even potentially residential developments. Because theyre more compact and quieter than tradition wind turbines, in the future, well see a variety of industries embracing wind energy," said Cooper.
"Lely are looking forward to working with Acterra as their distributor for wind turbines in the US," said Lely Aircon General Manager, Andreas Aschoff. "Initially starting in Iowa and then introducing them across the whole of the US, Acterra will offer not only famers the opportunity to become more self-sufficient and control some of their energy costs, but businesses with a high energy use as well."
Since 1958, Acterra Group, Inc. has provided equipment, manufacturing, consulting and specialized construction services to the fuel, chemical, renewable energy, healthcare, manufacturing and fleet industries. With more than 60 years in the industry, Acterra has evolved from a gas station equipment and service enterprise to a multi-faceted organization with exceptional sales, service and installation capabilities. Learn more at http://www.acterragroup.com.
Featured Product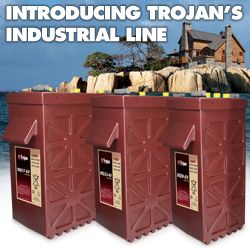 Trojan's deep-cycle batteries provide rugged durability, outstanding performance and long life for use in all types of solar energy installations. With over 90 years of experience, Trojan delivers the world's most reliable and trusted batteries in flooded, AGM, Gel, and Lithium types. These batteries enable solar equipment systems to operate at a peak level of performance in the harshest conditions or the most challenging of locations and are manufactured and tested to IEC standards.