The project is supported by a joint collaboration between the Oman Ministry of Energy and Minerals and U.S. Department of Energy
Eden, a leader in sustainable natural resource recovery, today announced that it has signed a Memorandum-of-Understanding with the Oman Ministry of Energy and Minerals ("MEM") to lead development of stimulated geologic hydrogen in Oman.

The Sultanate of Oman has embarked on an ambitious endeavor to position itself as a global leader in clean hydrogen production and exportation. Their ambitious goal is to achieve a production capacity of one million tons by the year 2030. In February 2023, His Majesty Sultan Haitham bin Tariq issued Royal Decree No. 10/2023, designating specific land blocks for the development of renewable energy and clean hydrogen projects. Oman's rich hydrogen reserves are well-documented, and the distinctive geological features of the Oman ophiolite terrain render it particularly appealing for hydrogen research, with the potential for both scientific investigation and commercial extraction and production.
The MoU agreement between Eden and Oman MEM was signed on September 24th during a United States and Oman joint technical workshop on geologic hydrogen. Bilaterally, the two nations have inaugurated the Strategic Dialogue with the objective of building upon the strong historic partnership between the two nations. The Strategic Dialogue cooperation in the energy sector includes collaboration in clean hydrogen investments, research, and knowledge sharing.
"Geologic hydrogen fits perfectly in the Sultan's strategy to provide the world with secure and low carbon energy," said HE Mohsin Hamad Al Hadhrami, the Undersecretary, Ministry of Energy and Minerals. "I thank everyone for the effort and for the consistency and persistence to make it happen, and the discussion with Eden which started at the beginning of the year and now closing the year by signing an MoU today, which in my view is a sign of solid partnership with the U.S. It's a sign that the DOE and the MEM are doing the right things like empowering industry."
Chargé d'Affaires, Leslie Ordeman, U.S. Embassy to Oman mentioned that he is "very pleased to participate in today's session, in which Eden, a U.S.-based company, partnered with the Omanis on exploring a new and exciting energy source for our shared green future together. It's a U.S. priority to find alternative energies and Eden is at the forefront of doing just that."
Dan Milstein, Senior Advisor, U.S. Department of Energy, Office of International Affairs, who facilitated the dialogue between Oman MEM and Eden, also mentioned that he is "thrilled that Eden was able to be here in Oman at this U.S.-Oman technical workshop. Eden has done a lot of legwork leading up to this and was here even before I had an inkling that Oman was an interesting place to explore geologic hydrogen. Eden seems to be on everyone's mind here for applying their technology to stimulated hydrogen production."
As part of the agreement with Oman MEM, Eden will facilitate development of the world's first international test site for research and demonstration of stimulated geologic hydrogen. Eden will begin by conducting a feasibility assessment to identify a site with optimal subsurface conditions for stimulated geologic hydrogen generation. Eden plans to conduct pilot testing of their patented Electrical Reservoir Stimulation ("ERS") technology to enhance the production of geologic hydrogen at the test site in Oman. Eden plans to scale this technology to then lead the first commercial development of stimulated geologic hydrogen in the world.
"We are very grateful to Oman MEM in this collaboration for the first stimulated geologic hydrogen demonstration. Together, we hope to position Oman as a world leader in hydrogen production by helping the country unlock the potential of their unique geologic hydrogen resources," said Ammar Alali, Co-Founder and President of Eden. "Eden is excited about the opportunity to shape and catalyze the hydrogen industry in Oman and globally. We are invested in geologic hydrogen because we see this opportunity as the next inflection point in the energy transition."
Oman's Vast Peridotites Make it an Ideal First Demonstration Site
Geologic hydrogen is generated when water reacts with Fe-rich rocks in the subsurface. However, commercial accumulations of naturally generated geologic hydrogen are rare and difficult to discover. Stimulated geologic hydrogen is a new approach to hydrogen production where water is injected into Fe-rich rock formations to accelerate the water/rock reactions which produce hydrogen. The challenge with many Fe-rich rocks, such as Oman's peridotites, is low natural permeability which limits the extent of the water/rock reactions within the rock. Eden is focused on stimulating the chemical reactions that produce geologic hydrogen by developing novel injection/production methods and rock permeability enhancement techniques to accelerate the rate of hydrogen production from the subsurface.
Oman's Samail Ophiolite is one of the largest Fe-rich peridotite rock formations accessible on land. The unique geology of Oman positions the country to become a global leader in hydrogen production. Stimulated geologic hydrogen production in Oman could become the lowest cost and cleanest source of hydrogen in the world.
"It's exciting to see how willing Oman MEM is to explore the potential of geological hydrogen in the country, and to provide Eden with an opportunity to contribute its interest and unique expertise. Such collaboration will rapidly accelerate the development of stimulated geological hydrogen production." said Alexis Templeton, University of Colorado Boulder Geoscience Professor and Head Geochemist at Eden.
Once stimulated geologic hydrogen is proven in Oman, Eden plans to expand operations into areas that are suitable for stimulated geologic hydrogen production in the U.S. and abroad. A 2022 report from the USGS identified areas along the Atlantic coastal plain and in underlying parts of the Great Plains as major sites in the U.S. with favorable geology for the generation of substantial volumes of geologic hydrogen.
"Eden is positioning itself to be a global leader in hydrogen production from geologic resources," said Paris Smalls, Co-Founder and CEO of Eden. "We started developing Eden's ERS technology as a novel reservoir creation technique to enable Enhanced Geothermal Systems. Now, we see a new and exciting opportunity to modify our approach and use our technology for geologic hydrogen reservoir creation and stimulation."
About Eden
Eden is a leader in sustainable natural resource recovery. We break rocks with electricity to maximize subsurface permeability.
We believe that a more sustainable approach to natural resource recovery is critical to creating a carbon-neutral future. By using high-voltage electricity and proprietary modeling and reservoir characterization techniques, we can achieve precise fracture permeability enhancement, while preventing the high-water consumption and environmental risks associated with traditional hydraulic fracturing operations.
With backing from public and private institutions, our next-generation rock permeability enhancement technology is being demonstrated in multiple geologies across the world. We're working with industry leaders in geothermal energy, geologic hydrogen, geologic carbon storage, and mining to redefine how we recover Earth's natural resources.
To learn more about Eden and our groundbreaking technology, visit edengeopower.com
Featured Product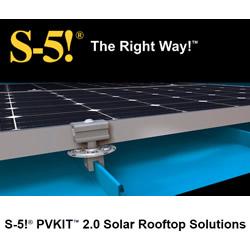 The concept of combining PV arrays with standing seam metal roofing is growing-for good reasons. Metal roofs have a life expectancy of more than 40 years. Shouldn't the mounting system last as long? With S-5! zero-penetration attachment technology and PVKIT 2.0, the solarized metal roof is the most sustainable system available -and without compromising roof warranties! PVKIT 2.0 is the also the best solution for attaching PV modules directly to any exposed fastener metal roof.