Solar Power International 2011 took place in Dallas, Texas, with a goal to generate powerful new ideas, connections and business opportunities for the solar industry. An estimated 24,000 professionals and over 1200 exhibitors from businesses spanning the entire spectrum of the industry will be on hand for four days of product exploration, discussion, professional enrichment and networking. The AltEnergyMag team has taken some time to put together a list of some of the interesting new products and services seen at this year's show.
Solar Power International 2011 Report
AltEnergyMag | AltEnergyMag.com
The AltEnergyMag team has taken some time to put together a list of some of the interesting new products and services seen at this year's show.
Many thanks to these sponsors for making our Special SPI 2011 News Page possible.
Be sure to post your company news from the show.
Trojan Battery Company – Industrial Line
http://www.trojanbatteryre.com/
Trojan's Industrial line of deep-cycle batteries is the newest addition to Trojan's lineage of high-quality flooded batteries. The Industrial line is engineered specifically to support renewable energy systems that require large daily loads where the batteries are cycled regularly. These high amp-hour capacity batteries are ideal for use in large off-grid photovolataic (PV) systems, off-grid hybrid PV systems, grid-tied PV systems with battery backup, smart grid peak shifting systems with battery backup and a variety of other applications. Tested to meet both IEC and BCI standards, the Industrial line is engineered with advanced battery technologies that deliver reliable power and is housed in a dual container construction for enhanced battery protection. Trojan's Industrial flooded batteries are specifically designed for deep-cycle use and optimized for deep discharge and recharge cycles characteristic of RE systems. The Industrial Line features five different configurations to meet customers' various capacity needs.
---
Unirac - SolarMount Evolution
http://unirac.com/residential/residential-products/solarmountevolution-residential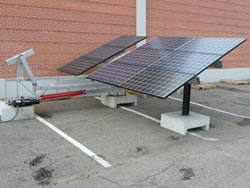 SolarMount (E)volution is Unirac's newest residential PV roof mount solution. Representing engineering innovation at its best, the design of SolarMount (E)volution was based on distributor feedback requesting higher load levels, faster lead times and a competitive price point. As a result, SolarMount (E)volution offers unprecedented speed, ease, flexibility and value. Benefits of SolarMount (E)volution include lower maintenance costs, reduced failures, and longer production life relative to other products on the market. Versatility is a key feature of SolarMount (E)volution. It offers I-beam construction and two rail span options —six feet and four feet— for module configurations. New mounting hardware allows for insertion anywhere along a rail and provides less sensitivity to module thickness. Fewer physical parts and fewer tools reduce hassle and increase installation time. In addition, there is no anti-seize or module hardware twist. SolarMount (E)volution also includes a one-handed installation option, universal socket size and integrated bonding. SolarMount (E)volution showcases Unirac's dedication to safety and testing and has been designed with the highest standards in mind. SolarMount (E)volution is currently pending International Code Council ICC-ES approval.
---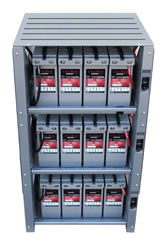 OutBack Power – Battery Rack System
The Battery Rack System is a complete integrated energy storage system with VRLA batteries that includes cell interconnects, cabling, over current protection and disconnects. As more systems incorporate energy storage, integrators can save considerable design and installation time with "batteries-now-included" from OutBack Power. The fully-integrated Battery Rack System is easy to order and install as a complete solution. All electrical connections are made at the factory and ship fully-assembled with the exception of the batteries, which can be quickly added and connected on the jobsite. Unlike typical steel racks, the OutBack design is crafted of powder coated aluminum, resulting in a rack that maintains a clean, durable appearance even in challenging environments while weighing less than 90 pounds. Plastic covers provide additional protection for the batteries and electrical connections. The rack can support up to 12 x 110 lb. EnergyCell RE batteries (1320 lbs.), for 48 volt systems.
---
KACO new energy, Inc. - XP10U-H4
The highly innovative KACO blueplanet XP10U-H4 inverter is available and ready to be sold. Perfectly suited for commercial applications the inverters come with advanced features that make installation more convenient. Their competitive pricing will help drive down the cost of a PV system. KACO's blueplanet XP10U-H4 is a 10 kW three-phase 480 VAC transformerless inverter. The inverter's maximum efficiency is 98%, which will accelerate the system's ROI. The XP10U offers the most precise tracking of two string inputs with standard dual MPPT. The result is pin-point power tracking accuracy. Designers will benefit from a wider range of system layouts. Dual MPPT also enables more overall system production by reducing the effect of erratic insolation.
The inverter is lightweight (88 lbs) in its power class and has an easy to handle cast aluminum enclosure. It allows for a better side by side installation and comes with an inside fan air intake and top exhaust. The very compact design allows for a convenient and quick installation. It is equipped with a top of the line graphic display with 6 button keypad. The integrated web server makes system monitoring easier than ever.
---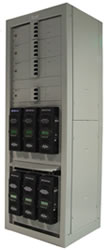 Alpha Energy - Photovoltaic Power System
http://www.alpha.com/solar-energy/
The new photovoltaic power system (PVPS) is a hybrid DC powering system that integrates solar power and advanced charge controller technology to improve overall network reliability, reduce operating energy expenses and increase system efficiency. The PVPS allows users to design completely independent solar power systems based on DC power (no inverter) to let them operate independently of local utility regulations and AC permit processes, which saves time and money. It gets renewable electricity up-and-running faster with no hassles anywhere in the world where a DC system is appropriate. The PVPS solar harvesting technology provides conversion efficiencies of 97 percent. In addition, the unique DC powering design improves system efficiency by at least 10 percent over traditional grid tie AC inverter system designs. This design greatly improves reliability by allowing for the use of solar power during daytime outages to augment and increase battery backup time in critical facilities.
---
EcoFasten Solar – Bulls Eye Target Patch
For use on membrane roofs, the Bulls Eye Target Patch is designed to provide a versatile new means of mechanical attachment using a fastener and a welded patch. The fastener is installed using an increasingly common detail that the roofing industry accepts as a non-penetrating assembly, thereby eliminating roof warranty concerns. Installation of the Bulls Eye Target Patch is quick and simple. What truly sets the Bulls Eye Target Patch apart is that we have engineered failure in to the upper portion of the assembly. This pioneering new approach to rooftop attachment means that during extreme weather or a seismic event the top components could yield without exposing the base components of the roof to the elements. This facet of the design completely eliminates the potential for leaks.
---
Firestone Energy Solutions – Platinum PV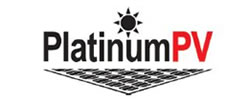 Firestone Energy Solutions' PlatinumPV is a new program to resolve overburden issues with photovoltaic (PV) solar systems on commercial rooftops. This new program couples Firestone's "Platinum" roofing systems with a PV system of choice, resulting in the opportunity to purchase overburden protection through Firestone's new Solar Service Agreement and maximizing building owners' return on investment in rooftop solar. Available in EPDM, TPO, asphalt and metal, Firestone Platinum roofing systems incorporate decades of roofing system design expertise for the best commercial roofing has to offer. By incorporating ISOGARD™ HD 120 psi polyiso cover board to protect against higher levels of traffic with Firestone's thickest and toughest fully adhered single-ply membranes, SBS and metal profiles, Firestone is able to offer the ultimate in building owner "peace of mind".
---
Schneider Electric - Conext TX Series Grid Tie Solar Inverters
Conext inverters use Schneider Electric's Fast Sweep technology, containing an innovative maximum power point tracking (MPPT) feature that helps ensure increased energy harvest in shaded conditions. The Conext range uses a proven high-frequency design in a compact enclosure. The inverters contain an integrated DC and AC disconnect switch, are optimized for common service panel breaker sizes, and are easily installed as a single inverter for a single photovoltaic (PV) array or in a multiple-inverter configuration for larger PV systems.
---
Schletter Inc. - The ETL Listed FS System™
Schletter's world renowned FS System has qualified to be classified with the ETL Listed Mark. "Used in combination with our ETL Listed Rapid2+ Grounding Middle Clamp we can provide our customers with a completely bonded system," says Wolfgang Fritz, Vice President of Engineering for Schletter Inc, "This not only saves time for installers of our systems, it also provides an added level of quality assurance."
The Schletter FS Mounting System has a proven worldwide product and installation history, with over 6 GW of ground mounted installations installed throughout the world with many FS installations ranking among the largest globally. With this established history and experience in ground mounted PV installations, the latest generation of the FS System offers a culmination of experience and the highest level of in-house pre-fabrication to date, while always maintaining the focus of making the overall cost of a PV system more competitive. The result is an attractive system installed quickly, efficiently, and with the durability to last.
---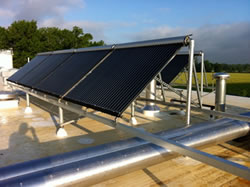 Apricus Inc. - Buy American AP-30C Solar Collector
The AP-30CSolar Collector meets and exceeds the requirements of the Buy American Act and is suitable for projects funded by the American Recovery & Reinvestment Act. Designed to be used in a wide variety of commercial solar thermal applications in almost any climate, the evacuated tube and heat pipe technology provides a very efficient and reliable solar thermal production in a simple to install, low maintenance design.
---
LG Electronics – North America Solar Division – MonoX
The MonoX features a unique frame construction designed to work in any weather condition without affecting its power output. All LG photovoltaic modules can withstand a maximum load of 5400 Pa, are lightweight and are built with slim, durable glass. These panels are available in 260, 255, 250, 245 wattages. The MonoX delivers maximum efficiency while offering superior durability. By utilizing all of the resources available, LG has created remarkable solar modules designed to deliver long-lasting power, efficiency and reliability for years to come. Their MonoX modules are backed by a strong warranty and are endorsed and acknowledged by TÜV Rhineland and Underwriters Laboratories Inc.
---
Hanwha SolarOne Co., Ltd. - HSL 72 Poly - Smart Module
http://www.hanwha-solarone.com
Maximizing the power output through the life of your system in Utility, Commercial and Residential applications. Key Features of the module:
1 Guaranteed quality: 5 year product warranty, 25 year performance warranty
2 Predictable output: Positive power sorting of 0 to + 5 W
3 Innovative solutions: Anti-reflecting coating for high sunlight absorption
4 Highly Bankable: Proven field performance with strong company financials
---
NRG Systems Inc. - NRG Systems Solar Resource Assessment System
http://solar.nrgsystems.com/index.php
NRG Systems, leading manufacturer of wind measurement equipment for the global wind industry, has brought its product leadership and technical expertise to the solar industry with the introduction of a complete solar resource assessment system. Like its complete measurement systems developed for wind measurement, the NRG Systems solar resource assessment system includes tower, sensors, data logger and communications module - everything a developer needs to assess a site's solar potential.
---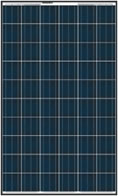 REC SOLAR - REC Guarantees More Power Output and Investment Security with Linear Warranty
Each REC module is now guaranteed to provide at least 97 percent effective output during the first year of operation, providing customers with the security needed when investing in a solar energy system. This is an improvement in comparison to the previous warranty, which guaranteed only 90 percent performance. The maximum decline is now 0.7 percent each year, providing a minimum performance level of 80.2 percent by the end of the 25th year of operation. The material and workmanship warranty is almost doubled from 63 months to 10 full years.
---
Ecolibrium Solar - EcoFoot®

Ecolibrium Solar's revolutionary, polymer product, the EcoFoot® modular mounting system, is lighter and faster to install than the metal, multi-piece grids currently used to secure photovoltaic panels on flat roofs. Ecolibrium Solar CEO Brian Wildes says the EcoFoot's new technology will cut costs and make green energy more accessible. In addition, the EcoFoot is made from 100 percent recycled material – advancing a green industry with green technology.
---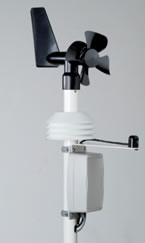 Power-One - AURORA Vision
With the new category AURORA Vision, Power-One helps its customers to maximize the return of investment of renewable energy projects through better understanding and communication between the user and the installation. The new AURORA Vision has three key offerings: software, hardware and accessories. To maximize system energy output while minimizing costs, the software includes a full range of system fault management, diagnostics, asset tracking, performance index and alerting services as well as revenue information. The hardware section of AURORA Vision offers equipment designed to capture data and environmental information to allow the transfer between inverter, installation and owner. Accessories such as the desktop monitoring system and the EVO Easy control, which help to monitor the performance of connected inverters over the internet, complete the AURORA Vision portfolio.
---
DEK Solar - Eclipse Scalable Metallization Technology
DEK's Eclipse cell metallization platform introduces a level of scalability not previously achievable with early systems. Not only is Eclipse capable of print speeds up to 600mm/second enabling up to 3600 wafers per hour (wph), but the modular design also offers unprecedented process adaptability. With Eclipse, solar specialists can insert blank process modules equipped with conveyor belts where future production volumes will be added. When cell demand dictates a change, these blanks can be exchanged for extra print capacity, eliminating the need to reconfigure the entire line. What's more, Eclipse's advanced accuracy and wafer handling stability offer the foundation for enabling high efficiency print processes such as DEK Solar's Print-on-Print technology.
The content & opinions in this article are the author's and do not necessarily represent the views of AltEnergyMag
---
Comments (0)
This post does not have any comments. Be the first to leave a comment below.
---
Post A Comment
You must be logged in before you can post a comment. Login now.
Featured Product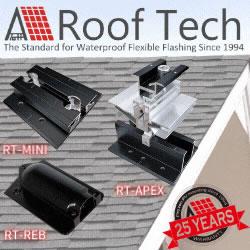 Now Roof Tech brings you the most innovative, watertight mounting systems ever developed for solar photovoltaic systems. Designed and manufactured exclusively for us by Japan's longtime leader in roofing technologies, Roof Tech products are 100% code-compliant and offer fast, simple installation and huge savings on shipping costs due to their compact, rail-less design. Learn more about our full line of versatile PV mounting solutions now available for residential installations. The next generation in rooftop solar mounting solutions."