For renewable energy industries, it is important that project knowledge, industry awareness and organizational savvy be captured within the organization so it can be easily shared with incoming employees.
Ways to Build Skills Among Renewable Industries' Workforce
Dan Liggett | geoAMPS
With increased global demand for energy and concerns over climate change, renewable energy industries worldwide are projected to be in a growth phase for the foreseeable future. That creates not only funding, political and infrastructure challenges, but workforce challenges as well.
Renewable energy industries are tasked with hiring professionals with technical and management skills who will support and sustain each organization's plans for growth. Because those individuals currently are in short supply, renewable energy organizations are, in a large sense, engaged in a difficult war for workforce talent. They are competing with traditional energy organizations for engineers and other workers with technical skills. Simultaneously, they are struggling to meet expanding demand for leaders, business developers and other professionals.
In the United States and Canada, the trend of an increasingly aging workforce is complicating issues for renewable energy industries. Workers in traditional energy and other industries are at or rapidly approaching retirement. The U.S. Bureau of Labor Statistics projects that by 2020 more than 25 percent of U.S. workers in all industries will be 55 or older, continuing a trend since 2000 of an increasing number of older employees in the workforce. Energy industries are feeling the effects. For example, in 2012, in the electric and natural gas industry, the median age of employees was 51.2 and the percentage of workers age 45 or older was 62.7 percent. In other industries: pipeline transmission, age 46.2, 50.8 percent; electricity generation, transmission and distribution, age 45.5, 51.9 percent; petroleum refining, age 43.3, 45 percent. In 2011, 75 percent of right of way industry employees were 45 or older. More than one third of the right of way industry's workers, 34.6 percent, were age 55 to 64, rapidly approaching retirement.
In Canada, the employment rate for those age 55 and older has increased substantially. Between 1997 and 2010, the rate increased from 30.5 percent to 39.4 percent for men, and from 15.8 percent to 28.6 percent for women.
Because renewable energy industries are comparatively young, they are not experiencing the same pressures of an aging workforce. But that is not to say they are not impacted. Those industries draw talent from traditional energy and other industries. Meanwhile, incoming workers lack skills and require substantial training. Renewable energy organizations tend to lack a systematic, disciplined approach to talent recruiting and workforce management. They tend to be more reactive than proactive. It is not surprising that by 2020, it is anticipated there will be a shortage of 3 million experienced workers in renewable energy industries.
Industries can lessen these concerns by taking steps now toward workforce knowledge retention.
In fact, knowledge retention is a pressing issue for all industries. Workers approaching retirement possess unique and, unfortunately in some cases, undocumented knowledge of projects and processes. When those employees retire or leave for another reason, the organization must not only replace the individual, but also skills, industry knowledge, project expertise and institutional knowledge. It is understandable that 80 percent of human resources professionals identify the aging workforce as their biggest worry. Less than half of those professionals, though, say their organization has a plan of attack.
For renewable energy industries, it is important that project knowledge, industry awareness and organizational savvy be captured within the organization so it can be easily shared with incoming employees. This streamlines the training process.
Two steps organizations can take to facilitate knowledge retention are centralizing their records management system and standardizing their organizational, job and project development processes.
Information is one of any organization's most valuable assets. Surprisingly, there continues to be reliance upon antiquated recordkeeping and project information systems. The resulting difficulties produce a host of inefficiencies.
When records are lost or information undocumented, project details are left to the memory of longtime veteran employees. Those details go out the door with the retiree. Without a centralized records management system and standardized processes an organization risks inaccuracies, inconsistencies and duplication of effort. Undocumented information known only by retiring veterans leaves the remaining staff questioning the accuracy of the organization's records. Oftentimes they will create their own record-keeping system.
Conversion to a central database is facilitated through data migration, which involves transferring information from various sources and formats into a single software solution. The process migrates the organization's paper records, maps, photos, jpg files, pdf files, Word files, spreadsheets and other data into a centralized Web database. The migration extracts data from its original source, corrects errors, reformats it and loads it into one easily accessible location without loss or damage to the original information.
Once the data is centralized, employees can quickly access and update project information. Employee training can be streamlined. Centralization eliminates uncertainty in searching for records, supplying an historical perspective that replaces much of the project information kept in the memory of retirees and those approaching retirement.
A central database built upon a Web platform offers mobile application for work in the field, detached application when connectivity is unreliable, and GIS mapping that can broaden the use of information that is gathered. In addition, the database facilitates knowledge retention. Organizations gain real-time information and flexibility. Authorized personnel receive comprehensive project information. Reports and software dashboards help in understanding progress, issues and bottlenecks, which can aid decision-making. Mobility is especially useful in renewable energy industries, where the actual project may be many miles from the company office.
The Web-based central data system increases the value of information. Information silos are eliminated. Rather than using spreadsheets to manage property information and lease agreements, or using email to issue new project notifications and reports, the central data system automates these tasks according to the desired schedule, recipients and payment amounts. The possibilities of costly errors and project delays are greatly reduced. This method of managing data increases speed, convenience and efficiency. Staff won't be compelled to create their own processes and recordkeeping systems.
To advance knowledge retention, organizations should also initiate process standardization, which is the collection and implementation of best practices – the organization's processes, job duties and project development – known to that point. It is the most efficient method to produce a product or perform a service at a balanced flow to achieve a desired rate of output.
There are significant benefits to standardization, including documentation of the current process for all shifts, reductions in variability, easier training of new employees, less chance of errors and duplicating work, fewer injuries, less stress, and establishment of a baseline for improvement. Transitioning to standardized processes leads to a higher degree of customer satisfaction. It improves efficiencies in costs and schedules that lead to a stronger bottom line, achieving organizational strategies and objectives, and a durable outlook for the future.
This collection of best practices serves as a tool in building up the skills of an inexperienced workforce in renewable energy industries. By converting historical data and project information into a central Web database, and adding mobile technology and other capabilities, the organization not only has streamlined processes for its field agents and improved training, but also utilized a software solution as a technological foundation for standardizing workflow and job tasks, and achieving knowledge retention.
The Web platform's dashboard-focused interface provides organization users easy and secure access to the database. Existing project and organizational information, including process standardization documents, can be quickly retrieved. That information can be edited, approved and uploaded into the system with an audit trail of any changes. The software becomes a tool for process standardization. Because it remains an integral part of the organization through changes of personnel, the software facilitates knowledge retention.
By 2030, it is projected that renewable energy industries could employ 6.3 million people globally, with 2 million of those being in the U.S. alone. With expected retirements of a growing number of professionals in traditional energy and other industries, the pressure will increase on renewable energy industries to bring their new workers up to speed quickly. What organizations do today will impact the long-term health of renewable energy industries and the world's response to global warming.
Dan Liggett is Communications and Public Relations Manager for geoAMPS, a technology company in the Columbus, OH, area that specializes in software solutions to manage land rights and infrastructure assets. For more information, call 614-389-4871 or visit www.geoamps.com.
The content & opinions in this article are the author's and do not necessarily represent the views of AltEnergyMag
---
Comments (1)
This is so true. There is a story being told, but not necessarily the best one. Alternative energy needs to put its best foot forward! -------------------------------- http://www.alternativematters.com
Post A Comment
You must be logged in before you can post a comment. Login now.
Featured Product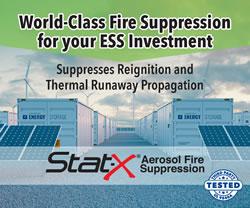 Stat-X® condensed aerosol fire suppression is a solution for energy storage systems (ESS) and battery energy storage systems (BESS) applications. Our Stat-X condensed aerosol fire extinguishing product was tested for efficacy in suppressing li-ion battery fires. It was found that the product successfully extinguished single and double cell battery fires. This testing was conducted in parallel with a large battery fire testing program on behalf of a large energy storage company.