DaimlerChrysler and Ford sign MOU to Fund US $97 Million for Development of Next Generation Fuel Cell Engine
VANCOUVER, British Columbia, Dec 9, 2002 (BUSINESS WIRE) --

Ballard Power Systems (NASDAQ:BLDP) (TSX:BLD) today announced a five-year plan that provides for a significant reduction in cash consumption, an organizational restructuring, a reduction of 400 employees, development funding for its next generation fuel cell engine and the further commitment of its automotive alliance partners.
As part of Ballard's plan to develop the next generation fuel cell engine, it has obtained DaimlerChrysler and Ford's preliminary agreement to provide combined funding of US $97 million, over the next five years. This is in addition to their support of Ballard's current development programs.
To support Ballard's commitment to sustainability, DaimlerChrysler and Ford have also agreed in principle to eliminate the existing requirement to link their follow-on equity investment of CDN $55 Million (US $35 Million) to a larger public equity offering, and to provide that funding on request from Ballard at any time after December 31, 2003. Implementing this agreement in principle will require a formal amendment to Ballard's alliance agreement with DaimlerChrysler and Ford.
As part of the reorganization, Ballard will combine three of its four divisions - Transportation, Power Generation and Electric Drives & Power Conversion - into a single, "functional" organization. This leaner, more efficient structure will enable Ballard to focus and accelerate the development of its core technologies and at the same time reduce administrative overhead expense. Ballard's Material Products Division will continue to operate as a stand-alone division. Ballard will continue to have operations in Burnaby, Canada; Dearborn, Michigan; Lowell, Massachusetts; and Nabern, Germany.
In implementing its plan, Ballard will decrease its workforce by approximately 250 employees, through normal attrition, transfers and layoffs. The transfers will be accomplished through the intended redeployment of approximately 100 employees from Ballard's Nabern, Germany operations to DaimlerChrysler to support its strong commitment to fuel cell and alternative powertrain development. Ballard, in cooperation with its Works Council and DaimlerChrysler, intends to effect these transfers over the next 3 to 9 months. The remaining reductions will affect all functional areas of Ballard's global operations except the Material Products Division.
Over the next 12 months, Ballard intends to reduce employment by an additional 150 positions. These reductions will result from the centralization of transportation system design in Germany, following the completion of the heavy-duty bus program in Vancouver, and the restructuring of Ballard's fuel processing business. The combined headcount reductions will decrease Ballard's employee base worldwide by about 400 employees to 1,000 employees, or approximately 28%.
These changes will result in a restructuring charge of approximately US $15 million, one-third of which will be non-cash. Approximately US $12 million of the restructuring charge will be recognized in the fourth quarter of 2002.
"Our strategy and five-year plan have been reformulated with an emphasis on sustainability, speed and execution," said Dennis Campbell, Ballard's President and Chief Operating Officer. "The revised plan provides Ballard with the financial resources into 2007 to advance our current and anticipated commercialization plans, along with a significant concentration on technology research and product development necessary to ensure our success. Ballard expects to achieve profitability by the end of the plan period."
Ballard's strategy is focused on the following key objectives:
-- delivering world leading fuel cell products to its customers
-- preserving and extending its cash reserves
-- strengthening and expanding its technical leadership
-- accelerating its product commercialization
-- developing products with capabilities that conventional power
generation devices cannot offer.
To accomplish this, Ballard will:
-- simplify and streamline its organization to reduce costs and
accelerate decision-making
-- narrow the scope of its development activities - do fewer
things better and faster
-- leverage relationships with suppliers for the development of
non-core technologies
-- develop derivative product lines to build a recurring revenue
base and create distribution channels
-- consolidate its technology development efforts to gain speed
and efficiency.
"An overriding objective of our plan is to complete the transformation of Ballard from a technology-focused research and development organization into a customer-focused production organization," said Dennis Campbell, Ballard's President and Chief Operating Officer. "To accomplish this we must develop and introduce commercial products that fulfill customer needs. The steps we are taking now will strengthen and extend our cash position, assist us in expanding our technology leadership, and provide the "staying power" to execute our new product development and introduction plans. Despite the always difficult decisions to reduce employment, we are committed to taking the necessary steps to realize our vision and deliver sustainable, long-term value for our shareholders."
In reorganizing its executive team along functional lines, Ballard is creating a global sales and marketing team with a regional market focus. All product development which was formerly managed at the divisional level will be consolidated under the Chief Technology Officer. These changes are expected to result in stronger customer relationships, increased speed of development, and reduced costs.
Mr. Michael Murry, Vice President and General Manager, Power Generation Division will be leaving Ballard. Mr. Paul Lancaster, Vice President, Finance will also leave the company as Ballard consolidates financial responsibility under a single Chief Financial Officer. Dr. Andreas Truckenbrodt, Vice President and General Manager, Transportation Division will return to DaimlerChrysler to lead its fuel cell and alternative powertrain efforts. Mr. Murry, Mr. Lancaster, and Dr. Truckenbrodt are working with Ballard to ensure a smooth transfer of their responsibilities to other members of the executive team.
"Ballard's executive team, led by Dennis Campbell, supports our succession plan announced earlier this year, and places executives into a structure and in expanded roles which will better enable us to execute our plan, setting the stage for mass commercialization," said Firoz Rasul, Ballard's Chairman and Chief Executive Officer. "As we reshape our executive team, we would like to recognize the significant contributions that Andreas, Mike and Paul have made to Ballard, including the development of our plan."
The executive team has been reorganized, effective immediately, and will continue to report to Mr. Campbell:
Featured Product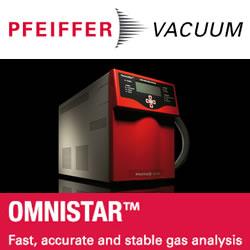 The Pfeiffer Vacuum OmniStar benchtop analysis system offers you a compact footprint, powerful software and Ethernet connectivity. It's the optimum solution for many real-time gas analysis applications. With the OmniStar, Pfeiffer Vacuum offers you a complete solution for gas analysis, in chemical processes, semiconductor industry, metallurgy, fermentation, catalysis, laser technology and environmental analysis. The turnkey OmniStar gas analysis system consists of heated, temperature-regulated gas inlet system, Quadrupole mass spectrometer, a dry diaphragm vacuum pump and HiPace turbopump. Unlike competing methods such as FTIR, OmniStar is suitable for qualitative and quantitative analysis of most gases.