Products and Technology Show Progress in Energy Conservation and Recycling; Congressional Leaders Debate Technology Policy and Fair Use Rights
Las Vegas, Nev., January 12, 2003 - CES attendees got an in-depth look at the latest achievements taken by the technology industry in regards to environmental progress at CES through several technology pavilions, exhibits and conference sessions during the first-ever "Green Saturday" at CES. The 2003 International CES runs through today at the Las Vegas Convention Center in Las Vegas, Nev."As our products and technology continue to become more efficient and more affordable, the industry has made huge progress in the realm of energy efficiency and recycling," said Gary Shapiro, president and CEO of the Consumer Electronics Association (CEA), the producer of the International CES. "CES has embraced these strides through several pavilions and events throughout the show floor to help demonstrate our progress in this issue."

Green Saturday kicked off with a compelling discussion about the dynamics of electronics recycling moderated by Jerry Powell, editor of E-Scrap. He was joined by executives from Dell, Panasonic, the U.S. Environmental Protection Agency (EPA), EnviroCycle, the Silicon Valley Toxics Coalition and NxtCycle. Issues discussed included the challenge of raising consumer awareness of CE recycling options, what recycling options are available to consumers and how to best pursue market-driven recycling solutions.
A second conference session focused on advancing energy efficiency through electronics. The panel debated the role that government and industry should play in promoting greater energy efficiency, if consumers are embracing energy-efficient products and how much of a factor should energy use be in the design of electronic products. Following these sessions, Marianne Horinko, assistant administrator for the Office of Solid Waste at the U.S. EPA, was the guest speaker at the Green Saturday luncheon during which Horinko launched EPA's Plug-In to Recycling campaign and recognized campaign partners.
In the CES Congressional Panel, Rep. Joe Barton (R-TX), Rick Boucher (D-VA), John Doolittle (R-CA), Donald Payne (D-NJ) and Jerry Waller (R-IL) shared their political and individual perspectives on policy issues impacting the technology industry.
CEA President and CEO Gary Shapiro moderated this bipartisan roundtable discussion, which touched on issues ranging from broadband deployment and high definition television, to free trade and copy protection. While the government guests differed on many of the tech policy issues, they all agreed their participation in the 2003 International CES was a valuable experience. Rep. Barton remarked that even the conversations between federal agency officials and members of Congress have a more relaxed quality at CES than in Washington.
In a shift to copyright issues, audience members and panelists in the Digital Download SuperSession considered the moral, technological, legal and ethical aspects of copyrights and consumers' fair use rights in the digital age. Moderator Gary Arlen kicked off the debate by handing the Motion Picture Association of America (MPAA) and Recording Industry Association of America (RIAA) panelists bullseye targets, since the make-up of the rest of the panel and a large portion of the audience supported fair use principles over rigid copy protection. The debate then began as Arlen took off his suit jacket to reveal a referee shirt and whistle.
Applications ranging from music CDs, MP3s, analog and Internet radio transmissions and video DVDs and high definition television were deliberated in the context of current copyright laws and pending legislation, as well as technological measures such as encryption. Arlen's whistle blew intermittently, and he closed the discussion by suggesting the panelists and audience reconvene in one year to review progress made in 2003.
Michael Miller, editor-in-chief for PC Magazine, and Robin Raskin, contributor, PC Magazine hosted "The Last Gadget Standing" SuperSession, showcasing some of the best new products to hit the market. After the initial presentation of products, attendees were urged to then vote for the ones they predict will live to the next year. Several products were reviewed by various companies and presenters were given a total of four minutes to describe why their product was important in the marketplace.
CEA's Accessories Division sponsored a "Bet on Accessories" conference session that featured retailers, manufactures and industry experts. The presenters discussed CEA's recently released white paper that outlines seven winning ways for retailers to maximize accessory sales. The panel and attendees offered insights on how retailers can provide a "total sales" environment by selling the right accessory for the right product at the right time, thus allowing consumers to enhance their enjoyment of their CE purchase.
For more news on CES before, during and after the show or to register, visit www.CESweb.org, the interactive source for CES information.
About CEA: The Consumer Electronics Association (CEA) represents more than 1,000 corporate members involved in the design, development, manufacturing, distribution and integration of audio, video, mobile electronics, wireless and landline communications, information technology, home networking, multimedia and accessory products, as well as related services that are sold through consumer channels. Combined, CEA's members account for more than $80 billion in annual sales. CEA's resources are available online at www.CE.org, the definitive source for information about the consumer electronics industry.
CEA also sponsors and manages the International CES - Defining Technology's Future. All profits from CES are reinvested into industry services, including technical training and education, industry promotion, engineering standards development, market research and legislative advocacy.
UPCOMING EVENTS
Electronic House Expo - Spring
February 26-March 1, 2003, Orlando, FL
CEA 2003 Winter Technology & Standards Forum
February 24-February 28, 2003, Scottsdale, AZ
2003 CEA Winter Summit
March 4-6, 2003, St. Regis Aspen, Aspen, CO
HDTV Summit & the Academy of DTV Pioneers 2002 Awards
March 10, 2003, Renaissance Hotel, Washington, DC
CEA 2003 Spring Leadership Retreat
May 5-6, 2003, Grand Hyatt, Washington, D.C.
CONNECTIONS(tm) 2003
May 7-9, 2003, Fairmont Hotel, San Jose, CA
Asian Home Electronics Fair
May 14-17, 2003, Shanghai, China
7th Annual Consumer Electronics CEO Summit
June 18-20, 2003, Vail, CO
CEA 2003 Summer Technology & Standards Forum
August 1-4, 2003, Location TBA
CEA 2003 Fall Conference and Industry Forum
October 12-15, 2003, Carlsbad, CA
2004 International CES
January 8-11, 2004, Las Vegas, NV
Featured Product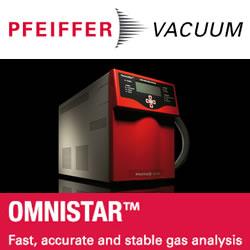 The Pfeiffer Vacuum OmniStar benchtop analysis system offers you a compact footprint, powerful software and Ethernet connectivity. It's the optimum solution for many real-time gas analysis applications. With the OmniStar, Pfeiffer Vacuum offers you a complete solution for gas analysis, in chemical processes, semiconductor industry, metallurgy, fermentation, catalysis, laser technology and environmental analysis. The turnkey OmniStar gas analysis system consists of heated, temperature-regulated gas inlet system, Quadrupole mass spectrometer, a dry diaphragm vacuum pump and HiPace turbopump. Unlike competing methods such as FTIR, OmniStar is suitable for qualitative and quantitative analysis of most gases.