AirGenTM Fuel Cell Generator Now Available to Industrial Users
AURORA, Ill., December 3, 2002 - Coleman Powermate, a leading power equipment manufacturer, today introduced the AirGenTM fuel cell generator -- a machine that converts two of the most abundant elements in the universe (hydrogen and oxygen) into electricity.

While it sounds like science fiction, fuel cells have played a pivotal role in space exploration, and they are now making their way into the marketplace.
"The AirGenTM fuel cell generator marks the dawn of the Hydrogen Age," said Gwen Wisler, president and CEO of First Alert/Powermate, Inc. "This is the first step toward introducing fuel cells into homes and businesses."
According to Ken Frank, senior research and development engineer, the AirGenTM fuel cell generator can be used as a portable power source or as an emergency backup power system.
"It automatically senses when utility power fails and acts as an uninterruptible power supply, keeping mission-critical computer and phone systems online," said Frank. "It also acts as a surge protector, buffering expensive electronics from dangerous power spikes and regulating voltage."
Unlike battery backups, which last mere minutes, the AirGenTM fuel cell generator, powered by Ballard's NexaTM power module, generates up to 1,000 watts of electricity as long as hydrogen gas is supplied. This is the world's first commercial proton exchange membrane fuel cell generator for end-users.
The UL- and CSA-approved AirGenTM fuel cell generator has a built-in power inverter that can generate alternating current (AC) power, according to Frank. The power inverter by SoftSwitching Technologies converts the fuel cell's direct current (DC) power into electricity that can power standard electronics, computers and appliances.
The AirGenTM fuel cell generator is now available to industrial customers directly from Coleman Powermate. Hydrogen fuel is supplied through high-pressure cylinders and can be purchased from Praxair, Coleman Powermate's exclusive hydrogen supplier with hundreds of locations throughout the US and Canada.
A commercial/residential version of the AirGenTM fuel cell generator is in the works. Instead of high-pressure cylinders, the unit will draw hydrogen from three smaller fuel canisters that are inserted into the unit.
"Fuel cells will play an increasingly important role in back-up and portable power generation," said Dennis Campbell, president and COO, Ballard Power Systems (TSX:BLD: NASDAQ: BLDP). "The AirGenTM fuel cell generator is a glimpse of the future as we see it. It is clear proof that fuel cell technology is commercially viable and environmentally sound."
To help encourage the use of this new technology, a $1,000 manufacturer's rebate is being offered in cooperation with the California Air Resources Board for the first 50 California industrial businesses that purchase the AirGenTM fuel cell generator.
For more information or to order an AirGenTM fuel cell generator, visit www.AirGen.com or call 800-445-1805.
Coleman Powermate, Inc., a subsidiary of the Sunbeam Corporation, is a leading manufacturer of electric and fuel cell generators, air compressors, and pressure washers. Headquartered in Aurora, Ill., the company has manufacturing facilities in Nebraska and Minnesota and distributes its products internationally.
This release contains forward-looking statements that are based on the beliefs of Ballard's management and reflect Coleman Powermate's and Ballard's current expectations as contemplated under the Safe Harbor provisions of the U.S. Private Securities Litigation Reform Law of 1995. When used in this release, the ords "estimate", "project", "believe", "anticipate", "intend", "expect", "plan", "predict", "may", "should", "will", the negative of these words or such other variations thereon or comparable terminology are intended to identify forward-looking statements. Such statements reflect the current views of Coleman Powermate and Ballard with respect to future events based on currently available information and are subject to risks and uncertainties that could cause actual results to differ materially from those contemplated in those forward-looking statements.
Ballard Power Systems is recognized as the world leader in developing, manufacturing and marketing zero-emission proton exchange membrane fuel cells. Ballard is commercializing fuel cell engines for transportation applications and fuel cell systems for portable and stationary products ranging from 1 kilowatt to 250 kilowatts. Ballard is also commercializing electric drives for fuel cell and other electric vehicles, power conversion products, natural gas and hydrogen generator sets and is a Tier 1 automotive supplier of friction materials for power train components. Ballard's proprietary technology is enabling automobile, bus, electrical equipment, portable power and stationary product manufacturers to develop environmentally clean products for sale. Ballard is partnering with strong, world-leading companies, including DaimlerChrysler, Ford, EBARA, ALSTOM and FirstEnergy, to commercialize Ballard® fuel cells. Ballard has supplied fuel cells to Honda, Nissan, Volkswagen, Yamaha, Cinergy and Coleman Powermate, among others.
Featured Product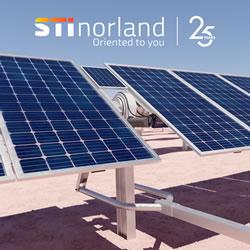 Developed in 2017, the STI-H250™ is consists of two linked torsion beams that rotate simultaneously following the sun's path. They are moved by just one motor, cutting supply and maintenance costs. STI-H250™ dual-row tracker includes backtracking mode to avoid shadowing between adjacent rows and stow function to protect the tracker in extreme wind conditions. For cleaning, vehicles can pass between trackers and each row can be placed in a different position.