Michigan's new program poised to assist growth in Alternative Energy Development
DETROIT, Jan. 30 /PRNewswire/ -- NextEnergy, Michigan's alternative energy research, development and education program strongly supports President Bush's proposal to increase research and development of hydrogen fuel cells and the infrastructure needed to fuel them.

Fuel cell vehicles and power generation equipment will rely on hydrogen reforming, tanking and refueling. "Getting to the goal will require an intense research effort," said Steve Arwood, NextEnergy's COO. "The president's remarks and early details on this program are an important boost to the alternative energy industry."
NextEnergy is confident that Michigan manufacturers and institutions will be leading innovators of this new industry. NextEnergy recently issued a call for proposals to Michigan colleges and universities for the development of education curriculum focusing on alternative energy. Industry growth will cause a demand for engineers and technically trained individuals. NextEnergy's goal is to have Michigan institutions awarding degrees and technical certifications by 2005.
NextEnergy is a non-profit corporation founded in October 2002. It is located in the Wayne State University Research and Technology Park and has been designated an Alternative Energy Renaissance Zone by the City of Detroit and offers up to 20-year state and local tax exemptions for companies that locate and perform alternative energy research, development and manufacturing.
NextEnergy dedicated the site for its new 40,000 square-foot facility in December of 2002. The facility will incorporate the latest technology in the building's electrical, and heating and cooling systems. The facility's power grid will include the use of fuel cells, advanced internal combustion engines, Stirling Engines, as well as Photovoltaics and advanced solar systems. The building will also house laboratory, education facilities, product demonstration areas, office space and interactive space for public understanding of alternative energy.
Featured Product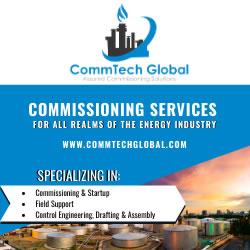 CommTech Global Solutions, LLC, provides professional and reliable commissioning services to customers in all realms of the energy industry. We blend our skills in engineering and technology with innovative business models, offering a complete range of services to assist you for a successful and in compliance operational startup. Consolidation of all our service domains gives our clients a comprehensive set of expertise and far-reaching experience on each project.