23 Years After the Reagan Administration Removed Solar Panels, the White House Installs a New Solar Thermal and Electric System
SOLAR ENERGY IS BACK AT THE WHITE HOUSE

FOR IMMEDIATE RELEASE
Contact:
Tom Kay, Solar Campaign
Tel: 845-679-2490
tom@ecomall.com
SOLAR ENERGY IS BACK AT THE WHITE HOUSE
(Woodstock, NY: January 22, 2003) 23 Years After the Reagan
Administration Removed Solar Panels, the White House Installs a New
Solar-Electric System
In 1980, the Reagan administration removed perfectly good, working
solar thermal panels from the White House (these same solar
collectors are still working at Unity College in Unity, Maine).
EcoMall.com spearheaded the Proposal to Solarize the White House (see
http://www.ecomall.com/activism/whhouse.htm), forming "The Solar
Campaign" with other solar energy advocates, and posted an alert at our
site asking our visitors to e-mail the White House urging them to use
renewable energy technologies on the White House grounds. We are happy
to report that 23 years after the previous solar panels were removed,
two solar thermal systems and a 9 kW photovoltaic (PV) solar
electricity system have returned to the White House.
The impetus behind implementing the solar roof was that the roof had to
be replaced anyway, and it made economical as well as environmental
sense to incorporate solar energy. It was actually the National Park
Service's decision to utilize a solar energy system on the White House
grounds, similar to other solar installations made by the Park Service
throughout the country.
We encourage people to e-mail the White House
(president@whitehouse.gov) and thank them for bringing
solar backto the White House and urge them to continue their
commitment to utilizing and promoting non-polluting,
sustainable, renewable energy technologies.
---------------------------------------------------------------------
Jan. 8, 2003--Evergreen Solar, Inc. today announced the installation of
a 9 kW photovoltaic (PV) system at the White House for the National
Park Service.
The new solar roof in Washington, D.C. is the first solar electric
project on the White House grounds.
James Doherty, the architect and project manager at the National Park
Service Office for White House Liaison, said, "We believe in these
technologies, and they've been working for us very successfully. The
National Park Service as a whole has long been interested in both
sustainable design and renewable energy sources. We also have a mission
to lower our energy consumption at all our sites, and we saw an
opportunity to do both at the White House grounds."
"The Park Service is supporting the use of clean, renewable energy from
the sun by overseeing this installation. It's an important milestone in
building awareness for solar energy usage in residential and commercial
buildings, and a step in the right direction in promoting energy
independence," said Steven J. Strong, President of Solar Design
Associates and an internationally noted solar advocate. "Sustainable,
environmentally responsive solar electric systems have been in use from
Maine to California for three decades, but there is something special
about an installation at 1600 Pennsylvania Avenue."
Solar Design Associates designed and oversaw the installation, which
was placed on the roof of the main building used for White House
grounds maintenance. The PV system directly feeds solar-generated
power into the White House grounds' distribution system, providing
electricity wherever it is needed. Two solar thermal systems, one
to heat the pool and spa and one to provide domestic hot water, were
also installed.
The grid-tied PV system consists of 167 solar panels manufactured by
Evergreen Solar that cover the roof of the maintenance facility. The
entire system installation was completed over a three-day period and
includes a data acquisition system for monitoring the performance of
the array and its ancillary electronic components.
Full article: http://www.ecomall.com/greenshopping/solarwhitehouse.htm
Featured Product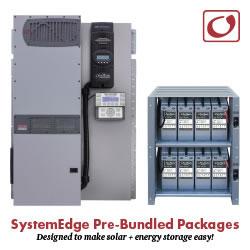 Each pre-bundled package is designed to make solar plus energy storage easy. By combining OutBack's most popular FLEXpower pre-wired systems with matched OutBack energy storage, SystemEdge takes the guesswork out of installing solar plus storage. Every SystemEdge package includes a FLEXpower factory pre-wired system, application-specific EnergyCell batteries and racking, FLEXware ICS Plus combiner and all the necessary connection hardware.