Grid-Tie (Net Metering): Photovoltaics & the National Electric Code: 5:30 PM Tues. June 17.
Representatives from Las Vegas Solar Electric will instruct a free seminar to discuss how we can sell power back to Nevada Power by using a solar photovoltaic electric power generation system.

This free seminar will be held June 17th at 5:30 PM in the Seminar Room at Vegas Trailer Supply, 3076 E. Fremont St. in Las Vegas. Phone 702 457-4265 to reserve your seat.
Las Vegas Solar Electric, LLC is a licensed and bonded, C-2 electrical contractor dedicated to the installation of renewable energy components in accordance with national electrical code standards.
LVSE also offers renewable integration consultations to architects, and developers to discuss building integrated photovoltaic (BIPV) design and its role in the life cycle cost analysis of a given project.
Their 30+ years of experience working in the electrical industry allows Las Vegas Solar Electric to develop and install reliable energy alternatives for commercial and residential application.
LVSE reminds us that a solar energy electrical system reduces our dependence on fossil fuels, adds real value to our property, and lowers our consumption of grid-tied power.
If you are considering a large solar system for your home this seminar is a "must see". Brochures, hand-outs and door prizes will be available at the seminar. Information and sign-up sheets available at Vegas Trailer Supply. Space is limited. Seat reservations suggested but not required. Don't miss this educational opportunity!
This free seminar will be given at:
Vegas Trailer Supply (Seminar Room, next to the Solar Living Library)
3076 E Fremont (Boulder Highway 2 blocks north of Sahara)
Las Vegas NV 89104
Vegas Trailer Supply specializes in small battery back-up solar systems for RV's, Cabins, small homes off the grid and "out buildings" requiring off-grid power. We also specialize in energy saving solar refrigerators, colar cookers, solar accessories and small wind electric generators.
To reserve your space please sign up at the store, call us, email us or sign up at the following link: http://vegastrailer.com/vtsa6/Inquiry_Form.html Please tell us the name of the seminar you wish to attend, how many in your party, and give us your name, email address, and a phone number in case of emergency rescheduling.
702 457-1662
Web Site: http://vegastrailer.com
Email: mikelittle@vegastrailer.com
Featured Product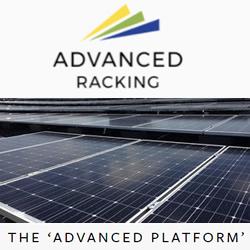 The 'Advanced Platform' simplifies the installation process by using universal mounting hardware that works perfectly across all roof types. Smart roof connection kits then connect to the specific roof's surface. The Advanced Platform is versatile: Our common design can be your single solution for all roof types.