Oregon solar activist John Patterson will be the keynote speaker at SolWest Renewable Energy Fair, July 26th 27th and 28th at the Grant County Fairgrounds in John Day, Oregon.
Oregon solar activist John Patterson will be the keynote speaker at SolWest Renewable Energy Fair, July 26th 27th and 28th at the Grant County Fairgrounds in John Day. John passionately believes that if we are energy-aware and cultivate positive personal attitudes, we can take control of our energy destiny. He has lived and worked with solar since 1979.

John has acquired a broad understanding of practical solar applications for Oregon. As the president of Mr. Sun Solar in Portland Oregon, John has installed over 1200 systems including solar hot water, solar pool heating, and photovoltaic systems. These systems, many of which have been featured on solar home tours, combine to generate or save 16-megawatt hours per day.
John has served three times as the president of the Oregon Solar Energy Industries Association (OSEIA), appears at local schools to teach students about renewable energy, and writes articles for newspapers and magazines. He is active in promoting good renewable energy policy, and was instrumental in getting 4 key solar bills through the Oregon Legislature. He serves as chair of the Citizens Utility Board (CUB represents ratepayers before the PUC) and the Oregon RET Apprenticeship Committee. John will
speak at 12:30 P.M. Saturday July 26 in the Sale Barn at the Grant County Fairgrounds.
SolWest Renewable Energy Fair is the most comprehensive such event in the northwest. Experts from all over the western US will offer fifty workshops for all ages and levels of expertise on renewable energy and sustainable living topics (free with fair admission). Some of the workshops scheduled for this year include "Introduction to Photovoltaics", "Solar Water Pumping", "Fundamentals of Hydroelectric Power", "Hydrogen Basics", "Bio-fuels", "Passive Solar Design", "Solar Hot Water", "Pizza Box Ovens For Kids", and "Natural Building and Social Justice".
On Saturday July 25 at 3:30 P.M., a tour will leave from the fairgrounds to the Co-Gen plant in Prairie City. Co-gen recycles wood waste to generate 7.5 megawatts of electricity, and the electricity generated by the plant is sold to a local power utility. The company's goal is to use the entire log. After solid sawn lumber and wood chips are processed, residual by-products are utilized as fuel to power co-gen. The tour will take about 2 hours including travel time.
A regular diesel pickup will be converted live on the fairgrounds at SolWest to use recycled vegetable oil as fuel. This system does not modify the vehicle's fuel system. Rather, it modifies the fuel being used so that it runs smoothly through the existing system. Eric Grisen, owner of the vehicle, and his wife Tiffany, will wield the wrenches, as Edward Beggs of Neoteric Biofuels in Westbank, BC (Canada) instructs them and the audience on how to use vegetable oil (even used fryer grease) as a fuel. The demonstration will happen under the willow tree in front of the Sale Barn, beginning at 9am on Saturday July 26th.
Fifty exhibitors will sell renewable energy wares including complete solar power systems and components, solar hot water systems, solar pumps and wind-driven pumps, pump controls, hydro systems suitable for the smallest springs to large streams, solar roofing and home plans, home-scale wind generators, efficient lighting and appliances, books and magazines, biodiesel processors and fuels, and much more.
Activities during the weekend include Electrathon mini-electric car racing, and a Silent Auction of renewable energy hardware and other donated goods. Childcare and children's workshops will be offered. Radio SolWest will be broadcasting from the fairgrounds on solar power. A solar-powered telescope will be set up for viewing the sun safely. Camping is available, and volunteers get in and camp free.
Extended learning opportunities at this year's SolWest Fair include a pre-fair off-grid solar home system installation workshop instructed by Chris Worcester of Solar Wind Works, Truckee, California.
The SolWest Fair program is posted on the web at www.solwest.org, or a paper copy can be requested at: SolWest/EORenew, PO Box 485, Canyon City OR 97820. 541-575-3633 or info@solwest.org.
Featured Product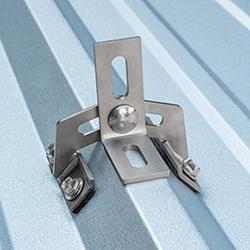 Explore new lines of income for your solar installation business with QuickBOLT's Stone Coated Steel roof mounts designed in partnership with metal roof manufacturers themselves. These SCS roof mounts work on all metal tile profiles and will help you bring in money you're missing out on. By not driving into the roofing material, QuickBOLT's Stone Coated Steel roof hooks maintain the integrity of the roof. Install with ease and confidence knowing your roof is protected against the harsh elements that these hooks are designed for.