The Sunvista inverter offers 3500W output and is engineered to blend power from up to three input strings.
HUNTINGTON BEACH, CA, July 29, 2003 -- The Solar Systems Division of Sharp Electronics Corporation today announced the availability of the JH-3500U Sunvista' Inverter. Manufactured by Sharp, the Sunvista inverter offers 3500W output and is engineered to blend power from up to three input strings. Available in a unique, practical form factor, the JH-3500U meets UL and IEEE 929 standards.

"The Sunvista inverter is perfectly matched to Sharp PV modules and mounting hardware making Sharp the industry's only manufacturer of complete residential solar energy systems," said Ron Kenedi, general manager of Sharp's Solar Systems Division. "Sharp has more than 60,000 inverters operating throughout the world. The JH3500U is also compatible with other manufacturers' systems and is ideal for both residential and commercial applications," said Kenedi.
According to Kenedi, architects and installers can now design systems that meet exact power requirements without compromising the appearance of the buildings' roofs. The Sunvista inverter maintains stable power output even in extreme temperatures with its active cooling system and ultra-high efficiency. Carrying a five-year limited warranty, the 3500W inverter can take up to three different input strings each varying by number, model and angle of modules.
"As the world's leading producer of solar power, Sharp is committed to making solar an energy alternative for more homeowners and businesses," said Kenedi. "Providing a complete system enables Sharp to ensure compatibility, efficiency, easy installation and customer satisfaction making solar an easier choice for more people. Furthermore, a solar power LCD display monitor allows homeowners to measure their system's impact on the environment in terms of electricity generation and CO2 reduction," explained Kenedi.
To spur market growth and further ensure customer satisfaction through high standards of product performance and safety, Sharp is offering a training program for licensed contractors covering the proper installation of Sharp solar electric systems.
Featured Product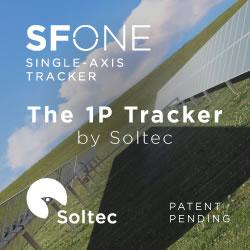 Soltec manufactures and supplies solar trackers designed and proven for extreme climate conditions, which is an ideal solution for any region's environment. Soltec's trackers are self-powered, requiring no additional PV module or grid-powered connection. Bifacial modules collect energy on both the front and rear sides, capturing reflected irradiance from the ground surface under and around the tracker and from other modules. Depending on site conditions, bifacial yield-gain can reach +30 percent.