Napa Winery Domaine Carneros Installs Solar Electrical System that Provides Clean, Reliable Energy for Winery's New Pinot Noir Facility
NAPA, CA — PowerLight Corporation recently completed an on-site solar generation system at Domaine Carneros' new Pinot Noir winery in Napa. The installation, which features a 120 killowatt solar electrical system, is the largest solar photovoltaic installation at a U.S. winery. This solar system generates the equivalent energy during the daytime to power as many as 120 homes, substantially reducing Domaine Carneros' operating costs.

The new PowerLight solar generation system, installed atop the new Domaine Carneros Pinot Noir winemaking facility, covers 9,400 square feet of the new facility, which is situated directly behind Domaine Carneros' renowned chateau. Now that it's operational, the solar system supplies the Domaine Carneros facilities with up to 40% of the winery's electricity needs (at both the Domaine Carneros chateau and its Pinot Noir facility).
"We salute Domaine Carneros' environmental stewardship and its foresight in embracing renewable technologies," said PowerLight President Dan Shugar. "By adopting clean, reliable and sustainable solar power, Domaine Carneros is making a commitment to improving both the health and quality of life in the region. Additionally, Domaine Carneros' renewable energy strategy is contributing to California's efforts to achieve sustainability and energy independence."
"The installation of photovoltaic panels at our brand-new Pinot Noir facility marks a significant milestone in our continuing efforts to achieve sustainability in the production of premium wines," said Eileen Crane, President and Winemaker for Domaine Carneros. "PowerLight's solar electric system will help us generate clean energy at our winery as well as greatly conserve our energy resources."
By investing in on-site solar generation, Domaine Carneros is integrating solar electricity into its energy mix, thereby lowering operating costs and reducing purchases of expensive peak electricity. Additionally, PowerLight's solar rooftop system will provide thermal insulation to reduce air conditioning costs in the new facility, which must be maintained to have a steady temperature year-round. Other energy-saving measures Domaine Carneros will employ in the new facility include skylights, heavy insulation and energy-efficient equipment. Domaine Carneros anticipates expanding its solar deployment in the future.
In installing the new Domaine Carneros solar electric system, PowerLight incorporated high efficiency photovoltaic technology from Sanyo Corp (NASDAQ: SANYY ) — the highest efficiency modules currently available on the market. This solar electric system spares the environment from harmful CO2, NOX and SOX fossil fuel emissions that contribute to smog, acid rain and global warming.
PowerLight's PowerGuard® is a patented, lightweight photovoltaic roofing assembly that generates clean solar electricity, while protecting the roof from the damaging effects of weather and UV radiation. Additionally, the panels deliver thermal insulation benefits that reduce heating and air conditioning costs.
About PowerLight Corporation
PowerLight (www.powerlight.com) is the leading manufacturer of commercial-scale solar electric products and services. Founded in 1991, PowerLight's systems solutions deliver reliable, affordable clean power for commercial and government customers worldwide. Inc. Magazine has ranked the PowerLight Corporation among the top 500 fastest growing privately held companies in 2000, 2001 and 2002. Today, PowerLight has worldwide offices and a full line of commercial solar electric products.
About Domaine Carnernos
Domaine Carneros, established in 1987, is a joint venture of Champagne Taittinger of France and Kobrand Corporation. Headed by President and Winemaker Eileen Crane, Domaine Carneros is one of the few wineries producing California sparkling wine made exclusively from Carneros grapes. Award-winning wines produced by Domaine Carneros include the Domaine Carneros Le Ręve, a luxury proprietary blanc de blanc; the Domaine Carneros Brut, a super-premium brut vintage methode champenoise; and and a variety of estate-grown Carneros Pinot Noir. The 138-acre Domaine Carneros estate and its magnificent chateau featuring Louis XV architecture, is situated in the Carneros appellation of northern California overlooking San Francisco and the San Pablo Bay.
Featured Product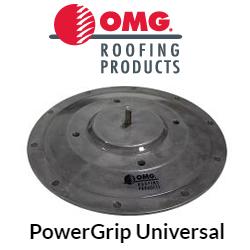 Eliminate Solar Rack Ballast and Reduce Rooftop Material Handling. PowerGrip™ Universal (PGU) is a commercial roof mount system designed to secure solar racks and other equipment to any type of commercial roofing system. PGU provides a secure connection directly to the roof deck or structural members and is designed to reduce or eliminate ballast in solar racking systems, so there's less weight on the roof and less material handling. Made of heavy-duty cast aluminum, PGU units include a base ring which is secured through the roofing cover and into the structural roof deck, and a waterproof top plate.