Work Begins on Installation of 675 kilowatt Solar Electric System atop Moscone Convention Center
SAN FRANCISCO, JULY 14, 2003 -- In keeping with San Francisco's mission of being "First in Solar", the City and County of San Francisco today began installing the nation's largest rooftop municipal solar project, atop the internationally-renowned Moscone Convention Center.

The Moscone Center solar project is noteworthy because it is the first San Francisco solar installation to result from the November 2001 passage of two landmark voter-approved solar propositions. Thanks to this citizen-driven initiative, San Francisco is on track in its quest to become the country's largest producer of solar electric power. Mayor Willie L. Brown, Jr. and the San Francisco Public Utilities Commission (SFPUC) welcomed the initial work on this 675 kW solar electric system, which is being furnished by PowerLight Corporation of Northern California.
"San Franciscans want cleaner, greener sources of energy that reduce our reliance on polluting power generated out of the area," remarked San Francisco Mayor Willie L. Brown Jr. "Today, I can proudly say, we are delivering. San Francisco, once again, is taking the lead in the country. Ours is an example that others will follow in the future."
"I'm thrilled that San Francisco for taking the lead in moving toward creating a greener and healthier planet," noted SFPUC General Manager Pat Martell. "It's refreshing that successful and innovative initiatives by local governments are gaining a foothold in shaping our collective energy future."
Reacting to rolling blackouts, soaring energy prices, and the threat of global climate change, San Francisco voters in November of 2001 overwhelmingly approved Proposition B, which authorized the City to issue up to $100 million in revenue bonds to finance renewable energy projects - such as solar and wind power - and energy efficiency measures in city and county-owned buildings. At the same time, voters also approved Proposition H, which enables the San Francisco Board of Supervisors to issue revenue bonds to support renewable energy and energy efficiency developments in city, commercial, and residential buildings. The SFPUC is taking the lead in placing solar panels on public buildings in San Francisco. The Moscone Center project is the first project to result from these propositions.
"The Moscone solar installation is only the beginning," said SFPUC Assistant General Manager of Power, Ed Smeloff. "The SFPUC Power Group is planning many more renewable energy and energy efficiency installations thanks to Propositions B and H. Onsite solar power generation benefits all San Francisco electric customers by reducing congestion on the grid at times when transmission lines coming into the City are the most constrained."
The Moscone Center project consists of two parts: solar power generation and energy efficiency. The solar installation includes high efficiency, photovoltaic modules manufactured by Shell Solar and Sanyo Electric Company on the Moscone Center roof. The installation's peak output is 675 kilowatts, and it will produce roughly 825,000-kilowatt hours on a yearly basis. The energy efficiency measures to be implemented at Moscone will save an estimated 4.5 million kilowatt hours annually. Together, the solar installation and energy efficiency measures will produce and save the city enough power to generate electricity for 1,000 homes.
Once construction commences this week, the solar electric system installation could be completed within 20 weeks, weather permitting. This landmark system will have no impact on the City's general fund or taxpayers.
"PowerLight is proud to be part of a public-private partnership that allows local government to take a leadership role in implementing clean, renewable power," said PowerLight President Dan Shugar. "Once again, San Francisco has distinguished itself as a forerunner in deploying technology innovations that are critical to our collective future. The Moscone Center project demonstrates that solar electric generation and energy efficiency is a cost effective, smart investment for business and government."
San Francisco's electrician and construction unions, including IBEW Local Union 6 and Roofer's and Waterproofers Union Local No. 40, are playing an integral role in installing this solar electrical system. "The unions are committed to adopting a responsible approach to energy use," said Stanley E. Warren, Secretary-Treasurer of the San Francisco Building and Construction Trades Council.
The SFPUC is working on other renewable energy and energy efficiency projects in San Francisco as part of the implementation of Propositions B and H. The San Francisco Public Utilities Commission (SFPUC) is a department of the City and County of San Francisco that provides municipal power to city administrative buildings, San Francisco Airport, Muni/subway and trolley buses, streetlights, police and fire stations, and San Francisco schools and libraries. The SFPUC also provides high quality potable water to 2.4 million people in the bay area and treats wastewater for residents of San Francisco.
PowerLight Corporation is the nation's leading designer, manufacturer, and installer of grid-connected solar electric systems. Founded in 1991, PowerLight's distributed generation products produce clean power for commercial and government customers. Among the notable locations for PowerLight solar electric systems are: Alameda County, Cypress Semiconductor, Johnson & Johnson, Toyota Motor Company and the United States Navy.
Featured Product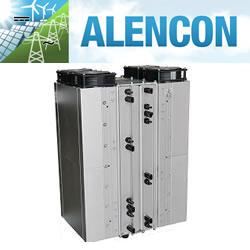 Alencon Systems is the premier manufacturer of high power, high voltage DC:DC optimizers for alternative energy applications including solar, battery energy storage, Microgrids, Fuel Cells and Electric Vehicle charging. Alencon's DC:DC converter offerings include the SPOT, BOSS and CUBE series DC:DC converters. The SPOT is a modular, uni-directional DC:DC solution ideal for solar applications. The BOSS is a modular, bi-directional unit for use with battery energy storage. The CUBE is a monolithic DC:DC converter which is available in both uni-directional and bi-directional modalities. Pictured above, is the Alencon SPOT.