Project signifies state's first ENERGY STAR-rated development to combine renewable energy and new construction, bringing "green" power to the mainstream
WRENTHAM, Mass., Sept. 25, 2003 - The first new ENERGY STAR® Homes development in Mass. to incorporate a solar PV (photovoltaic) electric system opened in the Boston suburb of Wrentham this week. The model home opening officially launches Sun Power For New Homes, an initiative partially funded by the Massachusetts Technology Collaborative (MTC). The model home was built by DiPlacido Development Corporation in partnership with Conservation Services Group (CSG), using PV panels manufactured by Evergreen Solar, Inc. (NASDAQ: ESLR).

Located at Wampanoag Estates, the home showcases how PV can be incorporated into new construction, harnessing the sun's energy for use in the home. The system works with other energy efficiency measures to reduce electrical consumption, lower energy bills, provide reliable, environmentally responsible power and result in a positive cash flow from day one.
According to Robert L. Pratt, director of the MTC's Renewable Energy Trust, "This marks an important milestone for clean, green energy. By offering PV technology as a standard feature in a brand new home, DiPlacido is helping to bring renewable energy
to the mainstream. As part of our Solar to Market Initiative, other builders will beparticipating in this process, but DiPlacido is really setting the stage today for more green residential development."
CSG administers the Sun Power For New Homes program by training builders, electricians and technicians on how to install and maintain PV systems. Last fall, CSG won several grants from the MTC, as part of the Solar-to-Market Initiative, the largest public investment in the PV industry in New England. The money will help defray the cost of the panels as well as the installation. In additional to the Wrentham site, CSG is working with residential builders in Townsend and Uxbridge, Mass., to install PV as part of the Sun Power For New Homes program. These projects are scheduled to open in 2004.
The PV system on the Wrentham model home is called a 1.3 kilowatt solar electric system. The 12 Evergreen Solar PV panels on the home's roof are expected to generate 1,250 kWh per year, based on New England's climate. The 1.3 kW system is expected to save homeowners more than $150 per year on energy costs (based on a projected 10-year average utility rate of 14 cents per kWh.) DiPlacido is also offering a 2.6 kW solar electric system, expected to generate 2,500 kWh per year, saving homeowners more than $300 per year on electricity costs. Up to 25 homes at Wampanoag Estates will feature these PV systems.
According to CSG, the MTC and state tax incentives reduce the cost of the PV systems by 50 to 75 percent, adding only $3,000 to $5,000 to a home's price. "The ability to integrate PV installation into the home at the time of construction is extremely cost effective," said John Livermore, Sun Power For New Homes program manager from CSG. "By integrating solar up front, the extra cost can be rolled into the home mortgage." Livermore also stated that the homes at Wampanoag Estates are ENERGY STAR-rated, which means homeowners save up to 30 percent per month on energy costs.
When combined with the 20-30 percent savings from the PV system, homeowners can expect to pay 50 percent less for electricity every month.
According to CSG and the MTC, this project signifies the growing potential of PV and demonstrates how cost effective it can become, as more people support it. Says Steve Cowell, chief executive officer of CSG, "A collaboration by individuals, community groups and the state's solar industry to build a PV marketplace in the state will yield greater benefits for less public expenditure. Our goal is to transform the marketplace and make solar power a more affordable option for everyone."
Mark Farber, president and CEO of Evergreen Solar, Inc., said, "Sunlight is free and abundant, and solar electricity is clean, creating no greenhouse-gas emissions or noise. Most importantly, it's here and now, not something that is a future technology. Hundreds of thousands of homes and commercial buildings across the globe use this reliable, renewable energy every single day. We're proud to partner with the MTC, CSG and DiPlacido Development to show how easy and cost-effective solar can be."
ENERGY STAR® Homes meet the U.S. Environmental Protection Agency's strict standards for energy-efficiency. The homes at Wampanoag Estates feature extensive air sealing to increase comfort, as well as ENERGY STAR-rated heating systems with programmable controls. The model home also showcases an advanced heat recovery ventilation system. The builder of the development, Tom DiPlacido, was named "ENERGY STAR Homebuilder of the Year" in 2001. He incorporates energy efficient building practices into all his developments and is planning an affordable housing project in Wrentham next year.
There are 101 units at Wampanoag Estates that began selling in 2000. Homes are priced from $500,000 -- $700,000. Tours of the model home are available this month by appointment only. The public can also visit the model on Oct. 4, when it is featured as part of the Green Homes Tour, sponsored by the New England Sustainable Energy Association and the ENERGY STAR Homes program. (For more information, visit www.NESEA.org.) To find out more about ENERGY STAR Homes, visit www.energystarhomes.com or call 1-800-628-8413.
Featured Product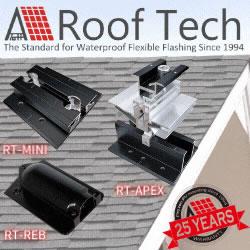 Now Roof Tech brings you the most innovative, watertight mounting systems ever developed for solar photovoltaic systems. Designed and manufactured exclusively for us by Japan's longtime leader in roofing technologies, Roof Tech products are 100% code-compliant and offer fast, simple installation and huge savings on shipping costs due to their compact, rail-less design. Learn more about our full line of versatile PV mounting solutions now available for residential installations. The next generation in rooftop solar mounting solutions."