Airport Authority Reduces Energy Consumption, Saves Money
RICHMOND - Vancouver International Airport Authority has installed the largest solar powered hot water heating system in British Columbia. The new system will contribute to savings of nearly $90,000 and 8,569 GJ per year. The 100 solar panels have been installed on the roof of the domestic terminal building, and will help to heat an average of 800 gallons of hot water at Vancouver International Airport (YVR) each day.

The $500,000 project is paid for in part through $85,000 of incentive funding through BC Hydro's Power Smart Program. Over the past year, Vancouver International Airport Authority and BC Hydro have worked in tandem to reduce energy consumption and energy costs at YVR. The savings associated with the installation of the solar panel heating system will add to the nearly $2 million saved to-date through various Power Smart and energy reduction initiatives already put in place at the airport. In 2002, the Airport Authority was recognized by BC Hydro as their first "Power Smart Certified" customer.
"The solar panel installation is another example of how YVR is leading the way in large-scale energy reduction initiatives" says Bob Cowan, Senior Vice President, Engineering with Vancouver International Airport Authority. "Energy reduction makes sense, both environmentally and financially. Through the ongoing support of BC Hydro, the Airport Authority is becoming Power Smarter".
"We applaud YVR's innovative energy solutions and their goal to be a leader in energy reduction," said BC Hydro Senior Vice-president Distribution, Bev Van Ruyven. "Power Smart projects such as this, help our customers save money and help BC Hydro meet growing energy demand in the province by acquiring low-cost energy through conservation."
The replacement of the hot water heating system with the new solar panel system is a project that is 100% Canadian. Thermo Dynamic, a Canadian company engaged in the research, development, production, distribution and installation of solar thermal equipment, is the manufacturer of the solar panels used at YVR. Taylor Munro Energy Systems Inc, a Canadian renewable energy company, provided consultation on and the installation of the YVR solar panels. Vancouver-based sustainable engineering firm, Keen Engineering, provided the system design.
Vancouver International Airport Authority is a community-based, not-for-profit organization that has developed and managed Vancouver International Airport since 1992. YVR is Canada's second busiest airport, with some 14.9 million passengers, approximately 235,000 tonnes of cargo and 258,000 take-offs and landings in 2002. Passengers surveyed by the International Air Transport Association (IATA) rated YVR the number one airport in North America. Web site: www.yvr.ca
BC Hydro and Power Authority is a provincial crown corporation, serving more than 1.8 million customers across the province. More than 80 per cent of BC Hydro's electricity is produced by hydroelectric generation on the Columbia and Peace River systems. The home of the successful demand-side management Power Smart program, BC Hydro is working towards a sustainable future by providing integrated energy solutions in an environmentally and socially responsible manner.
Featured Product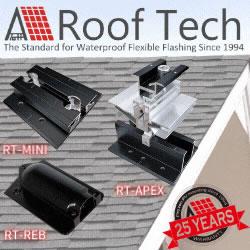 Now Roof Tech brings you the most innovative, watertight mounting systems ever developed for solar photovoltaic systems. Designed and manufactured exclusively for us by Japan's longtime leader in roofing technologies, Roof Tech products are 100% code-compliant and offer fast, simple installation and huge savings on shipping costs due to their compact, rail-less design. Learn more about our full line of versatile PV mounting solutions now available for residential installations. The next generation in rooftop solar mounting solutions."