$2.3M in Sales with $114K Profit
Victoria, BC, Canada - November 5, 2003- Carmanah Technologies recorded its highest quarterly sales and respective profit in its history for the three-month period ending September 30, 2003.

Carmanah's total revenue for the quarter increased by 45% over the previous quarter and by 43% over the comparative 2002 quarter. The third quarter of 2003 also produced the largest quarterly profit in the company's history in the amount of $114,381.
"It is very encouraging to see so many key performance indicators showing positive results at the same time," said Art Aylesworth, Carmanah's CEO. "We are pleased that the effort and resources invested earlier this year are being rewarded.
"By all measureables, this was the best quarter in Carmanah's history. Our sales ($2.3M) and net profits ($114K) in this quarter, as well as the carry over backlog orders ($1.1M) heading into the fourth quarter, are all at record levels," he added. "These results also do not include any revenue contributions from our newly acquired subsidiary, AVVA Light Corp., which came on stream October 1st, 2003."
Carmanah has focused on broadening the markets for its technology to include new verticals beyond the marine lighting market. During the past three months, Carmanah has seen a significant validation of its transit products with a $1.6M order for 300 bus shelter lighting systems to be installed in the city of London, England. Carmanah also received over $1M in orders for its aviation runway and taxiway solar-powered lighting systems during Q3.
"The ongoing strength of our marine product sales coupled with the rapid acceptance of transit and aviation products confirms that our core technology is transferable to new markets", said Aylesworth. "We are now planning a release of two new products for the roadways market by the end of 2003 that use a combination of technologies from Carmanah and AVVA."
Financial Highlights:
Sales hit a record $2,340,810 for the three months ended September 30, 2003
· Increase of 20% over prior record set in 4Q2002 at $1,941,599
· Increase of 43% over same period in 2002 at $1,632,523
Sales hit a record $5,855,312 for the nine months ended September 30, 2003
· Increase of 28% over same period in 2002 at $4,545,858
Net earnings hit a record $114,381 for the three months ended September 30, 2003
· Increase of 163% over prior record set in same period in 2002 at $43,472
About Carmanah
Carmanah is an award winning alternative energy manufacturer specializing in patented solar-powered LED lighting solutions for the marine, transit, aviation, roadway, railway and mining markets. The Company has more than 70,000 units installed in 110 countries. The shares of Carmanah Technologies Corporation (parent company) are publicly traded on the TSX Venture Exchange under the symbol "CMH" and on the Berlin and Frankfurt Stock Exchanges under the symbol "QCX". For more information, please visit www.carmanah.com
Featured Product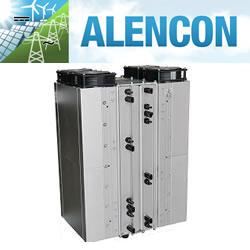 Alencon Systems is the premier manufacturer of high power, high voltage DC:DC optimizers for alternative energy applications including solar, battery energy storage, Microgrids, Fuel Cells and Electric Vehicle charging. Alencon's DC:DC converter offerings include the SPOT, BOSS and CUBE series DC:DC converters. The SPOT is a modular, uni-directional DC:DC solution ideal for solar applications. The BOSS is a modular, bi-directional unit for use with battery energy storage. The CUBE is a monolithic DC:DC converter which is available in both uni-directional and bi-directional modalities. Pictured above, is the Alencon SPOT.