Los Angeles, Yokohama, Reggio Emilia
Washington, DC-November 7, 2003—The World Electric Vehicle Association (WEVA), whose standing members include the Electric Drive Transportation Association (EDTA), the Electric Vehicle Association of Asia Pacific (EVAAP) and the European Electric Vehicle Association (AVERE), will recognize three cities as "E-Visionaries" for their use of clean, efficient and sustainable modes of transportation. Representatives of WEVA will present the awards on November 19, 2003 during the closing session of EVS-20: Powering Sustainable Transportation, at the Long Beach Convention Center in California.

Recipients of the "E-Visionary" award are:
Honorable Brian Williams, Deputy Mayor of Los Angeles, California, USA
Honorable Hiroshi Nakada, Mayor of Yokohama, Japan
Honorable Antonella Spaggiari, Mayor of Reggio Emilia, Italy
About the Winners:
Brian Williams, Los Angeles, California, USA
Los Angeles boasts one of the largest electric vehicle fleets in the United States. The city has a massive electric transit system that includes two separate electric bus systems, and one of the most aggressive electric vehicle (EV) infrastructure programs in the country. Of the city's light duty alternative-fuel vehicles, 330 are electric vehicles. To help support the growing use of clean-fuel EVs, the city -- in partnership with 29 public agencies and private companies -- has established or upgraded nearly 400 public, work site and fleet charging stations at locations including event centers, shopping malls, university campuses and more. These stations provide convenient, free charging for both consumer and fleet EV users.
Los Angeles operates battery electric shuttle services on regular daily routes in both the downtown and harbor areas and is working toward development of a full-size electric commuter transit bus. Los Angeles also was the first U.S. retail customer for fuel cell electric vehicles, a project that Mr. Williams personally helped lead. Deputy Mayor Williams serves as a chief advisor on a myriad of issues including transportation, infrastructure and environmental concerns. Mr. Williams' duties include formulating policy and developing initiatives to improve the safety and quality of life for residents and businesses throughout the city. Mr. Williams says, "I'm honored to receive this award on behalf of the city of Los Angeles, which has come together to use sustainable transportation for a better quality of life."
Hiroshi Nakada, Yokohama, Japan
Yokohama is becoming one of the most advanced cities for the next-generation vehicles in Japan and the Asia Pacific. It is Japan's second-largest city and largest international trading port. Yokohama has been promoting environmentally friendly, comfortable, and convenient urban transportation systems since 1872, and is one of the most positive communities for advanced transportation. The city has served as the pilot location for several electric vehicle-related programs, including a successful electric vehicle-sharing project. Yokohama is the venue for Japan's first public road test of fuel cell electric vehicles, and the base of large-scale demonstration projects, with four hydrogen fueling stations to date. On April 8, 2002, Hiroshi Nakada, 37, became the youngest person ever to head one of Japan's major cities when he was elected as the 28th Mayor of Yokohama. In his administrative policy speech of May 2002, Hiroshi Nakada articulated his belief that striving to provide "a society where citizens can employ their strengths and abilities to the fullest" should be the basis of administrative management by the city government. The "Yokohama Revival Plan," a redevelopment strategy for the next five years, was announced in September and represents the core of Mayor Nakada's reforms. With determined fortitude, he will continue in his challenge to "Change Japan, From Yokohama."
Antonella Spaggiari, City of Reggio Emilia, Italy
The City of Reggio Emilia has a strong commitment to "environmental sustainability" through the conversion of municipal vehicles to electric vehicles. Through an "Electric Mobility Policy," an electric fleet of about 360 battery-powered and hybrid vehicles (from two-wheels up to minibuses) has been created and made available to private and corporate users for transporting goods and moving people around the city. A successful, long-term rental service of electric vans is available to commercial users. Reggio Emilia has removed most private cars and pollutants from the urban city with a system that features electric vehicles that connect the heart of the City to three conventional car parks outside of the city.
Ed LaRocque, Chairman of WEVA, says, "It is important to recognize leaders responsible for making electric drive a reality in the everyday lives of their citizens. The E-Visionary recipients have placed high expectations on electric drive technology in terms of investment and performance, and most likely have overcome formidable challenges to implement their forward-thinking plans. Not only has the technology thrived in their respective communities, but these visionary leaders have become examples for communities around the world to emulate."
AVERE Chairman Urban Karlström says, "The E-Visionaries have done tremendous work to ensure that their cities thrive while leaving a much lighter 'footprint' on the environment. Each has demonstrated long-term thought and concern for the health of their cities and inhabitants by choosing electric drive as a means to achieve better air quality."
EVAAP President Hishashi Ishitani says, "The tremendous benefit and impact of electric drive in large cities has been realized because of strong policy leaders who have charted a course to incorporate these new, clean and efficient technologies in a variety of applications. From supporting neighborhood electric vehicles to transit buses, these E-Visionaries recognize the advantages that electric drive provides."
About EVS-20: Powering Sustainable Transportation
EVS-20 is the largest international gathering of the electric drive industry in 2003, and will feature over 200 paper presentations, an exhibition with 105 exhibitors, and a "Ride 'n' Drive" with more than 60 battery, hybrid and fuel cell electric vehicles available for test drives. EVS-20 will be held in Long Beach from November 15-19, 2003. For more information, and to register, please visit www.evs20.org.
About the EVS-20 Organizer, EDTA:
EDTA (formerly EVAA) is the industry association working to advance electric vehicles and supporting infrastructure through policy, information and communication initiatives in the United States. EDTA is the premier organizer of electric transportation industry events and conferences, and EDTA is pleased to sponsor all international Electric Vehicle Symposia (EVS) held in the Americas, as well as the Electric Transportation Industry Conference series. For more information on EDTA, visit www.electricdrive.org.
About AVERE:
AVERE was found in 1978 under the aegis of the European Community as a European network of industrial manufacturers and suppliers for electric vehicles. It now gathers over 500 members in 13 national sections. AVERE's goal is to rationalize the efforts of its member companies in the scientific and technological development of battery, hybrid and fuel cell vehicles and in market development. AVERE offers its members its vast experience and network in order to disseminate the results of their activities and any other information regarding EVs and facilitate cooperation between the actors and unlock synergies.
It is also is premier organizer of events and conferences in the field in Europe, including the European EVS series. For more information visit www.avere.org
About EVAAP:
The Electric Vehicle Association of Asia Pacific is an international membership organization founded in 1990, acting to promote the development and use of electric and hybrid vehicles in the Asia and Pacific region. EVAAP is the Asian-Pacific representative to the World Electric Vehicle Association organizing the International Electric Vehicle Symposium (EVS) rotationally with AVERE and EDTA. For more information on EVAAP, please contact Japan Automobile Research Institute, mtakahas@jari.or.jp.
Featured Product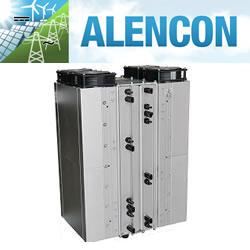 Alencon Systems is the premier manufacturer of high power, high voltage DC:DC optimizers for alternative energy applications including solar, battery energy storage, Microgrids, Fuel Cells and Electric Vehicle charging. Alencon's DC:DC converter offerings include the SPOT, BOSS and CUBE series DC:DC converters. The SPOT is a modular, uni-directional DC:DC solution ideal for solar applications. The BOSS is a modular, bi-directional unit for use with battery energy storage. The CUBE is a monolithic DC:DC converter which is available in both uni-directional and bi-directional modalities. Pictured above, is the Alencon SPOT.