The advent of gasoline- and diesel-electric hybrid and fuel cell vehicles is driving the need for advanced electrical distribution systems including connectors and components that can handle the high voltages and currents these new-generation machines require.
CANTON, Mich., November 15, 2003 - The advent of gasoline- and diesel-electric hybrid and fuel cell vehicles is driving the need for advanced electrical distribution systems including connectors and components that can handle the high voltages and currents these new-generation machines require. The new components must meet not only demanding performance standards, but stringent cost targets, as well.

Yazaki Corporation (Yazaki), a leading supplier of vehicle power and data solutions to the global automotive industry, is at the forefront of these new, higher performance technologies, supplying a range of products for these environmentally friendly vehicles.
The company's long history and successful track record of innovation and technology advancement has resulted in extensive experience with virtually all of the world's vehicle makers. Yazaki patented the first automotive wire harness to support a standard 6-volt architecture and, over time, upgraded to 12-volt architectures, adding connectors, instrumentation, fiber optics and gateways to its product portfolio to better serve customers.
Yazaki helped pioneer the first high-voltage, high-current systems for pure electric cars in both Asian and North American markets. Recently, the company has partnered with several leading manufacturers to develop harnesses, connectors and other products for hybrid electric vehicles.
"Our participation with vehicle makers on the cutting edge of environmentally friendly technologies such as hybrids and fuel cells is an excellent fit with our commitment to protecting our environment," said George Perry, president & CEO, Yazaki North America, Inc. "Yazaki Corporation has always been guided by its constitution to be 'a company in step with the world' and 'needed by society.' This business clearly meets the test of being in line with our fundamental business policy."
A number of Yazaki's current and near-term products are on display at the International Electric Vehicle Symposium and Exposition (EVS-20), Nov 15-19 in Long Beach, Calif. EVS-20 will draw thousands of industry, government, academic and environmental leaders from around the world to explore the latest in battery, hybrid and fuel cell transportation technologies.
Yazaki's products on display are advancing the state-of-art with clever, simple designs that meet a new level of performance, weight and cost requirements.
One of the inherent by-products of high-voltage and high-current electrical power transmission is electromagnetic interference (EMI) that results from electromagnetic fields surrounding the cables, connectors and other components. An essential performance factor for power and data networks is eliminating EMI to the vehicle's radio and other devices and complying with industry requirements for EMI.
Shielded EV-HEV Cable
Hybrid and fuel cell vehicles demand electrical cable that can handle high-voltage and high-current requirements…at acceptable cost. Yazaki has developed cable technology that effectively carries the power and controls EMI.
Yazaki uses a multi-layer design comprising a conductor of thin, stranded copper or aluminum wire with insulation of cross-linked polyethylene. Surrounding these layers is a shield of tin-plated, copper-braided wire. The outmost layer is a cover of heat-resistant PVC.
The bending load of the thin, stranded wire conductor is 50 percent less than typical stranded wire, which enables outstanding flexibility in harness routing, packaging and installation. The harness saves weight and cost, compared to a first-generation version. The aluminum cable is 31 percent lighter than the copper cable it replaces. The shield contains the electromagnetic field that high voltage/high current hybrid and fuel cell vehicles generate by grounding it, thus controlling the EMI. The cover layer protects the integrity of the shield.
Eyelet-Type HEV Motor Connector
Use of eyelet-connector technology for direct connection of inverter to electric motor lowers cost because of smaller size, fewer parts and avoidance of a more complex plastic housing. The Yazaki design provides sealing between the motor case and connector to prevent cooling-oil leaks. It also incorporates shielding to eliminate EMI.
Two-pole inverter connector
A two-pole inverter connector system connects the vehicle's battery pack to the inverter that converts direct current from the battery into alternating current to power the electric motor that drives the wheels. The Yazaki system includes two wire harness connectors, two EMI-shielded aluminum cables and header connectors that mount to both the inverter and the battery.
The header connectors are lower cost because of simpler design and fewer parts.
Service plug
The service plug disconnects the vehicle from the high-voltage battery power supply to enable safe servicing of the engine, electric motor and other components. Incorporating an integrated fuse and lever-assisted terminal insertion/removal design, the unit saves space and is easy to use.
Instrument panel
The location of the instrument panel of one particular vehicle posed two challenges: little space and the potential for ambient light reflections to hinder the driver's view of information appearing on the instrument cluster. Yazaki's solution is a compact structure that internally incorporates two mirrors to prevent ambient reflections from being visible to the driver. This "virtual" cluster satisfies the space requirements and provides a high-contrast display that supplies all key driver information such as speedometer, fuel and battery gauges, turn signal indicator and other read-outs.
DC Power Connector
A DC Power Connector connects the battery to the hybrid powertrain. It is a high voltage/high current, integrated wire harness system that includes:
·A single header connector with a lever-activated insertion device that aids connector mating and servicing
·A wire harness connector that incorporates a power terminal with a multi-contact spring to ensure reliability of the terminal contact
·Two high-voltage, shielded EMI-preventing aluminum cables in a polyethylene jacket to withstand high temperatures in the engine compartment
·A signal control system, a safety device that prevents arcing when the system is connected or disconnected. It consists of two low-voltage, unshielded copper cables.
DC/DC Converter Connector
This connector system is a high voltage/low current wire harness that connects a DC/DC converter to an electric motor/transmission assembly. It consists of:
·Two DC/DC header connectors at either end of two high-voltage, shielded copper cables in a polyethylene jacket
·A signal control system (two low-voltage, unshielded copper cables), a safety device that prevents arcing when the system is connected or disconnected
·The converter connector uses standard, low-voltage terminal technology to save cost.
The header connectors incorporate a simple, low cost shield structure that, along with the shielded cables, controls EMI. The polyethylene jacket protects against high engine compartment temperatures.
Adapter Terminal
In this Yazaki design for application in an integrated inverter/electric motor assembly, the adapter terminal transmits AC power, which the inverter has converted from DC power supplied by the battery, to the motor. Because no wire harness is necessary, the adapter terminal reduces complexity and lowers cost.
3-Pole Inverter Connector
This high-voltage wire harness prototype connects an inverter to a motor or generator. Integrated inner and outer housings ensure isolation of power terminals from the electromagnetic shield structure. This Yazaki design, along with shielded cables, controls EMI.
Battery Controller
Yazaki's innovative battery controller provides highly precise monitoring of battery "health," including state of charge (SOC). Using sensors for current, voltage and temperature and a computer module with a proprietary algorithm, the unit ensures optimal state of charge, actively manages load and provides key data to the driver. The result is longer battery life and greater battery efficiency. The robust load management capability that the Yazaki battery controller provides is essential to ensuring safe and efficient battery function in hybrids and fuel cell vehicles that use regenerative braking to re-capture energy.
HEV Battery Bus Bar Module
Yazaki's battery bus bar module provides a lightweight, low cost alternative to a complex system of wires for connecting a 38-battery series into a circuit to monitor voltage. Benefiting from a simple design, the module incorporates a thin-wall housing with flexible hinges and an integral, flat bus bar. The hinges facilitate assembly of the module to the battery and secure seating of terminal contacts. Aluminum film wraps around the positive and negative power cables to control EMI.
High-Voltage Junction Box
The high voltages and currents that hybrid electric and fuel cell vehicles require also put high demands on the junction box (JB). The JB distributes power from the main power source (battery or fuel cell) to major electrical systems throughout the vehicle. Yazaki's innovative, compact JB design meets all the functional challenges of these high-voltage vehicle systems, while safeguarding against electrical arcing between connections and protecting the circuits. Yazaki's JB has current and voltage sensors, main circuit shut-down features and leak-current detection that functions similarly to a ground fault interrupt (GFI) on the electrical outlet in a house wiring system. These features ensure safe vehicle maintenance and protect the vehicle's systems from unintentional grounding of supply power circuits.
Yazaki Corporation is a global leader in the research, development and delivery of vehicle power and data solutions, as well as advanced electronic technologies for vehicle applications. Yazaki produces electrical distribution systems, fiber optics, advanced networking products, instrumentation, junction blocks, connector systems, and advanced electronics. Worldwide, the company employs more than 120,000 people in 38 countries, 1,500 of whom are based in the company's North American headquarters and research center campus in Canton, Michigan. For more information on Yazaki, log onto www.yazaki-na.com.
###
Contact:
Brandon Dent
Yazaki North America
(734) 983-1104
- or -
Michelle Zdrodowski
Franco Public Relations Group
(313) 567-5017
Featured Product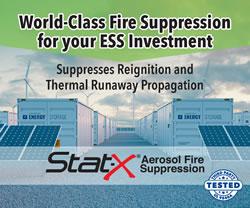 Stat-X® condensed aerosol fire suppression is a solution for energy storage systems (ESS) and battery energy storage systems (BESS) applications. Our Stat-X condensed aerosol fire extinguishing product was tested for efficacy in suppressing li-ion battery fires. It was found that the product successfully extinguished single and double cell battery fires. This testing was conducted in parallel with a large battery fire testing program on behalf of a large energy storage company.