Dynasty Electric Car Corporation Unveils "IT" Sport Model to California Market at EVS-20: Powering Sustainable Transportation in Long Beach, CA
Dynasty Electric Car Corporation Unveils "IT" Sport Model to California Market at EVS-20: Powering Sustainable Transportation in Long Beach, CA

(November 16, 2003), Long Beach, CA - Dynasty Electric Car Company introduces the stylish new Sport model of its "IT" car at California's EVS-20: Powering Sustainable Transportation show.
The "IT" Sport car exhibits unique sport orientated styling, including a soft removable top, side door ventilation panels and several advancements in engineering design. This new "IT" Sport fits with the active lifestyle of drivers who are interested in environmentally-friendly transportation alternatives. Dynasty continues to produce its classic "IT" Sedan and "IT" Van models. The "IT" cars are zero-emission, safe, reliable and fun to drive. The styling of the car is very attractive, which offers the consumer the opportunity to drive an environmentally-benign car while still maintaining the appeal of a chic modern vehicle.
"The trend towards transportation alternatives that have less impact on the environment continues to grow. "IT" cars are a great response to this consumer demand," says Dean MacKay, president of Dynasty Electric Car Corp. "'IT' cars complement the lifestyles of our customers with a sense of style and fun, as well as offering a cost-efficient, 100% clean transportation alternative."
Neighborhood Electric Vehicles (NEV), like Dynasty's "IT" are regulated to drive at a top speed of 25 miles, or 40 kilometres, per hour according to the US National Highway Traffic Safety Administration and Transport Canada Motor Vehicle Safety. As such "IT" cars can be driven on roads posted for speeds no greater than 35 mph (60 km/h).
Studies from the Green Car Institute, show that 60% of passenger cars travel less than 15 miles per day and that the majority of those uses are for errands within their community. "IT" cars can travel at full speed, without vehicle noise or air pollution, for 30 miles without recharging, meeting the majority of the needs of drivers on a daily basis.
"We are expecting drivers to continue to embrace electric vehicle technology and increasingly seek vehicles that appeal to their active lifestyles such as the "IT" Sport," MacKay continues. Increasingly, Dynasty Electric Car Corp. has found that drivers are seeking a stylish, environmentally-friendly form of transportation; and that electric vehicles are finding wider acceptance in urban centers like the over 30,000 gated communities in North America as well as, urban fleets, resorts, parks, airports, military complexes and educational campuses.
###
Featured Product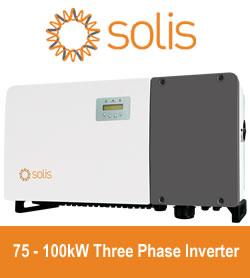 Solis75kW - 100kW series high-power string inverters are widely used in industrial and commercial rooftops. Solis's new three-phase string inverter is the first choice for industrial and commercial photovoltaics. 75-100kW three phase series string inverter have Maximum 28 strings input, support "Y" type connection in DC side. Maximum string input current 13A, support bifacial modules access.Supports anti-PID function to improve system efficiency.