PowerLight's Solar Electric System Delivers Clean, Reliable Energy to Sonoma County Winemaker
SANTA ROSA, CA, JAN. 26, 2004 — St. Francis Winery today announced it has commissioned the installation of a 457 kilowatt solar electrical system for its Winery in Santa Rosa. At nearly 500kW, St. Francis' new solar array is one of the largest solar installations in the Wine Country — and in the nation. Furnished by PowerLight Corporation of Berkeley, CA, this solar system will produce the equivalent electricity during the daytime to power over 450 homes, and generate over 30% of the Winery's annual required energy. The installation will be completed in May 2004.

"For three decades, St. Francis has achieved great success amidst the natural wonder of Sonoma County. We owe it to this magnificent region to do everything in our power to protect it. One of the ways we're doing our part is to generate electricity at our winery using the sun's energy," said Christopher W. Silva, President & CEO of St. Francis Winery. Mr. Silva, 39, a fifth generation native of Sonoma County, continued: "We've found that solar electricity is affordable and practical, not only for winemakers, but for all businesses and organizations that want to reduce costs and help stabilize our region's power supply. We hope that other businesses will follow our lead and be inspired to help preserve the environmental quality of Sonoma now and for generations to come."
"We salute St. Francis' environmental stewardship," said PowerLight President Dan Shugar. "By adopting clean, reliable, sustainable power, St. Francis is furthering its reputation as one of the nation's most environmentally responsible winemakers. The solar electric system will enable St. Francis to generate power from the sun, and feed any excess power back to the utility grid, especially on sunny days during times of peak demand. St. Francis is helping offset peak power costs statewide, which benefits all of California's utility customers."
The 457kW PowerLight solar electric system consists of high efficiency solar modules, which convert sunlight directly into electricity. This solar electric system spares the environment from thousands of tons of harmful emissions such as CO2, NOx, SOx, which are major contributors to smog, acid rain and global warming.
St. Francis is also conducting energy efficient lighting upgrades at the Winery. PowerLight will furnish custom designed hi-bay lighting for both the refrigerated barrel storage and winemaking operations area. The new lighting will reduce the lighting electric demand by 48%, and generate less heat to help maintain a cool temperature for wine storage. In addition, the high efficiency lighting more closely matches natural lighting, increasing visual acuity while presenting a more comfortable work environment.
About St. Francis Winery
St. Francis Winery & Vineyards (www.stfranciswine.com) was founded in 1971, when Joe Martin purchased 100 acres of land in the historic town of Kenwood in Sonoma Valley. Completed in 1979, the Winery was christened St. Francis Winery after Saint Francis of Assisi, patron saint of humanitarian efforts and to acknowledge the Franciscan order, the first to bring European grape cultivation to the new world. In 1983 Tom Mackey was brought on board as the first full time winemaker. Mr. Mackey added Cabernet Sauvignon and Zinfandel to the Merlot already in production. Today, St. Francis is known as one the country's premier high end producers of robust, flavorful wines, earning the nickname "House Of Big Reds".
About PowerLight
PowerLight (www.powerlight.com) is the leading manufacturer of commercial-scale solar electric products and energy efficiency services. Founded in 1991, PowerLight's systems solutions deliver reliable, affordable clean power for commercial and government customers worldwide. Inc. Magazine ranked the PowerLight Corporation among the top 500 fastest growing privately held companies for the past four years. Today, PowerLight has worldwide offices and a full line of commercial solar electric products and services.
###
Featured Product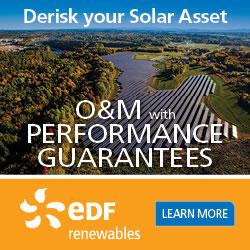 EDF Renewables offers the same innovative solutions that maximize the performance of our own 5.2 GW of installed projects. Because we're not an equipment manufacturer, our recommendations are transparent and data-driven. We cover the entire project lifecycle: from pre-commissioning support, through warranty and post warranty operation, to late stage and decommissioning.