Firm Sees Announcement as Fueling Growth of Already Fast-Increasing Clean Technology Investing
ANN ARBOR, Mich., FEBRUARY 5, 2004 - Cleantech Venture Network, a grouping of investors managing over $1 billion in cleantech venture assets, today responded to the February 3rd announcement by California State Treasurer, Phil Angelides, regarding the launch of the State's "Green Wave" Environmental Investment Initiative. The four-pronged initiative calls on the State's two large public pension funds - the California Public Employees' Retirement System (CalPERS) and the California State Teachers' Retirement System (CalSTRS) - to commit $1.5 billion to investments in cutting-edge clean technologies and environmentally responsible companies.

"Pension funds have been minor players in the near quadrupling of cleantech venturing in recent years,: this initiative may be the tipping point in bringing them in into this exciting space which now represents nearly 8 percent of the venture market," said Nicholas Parker, co-founder and chairman of Cleantech. "Venture investments in clean technology companies - from alternative energy to water purification - adds up to more than $2.5 billion over the past 24 months but the capital requirement is much bigger: capturing the environmental, economic and social benefits of these opportunities requires the participation of institutional investors such as the major pension funds."
"I'm bullish about the potential for attaining attractive returns in the clean technology area," said John Rockwell, Chairman of Cleantech's Venture Advisory Board and Partner, manging the Palo Alto office of Advent International, one of the world's largest and best known venture capital managers. "I believe now may be the right time in the investment cycle for investors to catch the cleantech wave."
About the Cleantech Venture Network
The Cleantech Venture Network (CLEANTECH) is a grouping of member investors managing over $1 billion in cleantech venture assets. The company believes "clean technologies" - from solar energy to water purification - are the next and necessary wave of venture investing. CLEANTECH introduces promising young companies to investors and investors to quality deal-flow. The company has developed a community of money managers, business executives, professional advisors, and other stakeholders active in the clean technology venture arena. CLEANTECH organizes venture forums, provides deal flow, publishes a quarterly venture monitor and offers related services to investors and entrepreneurs. CLEANTECH benefits from the expertise and counsel of an advisory board comprised of representatives from 13 leading venture capital and service provider firms specializing in clean technology. More about the company can be found at www.cleantechventure.com or by calling 517-223-9607.
Featured Product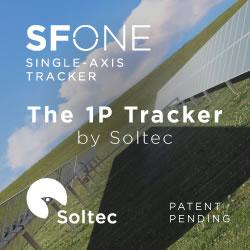 SFOne is the 1P single-axis tracker by Soltec. This tracker combines the mechanical simplicity with the extraordinary expertise of Soltec for more than 18 years. Specially designed for larger 72 an 78 cell modules, this tracker is self-powered thanks to its dedicated module, which results into a lower cost-operational power supply. The SFOne has a 5% less piles than standard competitor, what reduces a 75% the labor time.