Fuel-Efficient, Low-Emission, Hybrid Gasoline-Electric Drive System Uses Ultracapacitors To Capture, Reuse Energy Generated by Braking
SAN DIEGO, CA — Maxwell Technologies, Inc. (Nasdaq: MXWL) announced today that it has been selected to supply BOOSTCAP® ultracapacitors for 27 40-foot hybrid gasoline-electric transit buses that are being built by New Flyer Industries and ISE Research for Long Beach Transit, Long Beach, Calif.

Dr. Richard Balanson, Maxwell's president and chief executive officer, said that the order represents a significant milestone in the company's effort to establish ultracapacitors as a standard energy storage and power delivery solution for the transportation industry.
"This is the first production-level order resulting from the strategic alliance that Maxwell and ISE formed in 2002 to collaboratively develop ultracapacitor-based energy storage and power delivery systems for hybrid drive trains for heavy vehicles," Balanson said. "Ultracapacitors' ability to discharge and recharge rapidly makes them ideal for capturing and reusing energy generated by braking, which is critical to achieving the fuel economy and reduced emissions consumers are seeking from hybrid vehicles."
Balanson said that Maxwell expects to win additional production orders for bus drive trains, and also is supplying large cell ultracapacitors for production, testing and prototyping for other transportation and industrial applications, including automobiles, trucks, electric rail vehicles and systems, forklifts and back-up power systems.
David Mazaika, president and chief executive officer of San Diego-based ISE, said that ultracapacitors offer a number of significant advantages over batteries in hybrid drive systems.
"Ultracapacitor-based systems achieve 10 to 15 percent better fuel economy than comparable battery-based systems because they are lighter and more efficient in absorbing electrical energy produced by regenerative braking," Mazaika said. "Perhaps more importantly, they perform reliably over hundreds of thousands of discharge-recharge cycles, which equates to years of maintenance-free energy storage and power delivery performance for transit operators. ISE is recommending them as a preferred solution for hybrid buses, large trucks, tractors and other heavy-duty vehicles."
Mazaika said that the Maxwell ultracapacitors' durability and long cycle life enabled ISE to provide a five-year warranty on its ThunderPack II' energy storage system, which became a key factor in Long Beach Transit's decision to purchase buses with the novel drive train.
"We believe that this warranty establishes a new standard in the bus industry," Mazaika said. "It gives transit operators the assurance that they won't be faced with extensive maintenance and replacement costs that are typical with battery-based energy storage systems."
Jim Ditch, Long Beach Transit's executive director of maintenance and facilities, concurred, noting that industry experience has shown that battery reliability and longevity can be problematic in transit operations.
"Our buses operate 20 hours a day, so being able to eliminate maintenance-intensive systems and components in new vehicles is an important consideration for us," Ditch said. "We are pleased that Long Beach is the first transit agency to deploy this new technology in volume revenue service."
ISE's ThunderVolt' drive system consists of an ultra-low emission Ford Triton V10 gasoline engine, Siemens ELFA' electric motors, motor controllers and generators and a ThunderPack II ultracapacitor-based energy storage system comprised of 288 Maxwell BOOSTCAP ultracapacitors. It is the only commercially available gasoline-electric hybrid drive system that meets the California Air Resources Board's 2007 emissions standards. ISE also produces a diesel-fueled ThunderVolt system, using a Cummins ISB02 engine.
ISE is a leading supplier of hybrid-electric and fuel cell-based drive systems for heavy-duty vehicles including buses, trucks, airport equipment and specialized military vehicles. In addition to selling complete hybrid-electric drive systems, ISE also sells a variety of electric and hybrid-electric vehicle components and offers a range of vehicle integration and support services. For more information, please visit www.isecorp.com.
Maxwell sells reliability. We develop, manufacture and market electronic components and systems that perform reliably for the life of the applications into which they are integrated. Our BOOSTCAP® ultracapacitors and ultracapacitor-based energy storage systems uniquely address applications in transportation and consumer and industrial electronics. Our high-voltage grading and coupling capacitors are used in electric utility infrastructure and other applications involving transport, distribution and measurement of high voltage electrical energy. Our radiation-mitigated microelectronic products include power modules, memory modules and single board computers that primarily address applications in aerospace.
Featured Product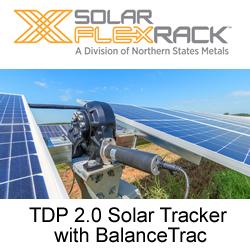 Solar FlexRack's latest solar tracker technology bundles an advanced tracker design with a full team of seasoned engineering and installation experts at your service. The next-generation solar tracker delivers a package of features that both enable increased energy yields for commercial and utility-scale solar installations, and significantly reduce project risks. That translates to smart installation cost-savings across your project budget.