Xantrex Technology Inc. has received one of Canada's most high-profile national environmental awards, the GLOBE 2004 Corporate Award for Technical Innovation.
BURNABY, B.C., April 5, 2004 - Xantrex Technology Inc. has received one of Canada's most high-profile national environmental awards, the GLOBE 2004 Corporate Award for Technical Innovation. Introduced in 2002, the GLOBE Awards for Environmental Excellence recognize Canadian companies that have commendable sustainable business strategies.

Xantrex Chairman Mossadiq S. Umedaly accepted the award at a gala event held in Vancouver, British Columbia.
"I am honoured to accept this award on behalf of Xantrex," said Umedaly. "This award is a tribute to our company's excellence in technological innovation and recognizes the dedication of our team, which is committed to developing and commercializing technologies that have global appeal and a positive environmental impact."
The Globe Technical Innovation Award is given to companies that have demonstrated outstanding technical ingenuity in developing and applying innovative technologies to solve pressing environmental problems and substantially reduce environmental impacts.
Dr. John Wiebe, President and CEO of the GLOBE Foundation of Canada said: "The GLOBE Awards for Environmental Excellence have established themselves within the Canadian business community as the 'brass ring' for forward thinking, environmentally responsible companies that have turned sustainable business practices into competitive advantages. This year we have added an extremely prestigious list of companies to our awards roster that continue to show exceptional economic and environmental leadership."
Xantrex is a leading producer of advanced power electronics products for the renewable energy industry. Its products convert, manage and control power generated by renewable and advanced energy sources ― such as solar, wind, fuel cells, micro-turbines and flywheels ― into "green power" electricity that can be used for industrial, utility, home and business applications. Xantrex's products enable customers around the world to increase energy efficiency and freedom, while making a positive impact on the environment.
About Xantrex
Xantrex Technology Inc. is a world leader in the development, manufacturing and marketing of advanced power electronic products and systems for the distributed, mobile and programmable power markets. The company's products convert raw electrical power from any central, distributed, or backup power source into high-quality power required by electronic and electrical equipment.
Xantrex is a public company listed on the Toronto Stock Exchange. Headquartered in Vancouver, British Columbia, the company has facilities in Arlington, Washington; Livermore, California; Miami, Florida; Elkhart, Indiana and Barcelona, Spain. Additional information about Xantrex is available at www.xantrex.com.
Statements contained in this news release that are not historical facts are forward-looking in nature. Such statements reflect the current views of Xantrex Technology Inc. with respect to future events, developments or results and are based on currently available information. Any forward-looking statements contained herein are subject to risks and uncertainties that could cause actual results to differ materially from those contemplated.
Featured Product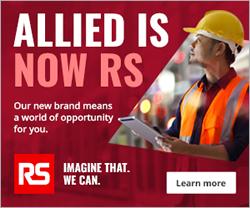 Moxa is a leader in edge connectivity, industrial computing, and network infrastructure solutions for enabling connectivity for the Industrial Internet of Things. With over 30 years of industry experience and 65 million devices connected worldwide, Moxa has a distribution and service network to serve customers in more than 80 countries. Now at Allied-find over 1,000 products from Ethernet switches, protocol converters, routers, and more. Allied Electronics & Automation, part of RS Group & Automation, part of RS Group is an authorized distributor of Moxa.