The Only 75kW Grid-Tie Utility Interactive Power Inverter Available Today
Ballard Power Systems (NASDAQ:BLDP) (TSX:BLD) today introduced its 75 kW Ecostar(TM) power converter specifically designed for photovoltaic ('PV') applications. The only 75 kW grid-tie utility interactive power inverter available to PV customers, the Ecostar(TM) power converter combines superior inverter and transformer efficiency with ease of installation and use. Based on proven, state-of-the art technology, the Ecostar(TM) power converter offers customers improved reliability and a reduced payback period for their product investment when compared to incumbent technologies.

'The photovoltaic market has grown an average of 25 percent per year since the 1980s, and the majority of that growth has come in grid-tie applications. Along with this rapid growth have come demands from the market for improved efficiency and greater reliability. We are confident Ballard's Ecostar(TM) power converter is tailor-made to meet those needs, and that it will exceed our customers' expectations,'said Ross Witschonke, Ballard's Vice President, Sales & Marketing.
With peak transformer efficiency of 98.4 percent, system operating losses reduced to 25 Watts and continuous power output at full load, the Ecostar(TM) power converter is one of the most efficient commercial inverters available in North America. Ballard offers a five-year extended warranty for parts and labor and is listed by the California Energy Commission.
Key benefits of the Ecostar(TM) power converter include:
-- Night-time isolation: the inverter automatically disconnects from the grid and isolates the power transformer when there is no power from the PV array; further, it automatically 'wakes up'when the sun reappears, thus eliminating nighttime transformer losses;
-- Patented software algorithms: offers reliable grid-parallel operation, anti-islanding and over/under frequency and voltage protections;
-- Highly efficient maximum power-point tracking: operates independently of PV cell technologies and fill-factors for maximum installation flexibility and reduced operating costs;
-- Liquid cooling: increases system reliability and inverter life cycle.
'Ballard Power Systems' 75 kW Ecostar(TM) power converter fills a niche for us and it is working very well,' said William Lyons, Systems Engineering Manager, Spire Solar Chicago. 'Ballard approached us as we were considering solutions to our PV system needs. We chose Ballard due to the superior technical aspects of their product - it has lower tare losses and is liquid-cooled, providing greater energy savings. The price was competitive, installation was easy, performance has been trouble-free and the customer service has been excellent. We are very pleased with this product.'
Spire Solar Chicago, a business unit of Spire Corporation, has been established in Chicago in collaboration with the City of Chicago, ComEd and BP Solar. Spire Solar Chicago is a vertically integrated photovoltaic manufacturing plant and installation business.
The Ecostar(TM) power converter is leveraged from Ballard's extensive experience developing inverters for automotive and microturbine applications, and is proving to be a flexible product design. Ballard expects to add a 30 kW inverter product for PV applications to its product offerings for installations in the second half of 2004.
For more information on the Ecostar(TM) power converter, please visit Ballard's website at www.ballard.com.
Featured Product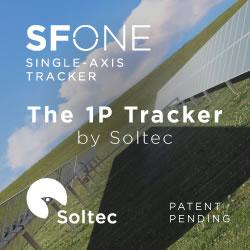 SFOne is the 1P single-axis tracker by Soltec. This tracker combines the mechanical simplicity with the extraordinary expertise of Soltec for more than 18 years. Specially designed for larger 72 an 78 cell modules, this tracker is self-powered thanks to its dedicated module, which results into a lower cost-operational power supply. The SFOne has a 5% less piles than standard competitor, what reduces a 75% the labor time.