Based on MGE's proven double-conversion online technology, the new rack systems offer power protection optimized for maximum reliability and long backup times for high-density IT applications and servers.
MGE UPS SYSTEMS INC. the technology leader in providing unsurpassed power protection solutions to computer data centers, telecommunications and industrial operations, today introduced its Pulsar EX RT online Uninterruptible Power Supplies (UPS) featuring an extended runtime option using Ballard Power Systems'Nexa(R) RM Series fuel cell modules. Based on MGE's proven double-conversion online technology, the new rack systems offer power protection optimized for maximum reliability and long backup times for high-density IT applications and servers. The 3200VA fuel cell powered UPS models can provide virtually unlimited backup time as long as hydrogen fuel is supplied. This innovative power protection solution will be on display during Networld+Interop in Las Vegas, May 11 - 13 in MGE's booth number 1958.

Fueled with hydrogen, the fuel cell UPS can provide backup times of four to 24 hours or more as long as hydrogen is available. The hydrogen, which is contained in replaceable cylinders, is piped directly to the fuel cell module. Like a battery, the fuel cell module produces DC voltage that is then bussed to the UPS. Scaleable fuel cell modules are ideally suited to meet the needs of the UPS and telecommunications markets, where the limitations of batteries including inadequate run times and excess weight and floor space requirements have long presented difficulties for applications requiring backup times in excess of one hour.
'We're very excited to incorporate Ballard's innovative Nexa RM Series into our new online Pulsar EX RT which marks our second generation of fuel cell powered UPSs,'stated Jack Pouchet, director of marketing for MGE UPS SYSTEMS INC. 'Our first fuel cell powered UPS incorporated line-interactive technology. Our latest solution is one of the most robust double-conversion UPSs on the market today providing true on-line Digital Power Quality for application servers, VoIP and storage networks that require this higher level of power quality. And now with the capability to incorporate fuel cell technology, users have virtually unlimited backup time for mission critical telecommunications and network applications as well. The damaging affects of extended power outages on business continuity will soon become a thing of the past.'
Recent prolonged blackouts resulting from natural and man-made causes have heightened the demand for more comprehensive backup options. The AFCOM Data Center Institute's recent survey of sites affected by the Northeast blackouts in 2003 found that at least 47 percent of data centers suffered from lost operation or lost data as a result. By incorporating true online double-conversion UPS topology with built-in automatic bypass, MGE's Pulsar EX RT assures the highest level of power conditioning, maximum uptime and optimized battery life as well as compatibility with engine generators for even longer backup requirements.
Installed in an industry standard 19-inch rack, the fuel cell power modules include electrical connections, N+1 redundancy capability, and a host of safety features. The 1kW fuel cell modules can be operated in parallel for power levels up to 50kW. Three of the 85-pound, 5U (8.7-inch) fuel cell modules are used in the UPS configuration. The Pulsar EX 3200 RT uses only 2U (3.5 inches) of rack space and weighs 82.7 pounds. Its hot-swappable internal batteries address momentary power disturbances, provide continuous power during the transition to fuel cell operation and offer a stiffer power source than a typical fuel cell to accommodate step load changes while assuring an added layer of redundancy. The UPS module includes connectors to accept DC input from the fuel cell modules and six standard 15A NEMA receptacles for easy connection of critical equipment. Power distribution options with additional receptacles are also available. Connectivity is another advantage of using existing UPS technology. The Pulsar EX RT system incorporates standard USB and serial ports while offering SNMP/web connection options for advanced monitoring and control with sophisticated UPS power management software that would not be available with a standalone fuel cell product.
All Pulsar EX RT UPS models include USB and serial ports for communication and power management with included software for current Windows operating systems as well as several versions of UNIX, Macintosh, Novell and legacy Windows OS. In addition, the new Pulsar models include rack-mounting hardware kits that are typically added-cost options from other manufacturers. Standard units also feature MGE's Powershare technology that enables users to remotely reboot systems and gracefully turn off less critical equipment for 'load shedding'in order to maximize backup time for the most important devices connected to the UPS.
Available options include fuel cell module integration for extended runtime, a manual Source Transfer Switch (STS) and communications options for SNMP, enhanced web monitoring and NMS integration for HP OpenView, IBM Tivoli, NetView, CA Unicenter and others.
Available now for field trials, total cost of ownership for the Pulsar EX RT 3200VA with fuel cell capability is comparable to a traditional UPS with an external battery plant. Recently named as an authorized worldwide (excluding Japan) distributor and service provider for Ballard Power Systems'fuel cell power generation products, MGE offers service and support for Ballard's Nexa(R) power module and its AirGen(R) fuel cell generator from more than 170 factory service centers throughout the world. For more information, contact MGE UPS SYSTEMS at 800-523-0142 or via their Web site at www.mgeups.com/us.
About MGE
MGE UPS SYSTEMS INC. is a world leader in providing high quality power solutions that increase power availability and system uptime to PCs and enterprise-wide networks, mission-critical telecommunication systems, and industrial/manufacturing processes. MGE's comprehensive product offering includes Uninterruptible Power Supplies (UPSs), inverters, rectifiers, power management software, active harmonic conditioners, and surge suppressors that provide MGE's customers with end-to-end infrastructure solutions. With its Total Quality Management and MGE PowerServices(TM) programs, supported by a network of 900 service specialists in 170 centers worldwide, MGE's customers are assured of the highest-level of quality and service throughout the complete life-cycle of their installations.
With U.S. headquarters in Costa Mesa, Calif., MGE is able to deliver the latest in innovative solutions around the globe. To learn more about MGE's power protection, conversion and distribution solutions, visit MGE's Web site at www.mgeups.com/us.
About Ballard Power Systems
Ballard Power Systems is recognized as the world leader in developing, manufacturing and marketing zero-emission proton exchange membrane (PEM) fuel cells. Ballard is commercializing fuel cell engines for transportation applications and fuel cell systems for portable and stationary products. Ballard is also commercializing electric drives for fuel cell and other electric vehicles, power conversion products and is a Tier 1 automotive supplier of friction materials for power train components. Ballard's proprietary technology is enabling automobile, bus, electrical equipment, portable power and stationary product manufacturers to develop environmentally clean products for sale. Ballard is partnering with strong, world-leading companies, including DaimlerChrysler, Ford, EBARA, ALSTOM and FirstEnergy, to commercialize Ballard(R) fuel cells. Ballard has supplied fuel cells to Honda, Mitsubishi, Nissan and Volkswagen, among others. To learn more about Ballard Power Systems, visit Ballard's Web site at www.ballard.com.
Featured Product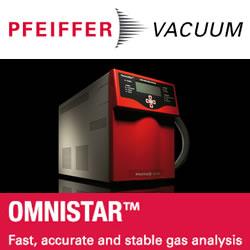 The Pfeiffer Vacuum OmniStar benchtop analysis system offers you a compact footprint, powerful software and Ethernet connectivity. It's the optimum solution for many real-time gas analysis applications. With the OmniStar, Pfeiffer Vacuum offers you a complete solution for gas analysis, in chemical processes, semiconductor industry, metallurgy, fermentation, catalysis, laser technology and environmental analysis. The turnkey OmniStar gas analysis system consists of heated, temperature-regulated gas inlet system, Quadrupole mass spectrometer, a dry diaphragm vacuum pump and HiPace turbopump. Unlike competing methods such as FTIR, OmniStar is suitable for qualitative and quantitative analysis of most gases.