Company to Establish Corporate Headquarters, Manufacturing Plant and R&D Facilities in Saratoga County Dedicated to Mass Production of High Performance, Low-Cost Solar Cells
Halfmoon, NY - (PR NEWSWIRE) - June 21, 2004 - DayStar Technologies, Inc. (Nasdaq:DSTI), a pioneer in the development and commercialization of solar electric power generation technologies, today announced that it has elected to relocate the Company from Grass Valley, California to Saratoga County, New York where it will establish its corporate headquarters, manufacturing plant and research and development facilities. To assist DayStar in its relocation efforts, the New York State Department of Economic Development has provided a package of State and local economic incentives valued up to $11,136,000.

"The successful implementation of DayStar's long term growth strategy is reliant upon engaging with pro-clean energy partners. In this regard, DayStar devoted a great deal of time carefully assessing where in the United States to headquarter our new facilities. After considering the attributes of numerous sites, it became evident that New York State, and specifically the Saratoga Technology + Energy Park ("STEP") facility in Saratoga County, represented the ideal home for us," stated John Tuttle, Chief Executive Officer of DayStar.
With an aim to mass produce high performance, low-cost solar cells based on the Company's proprietary technology, engineering and production processes, DayStar plans to develop an 18,000 square foot manufacturing and R&D facility in Saratoga. In the next 18-24 months, additional expansion will occur into new facilities being constructed at the STEP site to meet DayStar's growth needs.
Under the leadership of Governor George E. Pataki, the State of New York is earning international distinction for conceiving and implementing some of the Country's most progressive renewable energy initiatives. Aggressive environmental legislation has been passed to actively support the development and deployment of renewable energy resources like solar, geothermal, biomass, and wind power to help the State achieve a series of key objectives, including alleviating its dependence on traditional fossil fuel sources of energy; reducing harmful greenhouse gas emissions; and creating new industries devoted to the advancement of clean energy. Governor Pataki stated, "DayStar's announcement is a great win for the people and economy of New York State."
Continuing, Tuttle added, "Governor Pataki's demonstrated commitment to advancing renewable energy technologies is consistent with our fundamental objective. Further, the sophisticated academic and technology resources in Albany's Tech Valley played a major role in our decision to move to New York. We look forward to working with local and State officials to build a Company of lasting value to our shareholders, the citizens of New York and the people of the world."
DayStar plans to complete the relocation of its corporate offices to upstate New York from California within the next 30 days and will begin expanding its engineering and support staff immediately thereafter. The State incentive package provides for DayStar to receive a series of tax credits and access to various State and industry sponsored grant programs, including the Renewable Energy Technology Manufacturing Incentive Grant from the New York State Energy Research and Development Agency.
About DayStar Technologies Inc.
DayStar Technologies, Inc. has developed a thin-film, copper-indium- gallium-selenide solar cell, known as a CIGS solar cell, for the direct conversion of sunlight into electricity. The Company is developing a high-volume manufacturing process that it believes could result in solar electricity power production at commercially viable rates.
Featured Product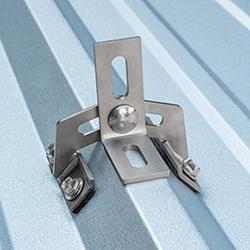 Explore new lines of income for your solar installation business with QuickBOLT's Stone Coated Steel roof mounts designed in partnership with metal roof manufacturers themselves. These SCS roof mounts work on all metal tile profiles and will help you bring in money you're missing out on. By not driving into the roofing material, QuickBOLT's Stone Coated Steel roof hooks maintain the integrity of the roof. Install with ease and confidence knowing your roof is protected against the harsh elements that these hooks are designed for.