PowerLight's Solar Electric System Delivers Clean, Reliable Energy to Leading Woodblock Manufacturer and Rubber Stamp and Print Maker; Mayor Jerry Brown Officiates at Dedication
PowerLight's Solar Electric System Delivers Clean, Reliable Energy to Leading Woodblock Manufacturer and Rubber Stamp and Print Maker

OAKLAND, CA, June 29, 2004 — Open Hand Manufacturing, Inc., a high-speed wood processing shop, today dedicated a 68 kilowatt solar electrical system at its manufacturing facility in Oakland, CA — a city that is making renewable energy deployment a top priority. This is the first solar array to be sited in Oakland's industrial zone. Open Hand Manufacturing's solar electric system will produce the equivalent electricity during the daytime to power over 70 homes, and generate over 80% of the factory's electricity needs. In addition, the solar array will save Open Hand nearly $17,000 annually in avoided electricity costs. Mayor Jerry Brown officiated at the dedication of this historic large-scale solar electric system in Oakland.
"The City of Oakland is thrilled that solar power is becoming an increasingly mainstream source of electric power here in Northern California," said Mayor Brown. "Thanks to the vision of entrepreneurs and policy makers in our community like Open Hand Manufacturing, we are at the forefront when it comes to clean, renewable and environmental responsible energy deployments."
"Using solar energy to power our operations is consistent with our sustainability ethic and creative approach to managing our operations," said Open Hand Manufacturing, Inc. President & CEO Aaron Leventhal. "Solar electricity is affordable and practical; it makes sense for every business that wants to reduce costs and help stabilize the power supply. We hope that other firms in Oakland and the greater Bay Area will follow our lead, especially as this region strives to derive an increasingly larger portion of its energy from renewable resources."
"We applaud Open Hand Manufacturing for adding solar to its energy mix," said PowerLight President Dan Shugar. "By outfitting their factory with a solar array, Open Hand will be generating clean power from the sun. By generating solar electricity, the manufacturing plant is helping offset peak power costs statewide, which benefits all of California's utility customers."
The Open Hand Manufacturing solar electric project is on track to receive a rebate from Pacific Gas and Electric Company's self-generation incentive program, which provides incentives for clean, on-site generation.
"We selected PowerLight's solar rooftop system after a thorough review of its reliability, affordability, track record and demonstrated performance," added Leventhal. "By adopting clean, reliable, sustainable power, Open Hand is demonstrating that businesses both large and small can contribute to efforts to make our nation's power generation increasingly emissions-free."
The 68 kW PowerLight solar electric system consists of 360 modules which incorporate high-efficiency photovoltaic cells. In addition to converting sunlight directly into electricity, PowerLight's PowerGuard® solar array insulates the building, thus reducing the cost of heating and air conditioning, while extending the life of the roof. The solar electric system will also spare the environment from thousands of tons of harmful emissions such as carbon dioxide, nitrous oxide and sulfur dioxide, which are major contributors to smog, acid rain and global warming.
About Open Hand Manufacturing, Inc. (OHM)
Open Hand Manufacturing is a high-speed woodblock manufacturing facility. Using all sustainable hardwood American maple, OHM cuts, shapes, and sands woodblocks that are sold to rubber stamp companies who turn the wood mounts into rubber stamps. Hero Arts Rubber Stamps, Inc. (www.heroarts.com) is a creator, manufacturer, and wholesaler of original-design rubber stamps and accessories, and is OHM's largest customer. Hero Arts, a leading rubber stamp maker for the cardmaking, craft, and scrapbook markets, was founded in 1974 by Jackie Leventhal, the mother of Aaron Leventhal who owns OHM. For more information, visit the Hero Arts website at www.heroarts.com.
About PowerLight
PowerLight (www.powerlight.com) is the leading manufacturer of large-scale solar electric products and energy efficiency services. Founded in 1991, PowerLight's systems solutions deliver reliable, affordable clean power for commercial and government customers worldwide. Inc. Magazine ranked the PowerLight Corporation among the top 500 fastest growing privately held companies for the past four years. Today, PowerLight has worldwide offices and a full line of commercial solar electric products and services.
Featured Product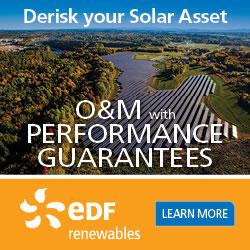 EDF Renewables offers the same innovative solutions that maximize the performance of our own 5.2 GW of installed projects. Because we're not an equipment manufacturer, our recommendations are transparent and data-driven. We cover the entire project lifecycle: from pre-commissioning support, through warranty and post warranty operation, to late stage and decommissioning.