UK biodiesel firm supports jatropha cultivation to produce biodiesel in Tamil Nadu state, India, by providing seedlings, purchasing seeds, and supplying crushing and refining technology
D1 Oils plc, a UK biodiesel firm, will assist the Indian state of Tamil Nadu to promote the cultivation on degraded land of the jatropha, a drought resistant tree whose seeds are an excellent source of biodiesel. D1 will support the wasteland cultivation project by providing seedlings to agricultural cooperatives, acting as a buyer to guarantee farmers a market for seeds, and supplying technology to enable growers to crush and extract the seed oil and refine it into biodiesel. More than 40% of the energy in Jatropha seeds can be extracted as oil that has equivalent energy value to diesel and can be blended with mineral diesel.

Tamil Nadu contains an estimated 130 million hectares of wasteland, of which 33 million hectares is available for reclamation. Developing such lands to create much needed agricultural jobs is a priority for National and State governments in India, and the jatropha tree has been identified as a suitable crop for planting. Tamil Nadu's jatropha planting program will be promoted by the District Rural Development Agency and the Coimbatore District Co-operative Milk Producers Union. Both agencies have welcomed D1's involvement as a means to instil confidence among rural farmers that jatropha offers a good source of income for the future.
Roger King, Executive Vice President of D1 Oils India, said "The cultivation of jatropha on wasteland has the potential both to produce a green fuel that will reduce carbon dioxide emissions, and create much-needed rural jobs. India has the potential to be a leading world producer of diesel, but farmers need to know that there is going to be a good market for what they produce. We are very keen to build that confidence and promote jatropha cultivation by assisting planting, buying the seeds for refining and providing the refining technology to enable growers to make their own biodiesel."
"Some 2,500 jatropha shrubs can be raised in one hectare," said Doctor Subramaniam, Managing Director of the Coimbatore District Co-operative Milk Producers Union. "Each plant can yield up to 1.5 kilos of seed depending on plant condition."
India currently uses about 60 million tonnes of diesel, representing some 40% of national petroleum consumption. The Indian government is expected to introduce a biodiesel blend for the transport sector.
In addition to this project, D1 Oils expects to build facilities at various locations in the developing world, and has signed plantation agreements in Burkina Faso, Ghana, Malawi, Namibia, South Africa, and Zambia.
D1 Oils is planning to raise £14m in a stock market flotation this autumn to expand its operations.
D1 Oils is at the leading edge of both the technology of biodiesel production and the growth of alternative non-food oils as feedstock supplies to the biodiesel industry. The company has developed unique technology to refine different biofuel crops, and to grow high-yield crops through large-scale planting on marginal and unused land in developing countries. D1 Oils is committed to developing new energy solutions and empowering communities in the developing world through renewable and sustainable agro-forestry.
Featured Product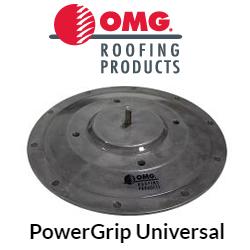 Eliminate Solar Rack Ballast and Reduce Rooftop Material Handling. PowerGrip™ Universal (PGU) is a commercial roof mount system designed to secure solar racks and other equipment to any type of commercial roofing system. PGU provides a secure connection directly to the roof deck or structural members and is designed to reduce or eliminate ballast in solar racking systems, so there's less weight on the roof and less material handling. Made of heavy-duty cast aluminum, PGU units include a base ring which is secured through the roofing cover and into the structural roof deck, and a waterproof top plate.