Cleantech Venture Network Partners with Center for Smart Energy to Add New Event to Its Venture Forum
Howell, MI, August 17, 2004 - Cleantech Venture Network and the Center for Smart Energy (CSE) today announced a collaboration to present a new event at the fifth Cleantech Venture Forum, October 25 to 27, at the Intercontinental Hotel in Toronto, Canada. Called "Discovery Showcase," the half-day event on October 25 will preview advanced technologies that are poised to revolutionize the electric power system.

Cleantech's Venture Forums bring together clean technology entrepreneurs and venture investors in a venue where deals and relationships can originate. "Investors need to know where the market is headed," said Keith Raab, president and CEO of the Cleantech Venture Network. "The experts from CSE specialize in tracking the key technologies and trends in energy technology. We are delighted to expand our forum with this inside look at up-and-coming technology disruptors."
"The Cleantech Venture Forum has become the must-attend event for institutional and strategic investors who are leading us to a sustainable future," said Jesse Berst, President of the Center for Smart Energy. "There is no better place to reach respected, forward-thinking investors. It is the ideal venue to introduce the ideas of tomorrow to the people who can help make them happen."
About the Discovery Showcase
CSE's Discovery Showcase events gather leaders to share perspectives, craft strategies, and get a head start on the future. Inventors and innovators detail their ideas and field tough questions from an expert panel. CSE specialists screen candidates from national labs, universities, energy technology market leaders, innovative startups, and important research centers to uncover the technologies most likely to impact the market. CSE regularly reviews the key energy tech sectors to identify candidates for the Showcase events. Among the ideas under consideration for October 25 are:
· innovations in clean, renewable energy
· ideas that make electricity use dramatically more efficient
· technologies that can transform North America's deteriorating power grid into a self-healing "superhighway" for electricity
To nominate a technology for consideration, or to get information about applying, contact showcase@centerforsmartenergy.com or call PS Reilly at 858-603-0139. To register to attend the Discovery Showcase, visit www.cleantechventure.com and click on "Events."
About the Cleantech Venture Forum
Cleantech Venture Network will be hosting the Cleantech Venture Forum V, October 25 to 27, at the Intercontinental Hotel in Toronto, Canada. Cleantech Venture Forum is held twice annually. More than 350 attended Venture Forum IV in San Francisco , and up to 400 attendees are expected at Cleantech Venture Forum V. During the Forum, attendees hear presentations from companies in the clean technology industry, participate in meetings with key investors including business angels, venture capitalists, fund managers, investment bankers and corporations, and take advantage of leading-edge information and research on investment opportunities from leading thinkers on clean technology innovations and trends. Lead sponsors include Heller Ehrman White & McAuliffe LLP, EnerTech Capital and NGEN Partners. Interested attendees can register for Cleantech Venture Forum V online at www.cleantechventure.com under "Events," or by calling 517-223-9607.
About the Center for Smart Energy
The Center for Smart Energy helps investors and businesses find and pursue their best opportunities in the rapidly growing energy technology sector. CSE conducts research, provides business acceleration services, and helps young companies build successful funding strategies. Clients include large firms looking to diversify into energy technology and startups looking to grow. More information about the company can be found at www.centerforsmartenergy.com or by calling 425-458-4919.
About the Cleantech Venture Network
The Cleantech Venture Network (Cleantech) is a grouping of member investors managing over $3 billion in cleantech venture assets. The company believes "clean technologies" - from solar energy to water purification - are the next and necessary wave of venture investing. Cleantech introduces promising young companies to investors and investors to quality deal-flow. The company has developed a community of money managers, business executives, professional advisors, and other stakeholders active in the clean technology venture arena. Cleantech organizes venture forums, provides deal flow, publishes a quarterly venture monitor and offers related services to investors and entrepreneurs. Cleantech benefits from the expertise and counsel of an advisory board comprised of representatives from 15 leading venture capital and service provider firms specializing in clean technology. More information about the company can be found at www.cleantechventure.com or by calling 517-223-9607.
Featured Product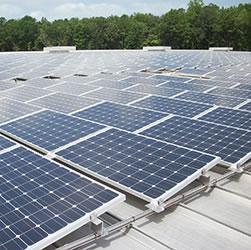 The Power Rail™ Commercial Mounting System is designed with the professional PV solar installer in mind. Both the XD/UD and LD/MD rails feature single tool assembly with the revolutionary patented RAD™ Lock-in-Place bolt for fast and secure module clamping. The high strength marine-grade aluminum rails include an integral wiring channel for securing cables and providing a professional finish.