Green Energy Resources Launches Strategic Initiative with Coal Industry to Reduce Air Polluting Emissions, Develop Green Certificate Market and Revitalize US Coal Production
News Release

September 16, 2004
Green Energy Resources Launches Strategic Initiative with Coal Industry to Reduce Air Polluting Emissions, Develop Green Certificate Market and Revitalize US Coal Production
HUNTINGTON, N.Y., Sept. 16, 2004 - Green Energy Resources (OTC.PK: NYIL) formerly New York International Log & Lumber Co, announced its hiring plans for the 4th quarter 2004 and first quarter 2005. NYIL will add up to 20 new positions in procurement and sales in the United States and up to 5 new positions in Europe, specifically France and Germany.
Green Energy Resources is a bio energy supply company in the Renewable energy sector, working with power generation utilities, governments and corporations in regard to carbon emission and sequestration strategies. The objective of NYIL is to work with corporate utilities promoting the environmental and financial benefits of co-firing. Co-firing is an established process of adding wood fiber to coal to reduce harmful emissions. The recently released Federal EPA air standard requirements (June 2004) and the administration's pledge to codify and promote the "Green Certificates" trading market are positive indicators for the rapid growth of this energy sector.
In other news, Joseph C. Murray, CEO of Green Energy Resources has been selected as a speaker at IHE bio energy Conference in Munich Germany in October (21-24; 2004) and as a keynote speaker at the Renewable Energy from Recycling Conference in Des Moines, Iowa in November (8-10, 2004). Mr. Murray will be illustrating the export experience in Germany and providing the American Recycling industry with product production strategies in the Renewable energy sector.
NYIL has secured at least two ports in Florida for exporting recycled wood from the damage caused by the recent hurricanes.
Except for historical information contained herein, the statements in this release are forward-looking statements that are made pursuant to the safe harbor provision of the Private Securities Litigation Reform Act of 1995. Forward-looking statements involve known and unknown risks and uncertainties that may cause the companies' actual results in future periods to differ materially from forecasted results. Such risks and uncertainties include, but are not limited to, market conditions, competitive factors, the ability to successfully complete additional financings and other risks.
For full details, click here: http://www.investorideas.com/CO/NYIL/NewsReleases.asp
Green Energy Resources is a featured company on www.RenewableEnergyStocks.com and Environmental Stocks - www.InvestorIdeas.com/Enviro_Stocks/Default.asp
Contact:
Green Energy Resources
Joseph Murray, 631-421-5747
joe.murray@greenenergyresources.com
or
Worldwide Financial Marketing, Inc. USA
Investor Relations
Int'l, 1-954-360-9998
Nat'l, 1-866-360-9998
Featured Product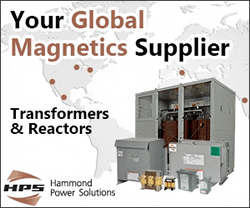 HPS is the largest manufacturer of dry-type transformers in North America. We engineer and manufacture a wide range of standard and custom transformers that are exported globally in electrical equipment and systems. We support solid industries such as oil and gas, mining, steel, waste and water treatment, and wind power generation. HPS leads the industry in these markets through its technical design strength, breadth of product, and manufacturing capabilities, making HPS a stronger company both fundamentally and financially.