Caravan of Fuel Cell Vehicles from Eight Auto Companies Cruises through Southern California
San Diego, CA - From the snapping of the starting line flag by California EPA Secretary Terry Tamminen in Diamond Bar to the checkered-flag finish at the edge of San Diego Harbor four days later, the California Fuel Cell Partnership's (CaFCP) 2004 Road Rally gave Southern Californians a chance to get a sneak preview of the clean, fuel cell vehicle technology of the future. All CaFCP's automotive members entered vehicles and vehicle teams in the Cruisin' Southern Cal rally: DaimlerChrysler, Ford, GM, Honda, Hyundai, Nissan, Toyota and Volkswagen. Never before have so many manufacturers had their fuel cell vehicles on the road together.

"It was quite significant this year to have all eight auto companies with their fuel cell cars participating together in a public event, demonstrating how widely within the auto industry this technology is being developed," said Firoz Rasul, chairman emeritus of Ballard Power Systems and 2004 chairman of the California Fuel Cell Partnership.
Added Catherine Dunwoody, CaFCP executive director, "More vehicles and more public rides than ever before, that is what puts this road rally into the record books." At public events in three counties, more than 800 individuals and families signed up, often to try out at least two or three of the vehicles, keeping the auto company vehicle teams busy providing several thousand test rides in the state-of-the-art, hydrogen-powered cars.
The road rally kicked off at Calfiornia's newest hydrogen fuel station at the Diamond Bar headquarters of the South Coast Air Quality Management District. CaFCP also brought a mobile hydrogen fueling station to support the caravan of vehicles during the rest of the trip. In coming years, fuel cell vehicles will be able to fill up with hydrogen at designated fueling stations throughout the state.
California Governor Arnold Schwarzenegger has launched the California Hydrogen Highway Network to promote broad availability of hydrogen fuel stations by 2010.
With the starter's flag and a command to the drivers, "Ladies and gentlemen: Start our future!" Secretary Tamminen began the road rally shortly after noon on September 16.
On September 17, test rides were given in the fuel cell vehicles at the Long Beach Convention Center in conjunction with the League of California Cities annual convention, and the following day public rides were given at the Orange County Fair Grounds in Costa Mesa. From there, the California Highway Patrol escorted the fuel cell cars down Pacific Coast Highway for an overnight stop at the U.S.
Marine Corp's Camp Pendleton. On Sunday, September 19, the finale was held as the vehicles arrived at noon for the final public ride and drive event.
San Diego County supervisor Ron Roberts greeted the fuel cell caravan at the finish line with the checkered flag. "Government and industry working together can make this exciting technology a reality," Roberts said, and he called on fellow San Diegans to "take advantage of this chance to drive a part of the future!"
Dr. Alan Lloyd, chairman of the California Air Resources Board and CaFCP steering team member, and Joe Kellijian, Solana Beach council member and representative of the San Diego Association of Governments, joined Roberts in kicking off the public event by taking the first fuel cell tests rides along the waterfront. Hundreds of San Diego residents and families followed their lead, lining up throughout the afternoon festivities to go for a spin in the fuel cell cars.
The San Diego area currently hosts the southern-most hydrogen fuel station in the state. The City of Chula Vista, immediately south of San Diego, installed a hydrogen station several years ago to support a transit bus demonstration, and is now looking forward to supporting passenger-vehicle demonstration programs as part of the California Hydrogen Highway Network.
About the CaFCP
The California Fuel Cell Partnership is a voluntary, industry-government collaboration to advance a new vehicle and fueling technology that could move the world toward practical and affordable environmental solutions. CaFCP members are demonstrating fuel cell-powered electric vehicles under real day-to-day driving conditions; testing alternative fuels and demonstrating the viability of an alternative fuel infrastructure technology; facilitating the path to commercialization; and increasing public awareness of fuel cell electric vehicles. The CaFCP is working to facilitate placement of up to 300 fuel cell passenger cars and buses on the road by the end of 2007.
The CaFCP -- which started in April 1999 -- includes auto manufacturers (DaimlerChrysler, Ford, General Motors, Honda, Hyundai, Nissan, Toyota and Volkswagen); energy providers (Air Products, BP, ChevronTexaco, ExxonMobil, Methanex, Pacific Gas and Electric Company, Praxair, Proton Energy Systems, Shell Hydrogen, Stuart Energy, and Ztek); technology companies (Ballard Power Systems and UTC Fuel Cells); government agencies (California Air Resources Board, California Energy Commission, South Coast AQMD, US Department of Energy, US Department of Transportation and US Environmental Protection Agency and Institute of Transportation Studies, UC Davis); and bus transit agencies (AC Transit, Santa Clara Valley Transportation Authority, and SunLine Transit Agency).
For more information, please contact the California Fuel Cell Partnership at: 916-371-2870 or by email: info@cafcp.org, or visit www.fuelcellpartnership.org
Featured Product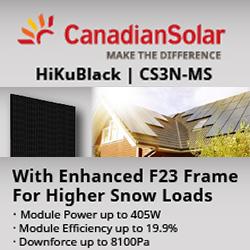 Aesthetic appearance for residential systems: With black backsheet & black frame, Power range 380 ~ 405 W, Low power loss in cell connection. Enhanced reliability: · Low temperature coefficient (Pmax): -0.34 % / °C, LID LeTID less than 2.0%, Lower hot spot temperature, Better shading tolerance.