Plan would enable U.S. to produce 250,000 solar industry jobs and deliver clean, secure domestic energy
San Francisco, CA (October 20, 2004) - Solar industry business and technology leaders today called on the federal government with a plan to put the US back at the forefront of the booming worldwide solar industry. Modeled after successful strategies in California, Japan, and Germany, "Our Solar Future: The U.S. Photovoltaic Industry Roadmap for 2005 and Beyond" identifies the necessary steps to speed the decline in prices for solar electricity, spur the growth of markets, and generate clean industry jobs for a quarter of a million Americans.

"California's leadership and forward-thinking policies have created the largest solar market in the US, and the third largest solar market in the world," said Chris O'Brien, President, Solar Energy Industries Association and Vice President, Sharp Solar USA. "We need similar leadership and vision on a national level. By embracing Our Solar Power Future, Washington can tap these proven policy strategies, restore our solar manufacturing strength, and allow our country to enjoy the benefits of solar power."
Our Solar Power Future underscores both the promise of solar power and the challenge facing US lawmakers, as the domestic industry loses ground to Europe and Asia. While the size of the global solar industry has increased 10-fold in the past 8 years, and solar prices are down more than 95% since 1978, the United States actually experienced its first-ever decline in solar manufacturing in 2003.
"This roadmap outlines policies that will produce 250,000 high-quality jobs," said Rhone Resch, Executive Director of the Solar Energy Industries Association. "We now have a choice: do we create those jobs in the US, or do we watch them go overseas to Japan and Germany?"
Our Solar Power Future was drafted by leading solar experts in industry, government and academia, and was unveiled in San Francisco at Solar Power 2004, the largest business-to-business and business-to-consumer solar expo and conference ever in the United States. The conference was presented by SEIA and the Solar Electric Power Association, and co-hosted by Pacific Gas & Electric and the San Francisco Public Utilities Commission.
To obtain a summary and full version of the roadmap, please visit www.seia.org.
SEIA is the national trade association of solar energy manufacturers, dealers, distributors, contractors, installers, architects, consultants and marketers. Established in 1975, SEIA works to expand the use of solar technologies in the global marketplace.
Featured Product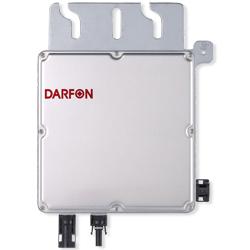 The Darfon G320 is the microinverter solution for today's high-power solar modules. The G320 handles 60- and 72-cell modules up to 350W DC and outputs up to 300W AC. The G320's 3-phase configuration accommodates the electrical distribution systems of most commercial buildings and to reduce, if not eliminate, the need for expensive transformers. The G320 comes in four voltage/phase configurations, so it can be installed in residential, commercial or utility applications.