RenewableEnergyStocks.com, exclusive feature article "Renewable Energy and Fuel Cells - the drive is on"
Nov 01, 2004

RenewableEnergyStocks.com, Reports on Increasing Demand for Renewable Energy by Government, Military and Individuals as Oil Prices Remain High
POINT ROBERTS, WA. Nov 01, 2004 - www.RenewableEnergyStocks.com, a global investor news portal, reports in an exclusive feature article "Renewable Energy and Fuel Cells - the drive is on", how governments, military and civilian users are increasing the demand for renewable energy products. Fuel cells, solar power, and other sources of 'green energy' offer advantages to offset the on-going high cost of fossil fuels. RenewableEnergyStocks.com offers investors interested in the sector research resources to initiate due diligence.
The RenewableEnergyStocks.com website does not make recommendations, but offers a unique free information portal to investors to research news, articles, interviews and a growing list of participating public companies in the sector.
Current Featured RES Company:
Astris Energi Inc. (OTCBB: ASRNF) is a late-stage development company committed to becoming the leading provider of affordable fuel cells and fuel cell generators internationally. Over the past 21 years, more than $17 million has been spent on the development of Astris' AFC. The company is commencing pilot production of its POWERSTACK' MC 250 technology in 2004. Astris is the only publicly traded company in North America focused exclusively on the alkaline fuel cell. Corporate profile, news and info: www.InvestorIdeas.com/CO/ASRNF/Default.asp
Our current list of Renewable/Alternative Energy Stocks: www.RenewableEnergyStocks.com/Companies/RenewableEnergy/Stock_List.asp
(Featured company compensates InvestorIdeas as disclosed below).
Excerpt from: "Renewable Energy and Fuel Cells - the drive is on"
By Allen R. Gibson
Oct 2004
Slowly, but surely, the infrastructure, research, and the evidence necessary to make alternative energy sources economical and practical is being put in place. Already, many states have discovered that renewable energy initiatives, despite initial fears of being too expensive, have in fact either paid for themselves or even generated savings to the utilities involved.
And the markets are noticing, particularly with the recent surge in oil prices. Suddenly, renewable energy stocks are hot. The new WilderHill Clean Energy Index has already jumped 12 percent since it starting trading on AMEX in August, which officials say is uncommon for a new index.
And while the high oil price has spurred investment in drilling, as Alan Greenspan recently suggested it would, it may also be spurring investment into alternative fuels that have a greater chance now of attracting customers and competing in the marketplace. In this article, we'll look at several examples of where those customers are coming from, and what technical innovations are beginning to make fuel cells a more viable energy source. Innovations that were fueled by the last big round of investor interest in the sector, which poured over a billion dollars into fuel cell companies in the late '90s, which resulted in lowering the price of fuel cells by fifty percent. Much more work, however, remains.
For the complete story, click here: www.RenewableEnergyStocks.com/Companies/RenewableEnergy/Articles/DrivingWorld.asp
RenewableEnergyStocks.com offers investors research, news and company links within the renewable energy sector. To complement this site, we also feature www.FuelCellCarNews.com to meet the interest in fuel cell technology and the participating public and private companies. InvestorIdeas.com sites do not give specific recommendations, and encourage investors to complete due diligence.
Investorideas.com free Investor Incite Newsletter consists of: company and industry updates, investment research and developing trends. It's an excellent way to keep updated on news, events and Investor Ideas in key areas such as Homeland Security, Renewable Energy, Nanotechnology and more...
To sign up click here: http://www.renewableenergystocks.com/Resources/Newsletter.asp
Live industry news feed provided by: www.alternate-energy.net/.
For more information contact:
Dawn Van Zant / Trevor Ruehs
Toll free: 800-665-0411
Email: dvanzant@investorideas.com or truehs@investorideas.com
ECON Investor Relations Inc., (ECON Corporate Services) is a privately owned corporate communications company specializing in investor relations, media relations and research in public companies and industry sectors for the investment community. Nothing on the site should be construed as an offer or solicitation to buy or sell any specific products or securities. All investments involve risk. Past performance does not guarantee future results. Investigate before you invest. Although we attempt to research thoroughly, there are no guarantees in accuracy.
Disclaimer: www.InvestorIdeas.com/About/Disclaimer.asp
Compensation Disclosure Specifics: Astris Energi Inc. (OTCBB: ASRNF) - $3000 plus $3000 in 144 shares: featured company on www.RenewableEnergyStocks.com and Environmental Stocks - http://investorideas.com/Enviro_Stocks/Default.asp
Featured Product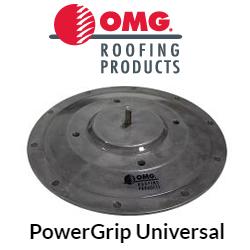 Eliminate Solar Rack Ballast and Reduce Rooftop Material Handling. PowerGrip™ Universal (PGU) is a commercial roof mount system designed to secure solar racks and other equipment to any type of commercial roofing system. PGU provides a secure connection directly to the roof deck or structural members and is designed to reduce or eliminate ballast in solar racking systems, so there's less weight on the roof and less material handling. Made of heavy-duty cast aluminum, PGU units include a base ring which is secured through the roofing cover and into the structural roof deck, and a waterproof top plate.