This initiative in Colombia is the latest of more than 20 collaborative off-grid village electrification projects involving Xantrex and Total Energie in the last three years in Africa, the Caribbean and South America.
VANCOUVER, CANADA, November 10, 2004 - Xantrex Technology Inc. (TSX:XTX) received a purchase order from Total Energie France, one of the world's leading suppliers of photovoltaic systems, for Xantrex SW Plus Inverter/Chargers that will be used to supply off-grid solar and backup power to more than 50 telecommunications and Internet centers in isolated communities of Colombia.

This initiative in Colombia is the latest of more than 20 collaborative off-grid village electrification projects involving Xantrex and Total Energie in the last three years in Africa, the Caribbean and South America.
"A key business objective for Xantrex is to expand its markets and distribution worldwide as well as grow its business outside of North America, with a long term goal to have over 40 per cent of the company's revenue from international, non-North American markets," said Mossadiq Umedaly, Chairman of Xantrex. "These projects align with Xantrex's mission to improve the quality of life for people around the world by providing them with clean, efficient, usable power anytime, anywhere."
Bernd Kohlstruck, Xantrex's Vice President, Business Development, Renewable Energy, added: "We consider this order to be another strong endorsement of our off-grid inverter solutions. We look forward to providing more green electricity solutions in Latin America, where Xantrex increased its business 58 per cent in the past year and Total Energie has a 25 per cent market share."
As part of an off-grid renewable power system, Xantrex's SW Plus Inverter/Chargers convert all forms of renewable energy into utility grade electrical power.
Each SW Plus Inverter/Charger will convert direct current from Total Energie's solar panels and batteries into alternating current electricity required for the telecenters' computers, lights, phones and fax machines. The Inverter/Charger will also efficiently manage and control the diesel generator and recharge the system's storage batteries.
More than 50,000 Colombians will benefit from this rural telecommunications project. The installations will provide them with telecom access and Internet connection that was previously unavailable. The SW Inverter/Chargers have been shipped and the installation is expected to complete by year-end.
About Total Energie
Headquartered in Lyon, France, Total Energie specializes in the design, development, marketing, installation and maintenance of custom photovoltaic solar systems. These systems supply are widely used in grid connected and off-grid applications. The company employs over 200 people worldwide and has its installations have an international presence in more than 50 countries. In 2003, Total Energie opened an office based in Peru to focus on the Latin American market. Total Energie is 70 percent-owned by Total Group of France, the world's fourth-largest oil and gas company.
About Xantrex
Xantrex Technology Inc. (www.xantrex.com) is a world leader in the development, manufacturing and marketing of advanced power electronic products and systems for the distributed, mobile and programmable power markets. The company's products convert raw electrical power from any central, distributed, or backup power source into high-quality power required by electronic and electrical equipment. Headquartered in Vancouver, British Columbia, the company has facilities in Arlington, Washington; Livermore, California; Elkhart, Indiana and Barcelona, Spain.
Statements contained in this news release that are not historical facts are forward-looking in nature. Such statements reflect the current views of Xantrex Technology Inc. with respect to future events, developments or results and are based on currently available information. Any forward-looking statements contained herein are subject to risks and uncertainties that could cause actual results to differ materially from those contemplated.
Featured Product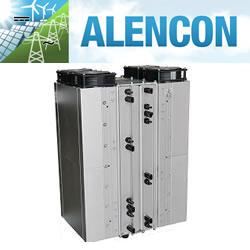 Alencon Systems is the premier manufacturer of high power, high voltage DC:DC optimizers for alternative energy applications including solar, battery energy storage, Microgrids, Fuel Cells and Electric Vehicle charging. Alencon's DC:DC converter offerings include the SPOT, BOSS and CUBE series DC:DC converters. The SPOT is a modular, uni-directional DC:DC solution ideal for solar applications. The BOSS is a modular, bi-directional unit for use with battery energy storage. The CUBE is a monolithic DC:DC converter which is available in both uni-directional and bi-directional modalities. Pictured above, is the Alencon SPOT.