For the ultimate "positive" holiday shopping experience, give a green present that is good for the Earth and good for the recipient.
One of the largest and most comprehensive eco-friendly gift sites on the Internet, the EcoMall (http://www.ecomall.com) is a mall with a mission, offering environmentally-conscious shoppers vast resources of ecologically-sound "green" products and services.
The EcoMall features over 300 environmental retailers in over 60 shopping categories. You can buy everything from organic clothing for the whole family such as organic baby clothes, organic bathrobes, organic pajamas, organic underwear, to natural home linens, organic towels, organic cotton soft toys, earth flags, bonsai trees, hemp socks, organic coffee, Waldorf & Montessori inspired educational toys, nature gifts, yoga supplies, organic chocolates, relaxation accessories, hemp bean bag chairs, inspirational jewelry, organic wine or flowers, gorgeous stemware from recycled bottles, natural skin care products, solar toys, horse tire swings, organic sofas, even a used hybrid electric vehicle, and much much more.
Over the years, EcoMall.com has introduced millions of people to the world of sustanable living. Each of the 60 shopping categories offers links to the leading companies in the rapidly growing $230-billion Lifestyles of Health and Sustainability (LOHAS) market.
According to The New York Times, "LOHAS may be the biggest market you never heard of, encompassing goods & services ranging from organic food, energy-efficient appliances and solar panels to alternative medicine, yoga tapes, and eco-tourism." - The New York Times
This holiday season it is easy to have green shopping alternatives to mainstream consumerism. Many people unfortunately find that locating environmentally friendly gifts in their community to be difficult, or eco-novices may not know what alternatives are available. The Internet is a vehicle to help consumers to find these green gifts.
To educate consumers, the EcoMall offers its content-rich Green Living Magazine featuring interesting, informative articles on topics that concern everyone who wants to live a healther, more environmentally-conscious lifestyle.
2004 also marks the EcoMall's 10th birthday, having launched in 1994 when all the pages on the Internet were grey, and most people didn't have a computer or know what the Internet was. Since then the Internet has since become a powerful force for positive change, and the EcoMall is proud to have been a founding member.
Buy green gifts online and "help save the Earth" at the same time!
The EcoMall offers additional holiday tips at:
EARTH-FRIENDLY HOLIDAY TIPS
Simple Ways to Protect the Earth This Holiday Season
http://www.ecomall.com/greenshopping/holidaytips.htm
"In our every deliberation, we should consider the impact of our
decisions on the next seven generations." - From The Great Law of the
Iroquois Indian Federation
EcoMall.com
http://www.ecomall.com
845-679-2490
Featured Product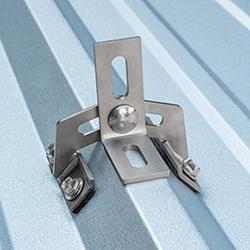 QuickBOLT Low Profile QuickBOLT with Microflashing™ is the industry's affordable, UL Certified Asphalt Shingle mounting system. The Microflashing™ is compressed by the collar on the bolt to create a water-tight seal. With an installation time of less than one minute, the Low Profile QuickBOLT allows installers to complete more jobs.