"In general, LED-based illumination is an energy efficient and therefore cost-effective solution for point-of-purchase applications"
Victoria, British Columbia, Canada - Monday, December 13 2004 - Carmanah Technologies Corporation (TSX Venture: CMH) is pleased to announce that Carmanah Signs Inc., a wholly-owned Carmanah subsidiary, has recently received a contract to supply approximately $650,000 in LED edge-lit illuminated point-of-purchase signs to a large Canadian retailer.

"In general, LED-based illumination is an energy efficient and therefore cost-effective solution for point-of-purchase applications", stated Carmanah's CEO, Mr. Art Aylesworth. "In addition, Carmanah's proprietary illumination technologies provide even more brightness using up to 25% less power than other LED-based illuminated signs. We are pleased to offer such high performance signs that expand upon Carmanah's mandate of commercializing 'green' technology products."
The market for illuminated, neon and backlit signs is estimated at $3 billion in the United States alone. LED edge-lit signage is poised to both expand this market as well as take an increasingly larger share of it, due to the technology's significant advantages over non-LED alternatives:
- Up to 90% less electricity consumption than neon or fluorescent (only 2 watts/sq ft);
- Greater design versatility and crisper detail;
- Improved brightness and appearance;
- Shatterproof, glass-free, durable acrylic and aluminum construction;
- 10-year minimum lifespan, 3 to 5 times longer than neon or fluorescent.
Versatile LED edge lighting has a much greater range of potential uses and capabilities than competing technologies. Carmanah's art department can flawlessly reproduce any logo down to the tiniest detail and custom-design architectural signs to complement any décor.
Carmanah corporate identity signs represent some of the world's most recognizable brands at retail locations across North America. And over 450 hotels and resorts worldwide use Carmanah's Energy Star®-rated signage, cutting operating costs and helping to save billions of kilowatt-hours of electricity annually.
Delivery for this sign order is scheduled to commence in Q4 2004.
Carmanah Signs is also in the process of producing an additional order of 800 point-of-purchase signs for another larger US-based retailer. These orders, when combined with the Company's regular growing sign business, are ensuring Carmanah Signs is near its capacity for production in Q4 2004.
"Our sales and marketing efforts this year in Carmanah Signs are showing the results we anticipated", states Mr. Aylesworth. "In fact, our focus is now on the expansion of our production capabilities."
About Carmanah Signs Inc.
Carmanah Signs (formerly AVVA Light Corporation) is a wholly-owned subsidiary of Carmanah Technologies Corporation. Carmanah Signs designs, manufactures and distributes proprietary LED edge-lit sign products for the corporate identity, point-of-purchase, architectural and general signage markets. The shares of Carmanah Technologies Corporation are publicly traded on the TSX Venture Exchange under the symbol "CMH" and on the Berlin and Frankfurt Stock Exchanges under the symbol "QCX". For more information, please visit www.avva.com or www.carmanah.com
Featured Product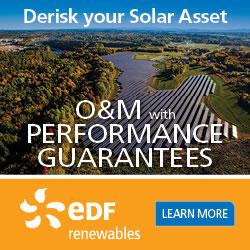 EDF Renewables offers the same innovative solutions that maximize the performance of our own 5.2 GW of installed projects. Because we're not an equipment manufacturer, our recommendations are transparent and data-driven. We cover the entire project lifecycle: from pre-commissioning support, through warranty and post warranty operation, to late stage and decommissioning.