Complex Features Sustainable Design and Construction, Including 340kW Solar Electric System, Furnished by PowerLight Corporation
Fairfield, CA, Dec. 16, 2004 - Solano County dedicates the new Government Center and Plaza on Thursday, Dec. 16, beginning at 10:30 a.m., to celebrate the energy smart, people-friendly complex as a major new landmark in downtown Fairfield. Local elected officials will unveil a plaque and make comments to announce the official dedication of the Government Center, which includes the new County Administration Center, Probation Office, adjacent parking structure and Co-generation Plant expansion that has already won the Center honors for r enewable energy.

The six-story, $113.5 million Solano County Government Center opened for business in November, less than two years after groundbreaking in December of 2002. Three County government departments moved into the building that first weekend. Others will relocate from 17 different locations in Fairfield during eight separate moves until the new Government Center is fully occupied by the end of February.
"We are so very proud of the new Government Center and all the dedicated professionals that worked together to bring it in on time, on budget, and as designed," said Supervisor John Silva, chairman of the Board of Supervisors.
Solano's new Government Center epitomizes smart growth, embracing many sustainable design / build development elements: extensive use of solar electricity, energy efficiency upgrades (technologies), and co-generation. The project includes two solar electric power systems that total 340 kilowatts of solar power. These solar arrays, furnished by PowerLight Corporation of Northern California, will play a significant role reducing the Government Center's energy and operating costs. Combined with the expanded co-generation plant and extensive energy efficiencies completed in partnership with Chevron Energy Solutions, Solano County will generate the equivalent energy during the day to power over 3,000 homes.
"We're delighted that Solano County is deploying solar power," said Dan Shugar, President of PowerLight Corporation. "Solar is a smart, practical and affordable energy choice that helps keeps utility costs down statewide ó which benefits all Californians. Solano County is to be commended for being one of the country's leading communities when it comes to deploying renewable energy and conservation strategies. This new Government Center exemplifies what communities around the nation can be doing to improve our environment, health and quality of life."
"Solano County is an exciting place to live, work and play. The innovative Solano County Government Center enhances the County's ability to serve its residents. This state-of-the-art facility represents what can be achieved when local government understands its commitment to the community," noted Senator Michael Machado.
"Today's event is an opportunity to thank so many partners who helped make the Government Center possible," added Michael D. Johnson, County Administrator. "The complex is a tremendous achievement, and it is a reflection of the strongest kind of leadership from a Board of Supervisors that continues to grapple with the tough issues and strained finances of the day, yet succeed in meeting the long-term needs of this community.
"We are especially excited to throw open the doors officially to the residents of Solano County," Johnson added. "The goal was always to create a 'place for the people,' where our customers could come to conduct government business in a comfortable, service-friendly environment."
The dedication is the first event in a series of celebrations. The Board of Supervisors will also hold a semi-formal dinner gala for 200 guests on the evening of December 16 that will raise money for local non-profit organizations.
The event is being financed largely through limited ticket sales and corporate sponsorships.
County staff has also begun planning for a major festival-type celebration on April 9 to welcome the public to the Government Center and Plaza. A wide range of food, music, tours of the buildings, unveiling of public art and other events are being planned.
"The April celebration will be very special," Supervisor Silva said.
"That will be when this Board sees its dream of a gathering place and centerpiece in downtown Fairfield becomes reality."
The dramatic Government Center was designed by Johnson Fain, Los Angeles.
Project managers were URS Corp., Sacramento. Design/builders on the project were Clark Design/Build of Oakland.
Fourteen County Departments will relocate to the new Government Center, providing a wide range of public services. The project was financed through sale of County real property, County cash, available road funds, and the City of Fairfield.
Featured Product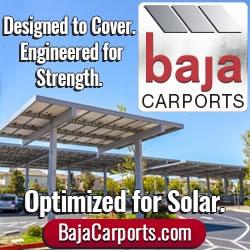 Baja Carports offers an extensive solar support system product line customized to customers' site specifications by in-house engineers, meeting their parking lot coverage, plus optimal PV production needs. Baja's Full Cantilever Tee is often paired with its Semi and Full Cantilever carports to meet live/loads up to 60psf and wind speeds to 160mph. All Baja products are pre-fabricated, bolted connections, pre-galvanized structural steel for fast on-site installation and project aesthetic requirements."