The HHICE system uses a variant of ISE's proven ThunderVolt® hybrid-electric drive system that generates power with a Ford hydrogen-burning internal combustion engine.
SAN DIEGO, CA — ISE Corporation (ISE) achieved another historical first this month by delivering the world's first transit bus using a Hybrid Hydrogen Internal Combustion Engine (HHICE) drive system. The HHICE system uses a variant of ISE's proven ThunderVolt® hybrid-electric drive system that generates power with a Ford hydrogen-burning internal combustion engine. A New Flyer 40-foot bus using this unique drive system was unveiled by SunLine Transit on 16 December 2004 in Palm Desert, California, where the bus will be used in regular operational service in SunLine's all-alternative fuel vehicle fleet.

ISE's HHICE drive system is the first commercially-available transit bus drive system that uses hydrogen fuel. The vehicle's 6.8 liter Ford engine, modified by Ford to burn hydrogen, is used to run a Siemens generator, which supplies up to 150 kW of electric power. The Ford engine-Siemens generator performs an onboard electrical power generation function similar to that of a fuel cell.
The HHICE drive system also provides many of the benefits of a fuel cell-based drive system. By using hydrogen as a fuel, greenhouse gases (carbon monoxide and carbon dioxide) are almost completely eliminated. Future improvements may also reduce oxides of nitrogen (NOx) - a key constituent of smog - to near-zero levels. The HHICE system also eliminates particulate matter - another dangerous byproduct of both diesel and natural gas engines. HHICE will provide 99% of the emission reduction benefits of a fuel cell system at a fraction of the cost, making it the first commercially viable Near Zero Emission Vehicle (NZEV) technology for large transit buses.
Use of hydrogen also opens up the possibility of creating fuel from renewable sources, which can reduce world dependence on imported oil and other fossil fuels. Hydrogen can be derived from water through electrolysis, a process that can be achieved with clean electricity generated from solar, wind, or hydroelectric power. In fact, ISE recently completed development of a hydrogen generation plant powered by a wind turbine. Hydrogen from this facility will be used to fuel the HHICE bus, making this the first transit system to use a completely renewable fuel with virtually no pollution created at any stage of the production or utilization process.
The HHICE bus is also fuel efficient, capitalizing on the high energy content of hydrogen and the energy efficiency of the ThunderVolt® hybrid-electric drive system, which uses ultracapacitor energy storage modules to recapture braking energy and improve the functionality of the engine-generator set. In initial tests, the bus has averaged 5-6 miles per equivalent gallon of gasoline, nearly twice the fuel efficiency of a conventional bus using compressed natural gas.
"With increased global warming, oil approaching $50 a barrel, and international tensions mounting over distribution of our fossil fuels, the HHICE drive system gives America and the rest of the world an outstanding opportunity for a cleaner, brighter future," stated Michael Simon, ISE Chairman of the Board. Simon noted that earlier this year, California Governor Arnold Schwarzenegger signed an executive order creating a statewide "Hydrogen Highway," aimed at stimulating development and use of hydrogen-fueled vehicles such as the HHICE bus.
The HHICE drive system and its installation into the New Flyer bus was made possible through an international project that received funding and support from SunLine, the U.S. Federal Transit Administration, California Energy Commission, South Coast Air Quality Management District, Ford Motor Co., Natural Resources of Canada, Province of Manitoba, Chula Vista Transit, Manitoba Transit, WestStart/CALSTART, and New Flyer.
The HHICE drive system is commercially available today. For information on ISE's environmentally-friendly, high-performance drive systems and other products, please contact:
Director of Marketing
ISE Corporation
7345 Mission Gorge Road, Suite K
San Diego, CA 92120
Phone: (619) 287-8785
Fax: (619) 287-8795
www.isecorp.com
marketing@isecorp.com
Featured Product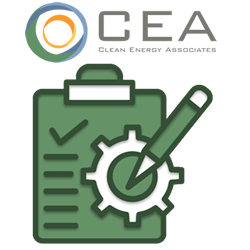 Clean Energy Associates provides a complete quality assurance solution that covers the entire product lifecycle of PV modules, storage systems, and every Balance of Sy stem (BOS) component. CEA's experienced on-the-ground and international team of quality control engineers and account managers offer an unparalleled quality assurance presence that can protect solar and storage investments and ensure future energy-producing viability for the life of the product.