PlovPut explored a wide range of options and determined that our technology offered the most cost-effective and reliable lighting.
Victoria, British Columbia, Canada, January 10, 2004 - Carmanah Technologies Inc. (TSX Venture: CMH) has supplied 108 of its Model 601 and 701 solar-powered LED (light-emitting diode) marine lights to PlovPut Beograde, the government-owned waterway administrator for Serbia and Montenegro (formerly Yugoslavia). The lights will illuminate riverbank markers and buoys for marine traffic along Europe's second-longest river, the Danube.

"PlovPut explored a wide range of options and determined that our technology offered the most cost-effective and reliable lighting," said Art Aylesworth, Carmanah's CEO. "We are proud to be illuminating another one of the world's most important shipping routes."
The Danube, 2,850 kilometres long, is a main artery of Europe's east-west shipping corridor between the Black Sea and the North Sea via the Rhine-Main-Danube Canal. The river flows 588 kilometres through Serbia and Montenegro, passing the capital city, Belgrade.
Many of the navigational aids along Serbia and Montenegro's three navigable inland waterways are currently unlit, while the 40-year-old system of existing lights is powered by dated technologies such as gas or batteries that are very expensive to operate and maintain. Some light bulbs require replacement of 11 components from 4 suppliers. To lower costs, PlovPut experimented with LED retrofits, solar modules and generator sets, and finally selected Carmanah lights as a comprehensive solution.
An integrated technology combining the best of LED and solar-power innovations harnessed to intelligent electronics, Carmanah lights are sealed, self-charging solar units that operate maintenance-free year after year. Originally designed and built for the U.S. Coast Guard, they were the first solar-powered LEDs approved for the U.S. Navigational Aid System; prized for their energy efficiency, reliability, and low environmental impact.
Additional purchases may follow for surrounding countries, the Adriatic coast, as well as Serbia's other two shipping arteries, the Sava and Tisa rivers. Of 846 navigational aids on the Danube, 225 are illuminated, while the 370 kilometres of the Sava and Tisa are unlit. Plans call for installation of at least 70 marine lights along these two waterways, with many additional locations being considered.
"At the western end of this cross-continental shipping route, Rotterdam, the busiest port in Europe, is already using our lights," said Mimi Drabit, Business Development Manager for Carmanah's Marine Lighting Division.
"It is not hard to imagine all 30,000 kilometres of inland waterways in the EU someday illuminated by Carmanah."
In its white paper report on transport policy for 2010, the European Union recommends the installation of "highly efficient navigational aid" systems to encourage more inland shipping, a transport method over 2.5 times more energy efficient than roads .
Other Carmanah marine news includes recent shipments to Colombia, Thailand and Vietnam, plus the success of its newly released 702-GPS the world's first completely self-contained, fully integrated marine beacon with Global Positioning Satellite synchronization. For more information, visit www.solarmarinelights.com.
Carmanah would like to thank Mr. Ljubisa Mihajlovic of Plovput Beograd for his assistance with this story. For more about the company, visit www.plovput.co.yu.
About Carmanah Technologies Inc.
Carmanah is an award-winning manufacturer of proprietary LED lighting products for the transit, marine, aviation, roadway, and industrial worksite markets. The Company has in excess of 100,000 installations in 110 countries. The shares of Carmanah Technologies Corporation (parent company) are publicly traded on the TSX Venture Exchange under the symbol "CMH" and on the Berlin and Frankfurt Stock Exchanges under the symbol "QCX". For more information, visit www.carmanah.com
Featured Product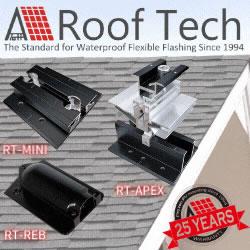 Now Roof Tech brings you the most innovative, watertight mounting systems ever developed for solar photovoltaic systems. Designed and manufactured exclusively for us by Japan's longtime leader in roofing technologies, Roof Tech products are 100% code-compliant and offer fast, simple installation and huge savings on shipping costs due to their compact, rail-less design. Learn more about our full line of versatile PV mounting solutions now available for residential installations. The next generation in rooftop solar mounting solutions."