Partnership Aligns Complementary Technologies of Two Leading Innovators in Solar Power
MARLBORO, Mass. & THALHEIM, Germany--(BUSINESS WIRE)--Jan. 14, 2005-- Evergreen Solar, Inc. (Nasdaq: ESLR), a manufacturer of solar power products with its proprietary, low-cost String Ribbon(TM) wafer technology, and Q-Cells AG, the world's largest independent manufacturer of crystalline silicon solar cells, today announced the formation of a joint venture to undertake the development of a 30-megawatt solar wafer, cell and module manufacturing plant in Thalheim, Germany, which is approximately 100 miles from Berlin. Construction of the facility is currently expected to begin in early 2005 and take approximately 12 months to complete. The total capital cost for all property, plant and equipment for the 30-megawatt factory is expected to be approximately $75 million. Evergreen Solar will own 75.1% of the joint venture; Q-Cells will own 24.9%.

"This joint venture represents an ideal execution of the commercialization strategy we have laid out during the past year," said Richard M. Feldt, President and Chief Executive Officer of Evergreen Solar. "We are gaining a superb partner, the world's largest independent manufacturer of high-performance solar cells and one of the fastest growing companies in Europe. Because Q-Cells is focused exclusively on cell production, we believe that we can marry our technologies in ways that will enable the joint venture to optimally meet the needs of the solar power market. The agreement significantly reduces our capital requirements and accelerates the timetable for the next stage of commercializing our technology. This is a powerful strategic relationship for Evergreen Solar and an important validation of our String Ribbon technology."
Anton Milner, CEO and a Founder of Q-Cells, said, "We are excited by the prospects of this partnership. Evergreen Solar is a recognized innovator in the area of wafer production. The combination of their String Ribbon technology with our state-of-the-art cell manufacturing processes should provide us with a decided competitive advantage in the marketplace. Uniting our two technologies has the potential to dramatically reduce silicon requirements while incorporating highly efficient cell technology into the final product. We believe that the proposed facility in Thalheim will establish an ideal prototype for future joint ventures with Evergreen Solar. This partnership with Evergreen will be a strong complement to our core business and represents an important step in a technology area with extremely high potential."
Given that the facility is expected to add 350 to 400 new jobs, the joint venture intends to seek support from the German government in funding the project. Adjusting for any investment support grant, Evergreen Solar and Q-Cells will share the remaining construction costs on a pro rata basis. The proposed facility is expected to be constructed on property near Q-Cells' existing solar cell factories, and should therefore capture strong synergies with Q-Cells' operations. The joint venture will be governed by a three-member advisory board consisting of two Evergreen Solar representatives and one Q-Cells representative.
Feldt added, "Since its founding, Evergreen Solar's mission has been to produce high-quality solar products at a fraction of the cost of conventional methods. This has continued to be a governing principle as we have formulated our commercialization strategy. By partnering with Q-Cells, we are taking the important step of joining with a leading-edge manufacturer that has concentrated exclusively on the production of high-performance cells. The combination of our two technologies will provide our joint venture with the resources to effectively address the needs of the emerging solar marketplace and a manufacturing plant that we believe will be a new model for the industry."
Evergreen Solar Preliminary Fourth-Quarter Results
Evergreen Solar also announced today that the Company expects its results for the fourth quarter of 2004 to be in line with the guidance it provided in its third-quarter conference call. The Company currently anticipates fourth-quarter revenues of approximately $9.0 million and expects to report breakeven to slightly positive gross margins. These results are preliminary and remain subject to customary closing and review procedures.
Conference Call Information
Evergreen Solar and Q-Cells will host a conference call at 11:00 a.m. ET today, during which management from both companies will discuss the joint venture and development of the Thalheim facility. To hear a live broadcast of the call, log onto www.evergreensolar.com or dial (913) 981-5533 or (800) 289-0544 prior to the call. A replay of the call will be available from 2:00 p.m. ET on Friday, January 14 through midnight ET Thursday January 20. To access the replay, dial (719) 457-0820 or (888) 203-1112 and refer to confirmation code 841268. You can also access a replay of the conference call in the Investor Relations section of the Company's website.
About Q-Cells AG
Q-Cells AG (www.q-cells.com) is the world's largest independent manufacturer of crystalline silicon solar cells. Since its inception in 1999, Q-Cells has been continuously expanding its production capacities and has rapidly established itself as the partner of choice to the leading module manufacturers in Europe and beyond. Today Q-Cells is the largest cell manufacturer in Europe and one of the top global players. As an innovative developer and marketer of high-performance solar cells, Q-Cells introduced the new six-inch Q6 solar cell as a genuine novelty in Europe in the year 2002, superseding the five-inch solar cell that had been on the market until then. Q-Cells is headquartered in Thalheim, Saxony-Anhalt, Germany, and currently has approximately 500 employees.
About Evergreen Solar, Inc.
Evergreen Solar, Inc. (Nasdaq: ESLR) develops, manufactures and markets solar power products utilizing the Company's proprietary low-cost manufacturing technologies. The products provide reliable and environmentally clean electric power in global markets. Solar power applications include complete power systems for electric utility customers choosing to generate their own environmentally benign power, as well as wireless power for remote homes, water pumping, lighting and rural electrification. For more information visit www.evergreensolar.com.
Featured Product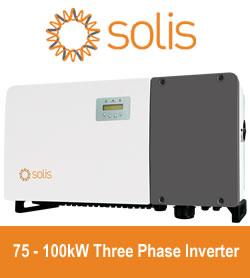 Solis75kW - 100kW series high-power string inverters are widely used in industrial and commercial rooftops. Solis's new three-phase string inverter is the first choice for industrial and commercial photovoltaics. 75-100kW three phase series string inverter have Maximum 28 strings input, support "Y" type connection in DC side. Maximum string input current 13A, support bifacial modules access.Supports anti-PID function to improve system efficiency.