Revitalized by a partnership with Cypress Semiconductor Corp., the company has a bright outlook ahead.
Sunny days are here for SunPower Corp., the Sunnyvale, Calif.-based manufacturer of the world's most efficient silicon solar cells. Just two years ago, the 20-year-old company was not unlike many other Silicon Valley startups — surviving on the success of a good idea with a shortage of resources to turn the corner and make the technology mainstream. Revitalized by a partnership with Cypress Semiconductor Corp., the company has a bright outlook ahead.

Less than a year ago, the company inaugurated its first 25MW high-volume manufacturing facility in Manila, the Philippines and a month later, turned out its first prototype wafers. Today, the firm finds itself sold out of capacity through the end of this year, and is in the process of doubling its manufacturing output to 50 MW by the second half of this year.
Leveraging Cypress's manufacturing know-how at Cypress's Fab 2 facility in Round Rock, Texas, SunPower has proven its technology in a high-volume manufacturing environment, and driven greater performance out of its solar cells. Today, SunPower's A-300 solar cells are rated by the National Renewable Energy Laboratory (NREL) in Denver, Colo., as up to 21.5 percent efficient — a world record for mass-produced cells.
"We're on the vertical part of the curve," said Peter Aschenbrenner, vice president of sales and marketing at SunPower Corp. "We've shown the technology works, and now there is huge demand and we're piling on capacity. Our challenge has shifted from technology development to manufacturing and operational execution."
In mid-2004, SunPower made its European debut, partnering with SunTechnics, the largest European integrator of photovoltaic systems. The company announced its North American launch in October at the Solar Power Expo in San Francisco.
"We believe we have the right combination of technology and design innovation to make a successful run at the California market," Aschenbrenner said. "SunPower's solar cells and modules combine the industry's highest performance with a uniquely attractive appearance. They feature an all-black, rear-wire design that virtually disappears into building designs and higher efficiency that allows homeowners to install more kilowatts of solar power in a given area."
Demand for solar electric systems has been growing rapidly. According to Strategies Unlimited, a leading independent market research firm, industry shipments are projected to have increased by 47 percent to more than 990 MW in 2004 and have grown on average by more than 40 percent annually over the past five years.
Aschenbrenner said the outlook for SunPower is bright. "We're targeting a sevenfold, year-over-year increase in revenues this year, and we expect to grow by a few times more the year after that."
Featured Product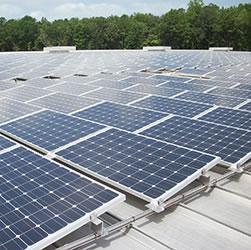 The Power Rail™ Commercial Mounting System is designed with the professional PV solar installer in mind. Both the XD/UD and LD/MD rails feature single tool assembly with the revolutionary patented RAD™ Lock-in-Place bolt for fast and secure module clamping. The high strength marine-grade aluminum rails include an integral wiring channel for securing cables and providing a professional finish.