ELECTRIC VEHICLE COMPANY, ENVIRONMENTAL GROUP TEAM UP FOR EMISSSION FREE TRANSPORTATION
9 North West Street

Mount Vernon, New York 10550
Contact:
Seth Leitman - ETS
seth@electrictransport.net
914-844-4809
Nancy Hazard - NESEA
nhazard@nesea.org
413-774-6051 X 18
IMMEDIATE RELEASE
MT. VERNON, New York, January 19, 2005- Electric Transportation Solutions, LLC (ETS) and the Northeast Sustainable Energy Association (NESEA) announce today that they have formed a strategic alliance to promote the increased use of renewable energy for transportation. ETS announced on October 15, 2004, that their virtual department store of electric vehicles will market EVs and ultimately supply them with power from the wind and sun.
ETS offers consulting services on renewable power toward its goal of eventually making all power renewable. With 60 years' of combined experience in the field, its experts provide technological solutions for powering vehicles from wind and solar sources, as well as methods to return vehicle power to the electric grid.
"This strategic alliance makes sense," ETS President and Managing Member Seth Leitman said. "ETS is committed to a pollution and oil free vehicle. NESEA is committed to promoting zero emission vehicles and renewable energy. To bring the two together was the next logical step. This alliance will work to improve our environment and the energy choices we make as a society. With what is happening in the world today, reducing our reliance on imported oil for transportation will be a great step toward energy independence and national security."
"We are thrilled that ETS is not only offering electric vehicles that improve urban air quality, but that they are also making the point that to be truly zero emission the electricity that powers them must be generated by clean renewable technologies such as wind and solar," said NESEA Executive Director, Nancy Hazard. "Electric vehicles recharged by renewable energy offer incredible national security, economic and global climate advantages."
The Northeast Sustainable Energy Association (NESEA) is the nation's leading regional education and advocacy association that promotes renewable energy and energy efficiency for everyday use.
For more than thirty years, NESEA has facilitated and enhanced a network of professionals, practitioners, and other citizens in pursuit of responsible energy use. NESEA is a chapter of the American Solar Energy Society.
Electric Transportation Solutions http://www.electrictransport.net
NESEA http://www.nesea.org
American Solar Energy Society http://www.ases.org/
#
Featured Product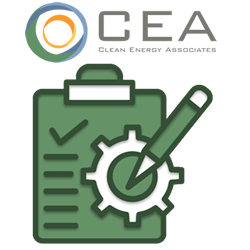 Clean Energy Associates provides a complete quality assurance solution that covers the entire product lifecycle of PV modules, storage systems, and every Balance of Sy stem (BOS) component. CEA's experienced on-the-ground and international team of quality control engineers and account managers offer an unparalleled quality assurance presence that can protect solar and storage investments and ensure future energy-producing viability for the life of the product.