The Solar Boost 3024i is a mid-sized 12/24V 30 amp Maximum Power Point Tracking (MPPT) charge controller with load control, and is the first in a series of products based Blue Sky Energy's new IPN architecture.
Vista, California - January, 2005 Blue Sky Energy, Inc., a leading manufacturer of charge controllers for solar electric systems, is once again pushing the photovoltaic (PV) standards with the introduction of the company's Solar Boost 3024i coupled with their new Integrated PowerNet (IPN), the company's new high speed digital network.

The Solar Boost 3024i is a mid-sized 12/24V 30 amp Maximum Power Point Tracking (MPPT) charge controller with load control, and is the first in a series of products based Blue Sky Energy's new IPN architecture. The IPN based Solar Boost 3024i offers simplified setup and installation, and improved MPPT performance. Up to 8 charge controllers on an IPN network communicate with each other and work together to setup and operate as a single machine. They can also share a single battery temperature sensor and display without requiring special communication devices or hardware
The aggregated data made available on the IPN network can then be shown on one of two optional remote displays. The basic IPN-Remote shows battery voltage, output charge current, and charge status LED. While the integrated charge controllers and the basic display offer PV system owners unprecedented features and efficiency from their charge controllers, many will opt for the additional features of the company's IPN-ProRemote.
This new unit combines both a full-featured IPN based charge controller display with a complete battery system monitor. With a two-line by 16-character backlit LCD display the IPN-ProRemote performs advanced setup, status display and data capture for IPN based charge controllers. The user-friendly interface provides complete charge control, battery and DC system status monitoring. Status displays include: battery voltage, net battery current, input/output charge current, net battery amp-hours, output charge amp-hours, remaining battery capacity in percent, auxiliary battery voltage, LVD status and more. Not only does this system eliminate the need for separate battery-monitoring devices, but all this critical data can be monitored and controlled from a remote computer using an optional interface.
"Our products speak for themselves," said Richard Cullen. "All the top-placing solar homes at last 2002 prestigious national solar Decathlon used our Solar Boost charge controllers.
While the IPN system is already sending waves throughout the PV industry, the new Solar Boost 3024i incorporates Maximum Power Point Tracking, frequently referred to as MPPT. MPPT is an electronic system that operates the PV modules in a manner that allows the modules to produce all the power they are capable of. MPPT is not a mechanical tracking system that "physically moves" the modules to make them point more directly at the sun. MPPT is a fully electronic system that varies the electrical operating point of the modules so that the modules are able to deliver maximum available power. Additional power harvested from the modules is then made available as increased battery charge current. Charge current can exceed 30% with a discharged battery and cool temperatures.
Blue Sky Energy, Inc. has been providing the solar PV industry with cutting-edge charge controllers since 1993. The company is dedicated to supplying customers innovative and superior products, while offering unparalleled technical knowledge of electrical systems. The company also strives to educate the consumer in the areas of battery charging and monitoring so that they may make the most informed choice possible, through seminars on the topic of solar battery charging, MPPT technology and other related topics.
Featured Product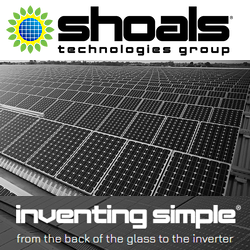 Inventing Simple® isn't just a slogan to us, it's a way of life. Using simple plug-and-play ideology, we revolutionized solar installations in 2003 with our Interconnect System™. Our harnessing system is now the gold standard EPC's use around the world. By using simple ideas, we are making solar energy a more affordable and clean power source for future generations.